happy friday! audrey comes to me as a busy, working mom seeking out shopping/styling help. she is from colorado where the weather could be unpredictable this time of year. i presented her some options below after our styling consultation. stay tuned for her pick in the coming weeks! have a fantastic weekend everyone! xx #yoursoulstyle
request: hi jenny, i am in need of your expertise! i have 3 bar/bat mitzvah's and an 8th grade graduation in the next month. being a full time school teacher with 3 weeks left of school, a mom and a person who likes to exercise I don't have time to even think about what to wear, let alone shop for a dress. affordable choices in aspen are pretty non-existent. since all four affairs will involve current students, the dress needs to be a bit modest but not overly conservative or frumpy. Please help!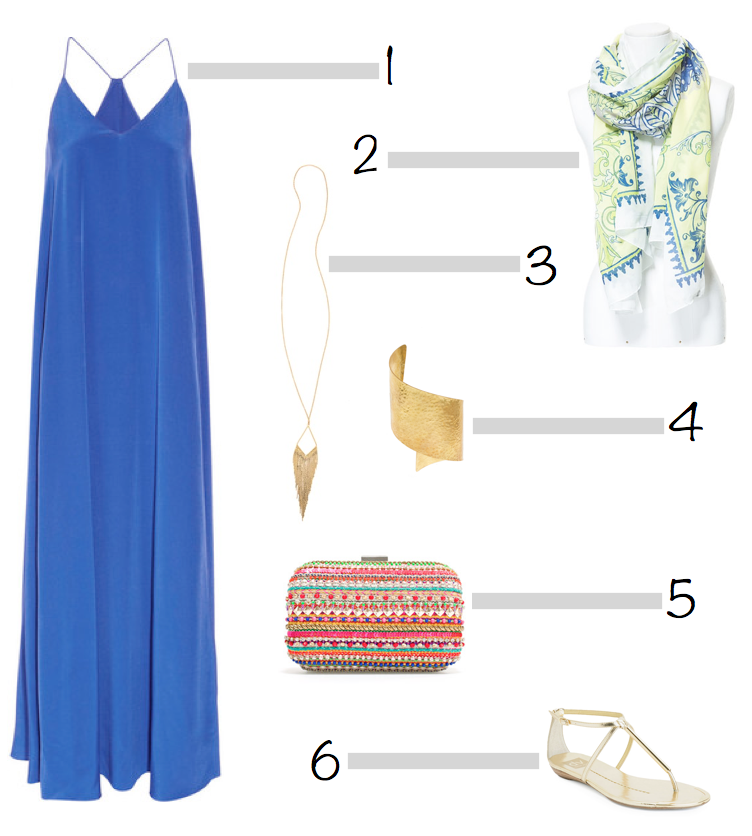 option 1: this j.crew brilliant blue maxi dress is one of my picks for audrey. it's not cheap but extremely versatile. she can she wear it to all her obligatory parties, summer bbq's, picnics, outdoor concerts, etc. and bring on endless beach vacations. since spring weather in colorado could range from 50 – 80 degrees, the scarf will add an extra layer of warmth and cover her shoulders for the formal occasions. the long gold jules smith necklace (which will lean into her mid section) will help give shape to the loose silhouette of the dress and the gold cuff adds interest to her arm. the beaded clutch from zara screams boho chic and is an ideal outfit completer. the dv archer sandals are comfortable, stylish and can be worn with anything from shorts – to skirts – to jeans so totally worth the small investment. did i mention the back of the dress is just as beautiful as the front?
shop the look:
1. J.Crew dress, $398, jcrew.com / 2. Zara scarf, $25.90, zara.com / 3. Jules Smith necklace, $85, shopbop.com / 4. Made Kigonye cuff, $41.56, asos.com / 5. Zara embroidered clutch, $79.90, zara.com / 6. Dolce Vita sandal, $69, dolcevita.com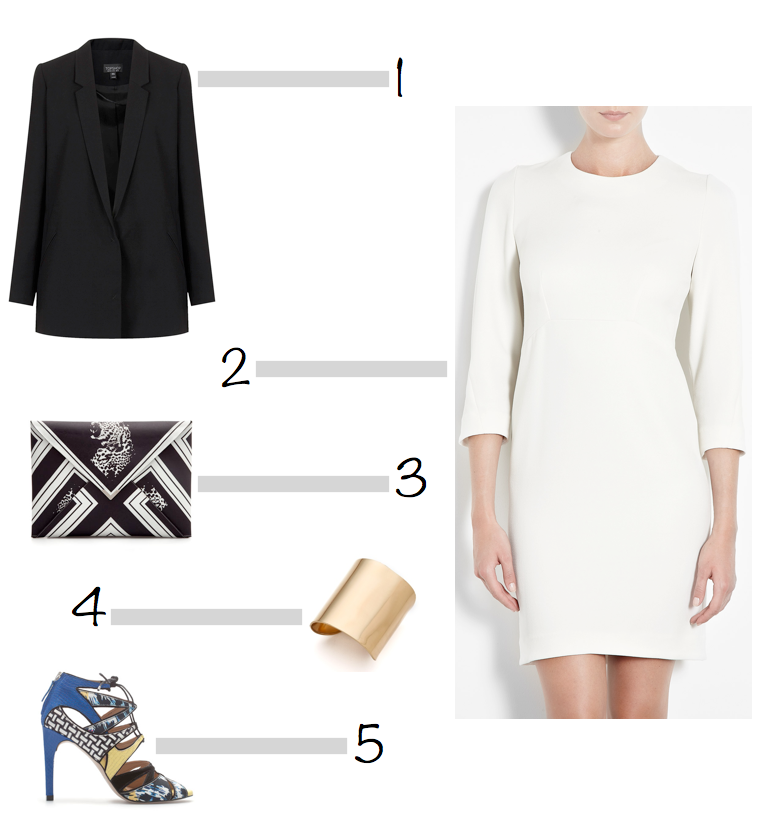 option 2: this theory white dress is my second pick for audrey. the silhouette is a simple, versatile closet staple that could be worn in many ways. the styling is trendy/edgy and could go from day into evening. i've used black and white as a canvas but added a pop of color in the footwear. the long, over-sized black boyfriend blazer is a perfect length to balance out the shortness of the dress and the gold cuff is sleek and simple. the clutch from zara incorporates the animal print trend without being overly bold. if the shoe is too busy for your liking – a sleek pointy toe black pump like this or a neutral color like this could easily work too.
shop the look:
1. Topshop blazer, $140, topshop.com / 2. Theory white floria dress, $150, shopbop.com / 3. Zara tiger print clutch, $79.90, zara.com / 4. Charles Albert gold cuff, $75, shopbop.com / 5. Zara multi colored lace-up sandal, $129, zara.com