A few weeks back one of my favorite lifestyle bloggers, Sarah Yates from A House in the Hills (pictured above) mentioned in this post how nude shoes can "make your legs look like they go on for a million miles".  Seems her and I are style vibin' because I'd been queueing up a post covering the same topic!  The color nude is relative.  For caucasion women it's a peach tone whereas for other races and ethnicities the shade of 'nude' varies.  Here is the low down on how you could look your best 'in the nude' no matter what color you are!
style tip:  how to get legs for days?  Whatever your skin tone – wearing shoes that match back to it will create an illusion of a longer and leaner silhouette.  This happens because there is no pause (or break) for the eye to rest at, keeping the line of sight continuous with no interruption.  Since the shade of the shoe is consistent with the color of your skin – it tricks the brain to "believe" it's an extension of your own leg and your shoe (or ankle strap) doesn't wind up cutting you off.  Genius, right?  This style tip greatly benefits the vertically challenged or for those of us that just want a slimmer appearance.  No matter what your body type really – it's a win!  Here's a visual tutorial.
This tip has been used by us fashion stylists for years and one that I had to share with you.  It's a little trick we keep in our back pockets but one that should be shouted from the roof tops! 

Here are some other benefits…

This tip applies to both flats and heels


Nude shoes go with any outfit hence 'neutral' – yipee!

Nude (neutral) shoes are trend right so finding the right match up to your skin tone should be a breeze!   Be sure to get as close to your own color as possible!

Gold is a close second to nude for most skin tones and can facilitate the same results
 …and an edit of a few faves from spring/summer '13.  Shop the above dresses here and here.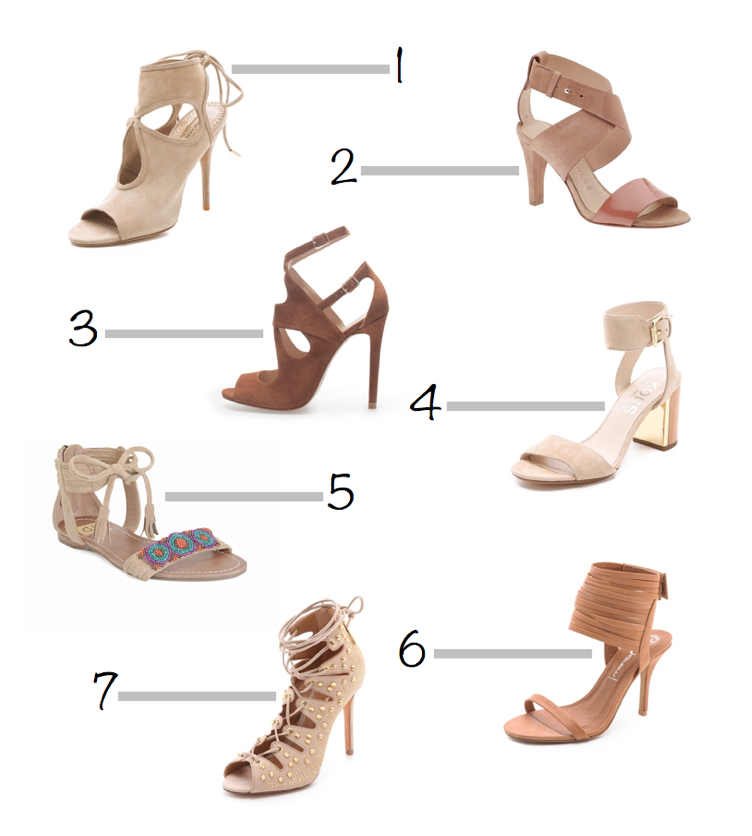 photo credit via Lou Mora