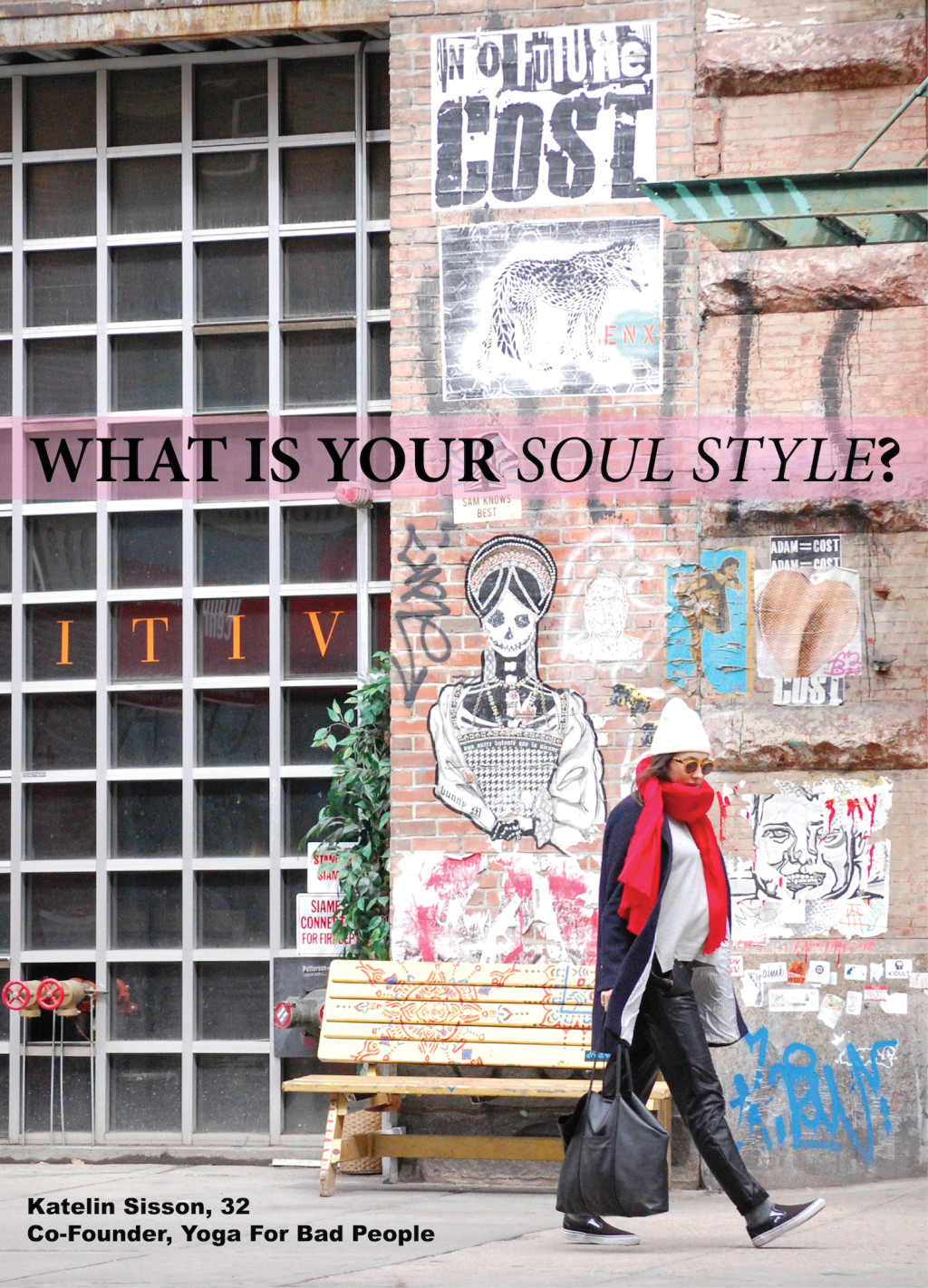 On the first day of spring in downtown NYC, I met Katelin Sisson at the cool and cozy restaurant, The Smile for a coffee and some chat.  Waiting outside, I spotted her walk down Bond Street looking relaxed yet super stylish.  Her 8.5 month baby bump was barely noticeable.  A testament to Katelin's wellness and balanced lifestyle, she looked radiant.  After catching up on typical baby and mama-to-be talk, we discussed yoga, Katelin's long-time commitment to the practice and her yoga retreat based company, Yoga for Bad People.
Katelin joined the Jivamukti yoga training program in 2006 out of a passion to further understand the mind and body connection and support her already established relationship with sports.  She has been a dedicated athlete her entire life.  With yoga's foundation rooted in mind and body, she was hooked immediately and recognized how athletics and yoga effectively compliment each other, producing results that nurture both inner and outer selves.  Her focus is on helping others through physical ailments, connecting them back to mental and emotional issues.  "Katelin's classes work to combine the mechanics of an athlete and the grace of a yogi."
In 2012, Katelin and co-founder Heather Lilleston whom also trained at the Jivamukti school, launched Yoga for Bad People (YFBP).  Unlike typical retreat programs, YFBP  "seeks out locations around the world that lends itself to quiet time and reflection as well as a multitude of physical activities, athleticism and nightlife."  The goal is to provide a retreat with no strict set of rules, less rigidity and one that, "our friends are actually going to want to go on".  The structure of a yoga retreat exists, but without the extremes.  Katelin and Heather are both very "of this world", recognizing that although yoga is the focus, individuals have their own method to achieving balance in the mind, body and soul experience.  If after taking a yoga class, you'd like to kick back with a margarita while discussing mindfulness and awareness, so be it.  No judgements on this retreat.
Katelin is especially flexing her mind and body connection these days since her first baby with fiance Marcus Antebi, founder of the popular NYC based company Juice Press, is due on May 2nd.   Embarking on the biggest adventure of her life, Katelin's commitment to a healthy and balanced lifestyle has left her oozing with beauty, strength and grace.  While her body has been going through changes over the last nine months, I wanted to know about her soul, her style and how the relationship between both have been affected by her entrance into motherhood.  Here's what she had to say…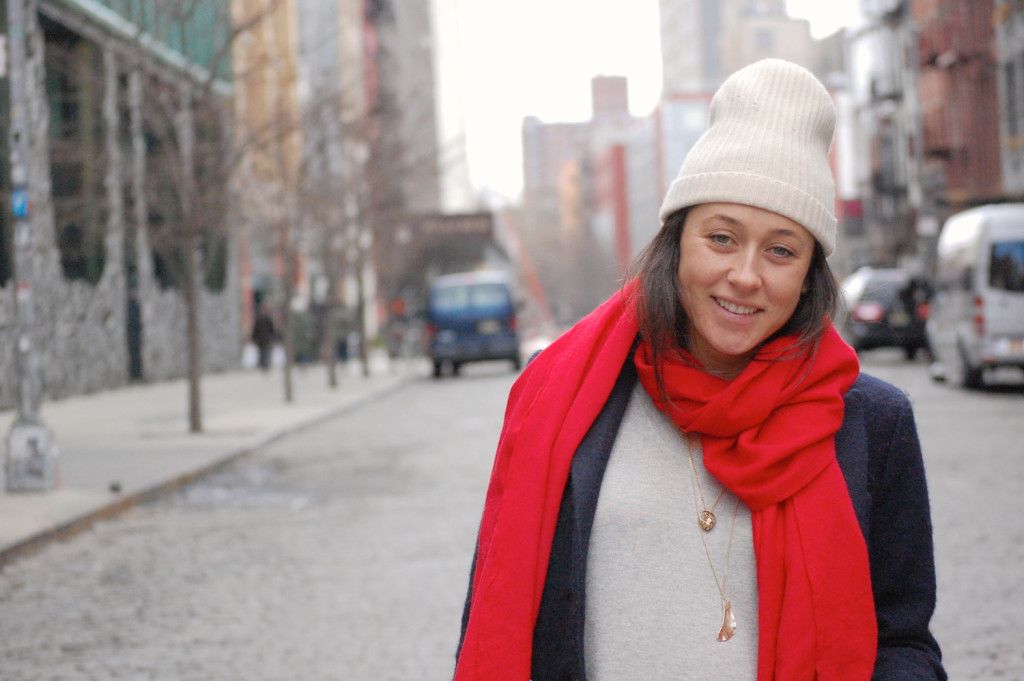 Katelin, what is Your Soul Style?
Though I have lived in NYC for a bit of time now, I am a New Englander through and through.  NYC has certainly helped me to evolve in terms of my personal style, but I like to keep my childhood and family traditions (blue collar meets the  beach) alive, as well as my background in athletics.  I am a pretty even keeled person but my twelve years in New York has allowed me to gain a healthy edge for lack of a better term.

How do you describe your style?
I think I would describe my personal style as a combination of high fashion mixed with the ever evolving street style. Because of my profession, I am constantly wearing more performance based apparel.  I think the trick is finding the balance between all those different avenues.  So all of that combined?  Mostly I like high quality, comfort and class.  Usually pairing up classics with something new to keep it fresh.
What does your style say about you?
I think it says, "she is laid back, but she cares"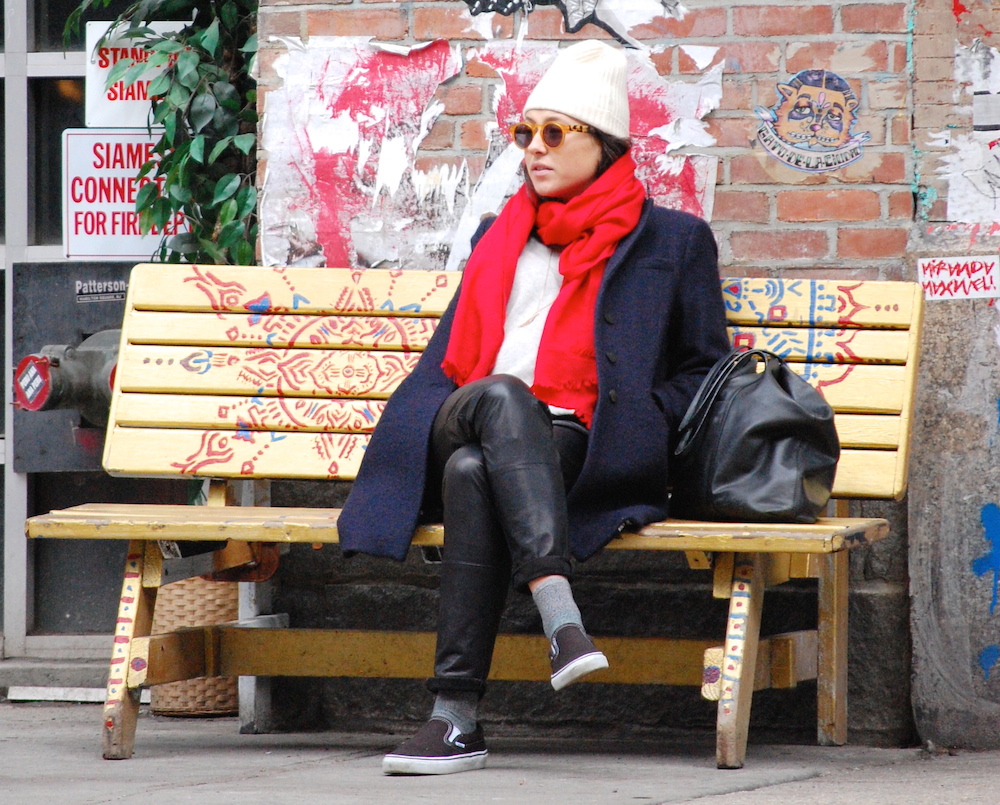 Since you are a yoga teacher, is your style reflective of that?  Does yoga influence your style?
Gosh, I hope not.  Just kidding.  By that I only mean that I try hard not to.  I do like a fair amount of high quality athletic gear and if I have to teach multiple classes in a day it's helpful to have a very versatile outfit so I don't have to completely change my clothes ten times per day.  My business partner (Heather Lilleston) and I have been talking about and working on developing a line of day to night, work to dinner yoga gear.  It gets old walking around in black stretch pants all day long. Time to reinvent the "yoga uniform".  Mostly you have to become a master of layering.  But not it in the weird draping cotton/spandex blend kind of way.  I guess that's what I meant by, "Gosh, I hope not".
Did your style evolve over time or has it stayed consistent?
Of course all things evolve.  Earlier in my life I was influenced by my musical tastes, as well as regional relevance (New England winters can be harsh).  But now that I have come into my own here in New York, I think my style has really stayed consistent, depending on the season of course.
You're expecting a baby in the coming months.  Has your style changed while your body has transformed?
I have actually really enjoyed working my pregnancy into my look.  I feel like the trends worked in my favor.  Cuffed ankle slacks (basically fancy sweatpants) are everywhere.  That said, my style was never very restrictive to begin with (meaning I don't wear a ton of tight clothing) so I don't really feel like I have had to change it up too much.  Towards the end, all your shirts, even the long ones become belly shirts so that was/is something to work with, but totally manageable.  I never had to dig too deep into the maternity fashion world.  Though there are a couple decent options.  Hatch is great.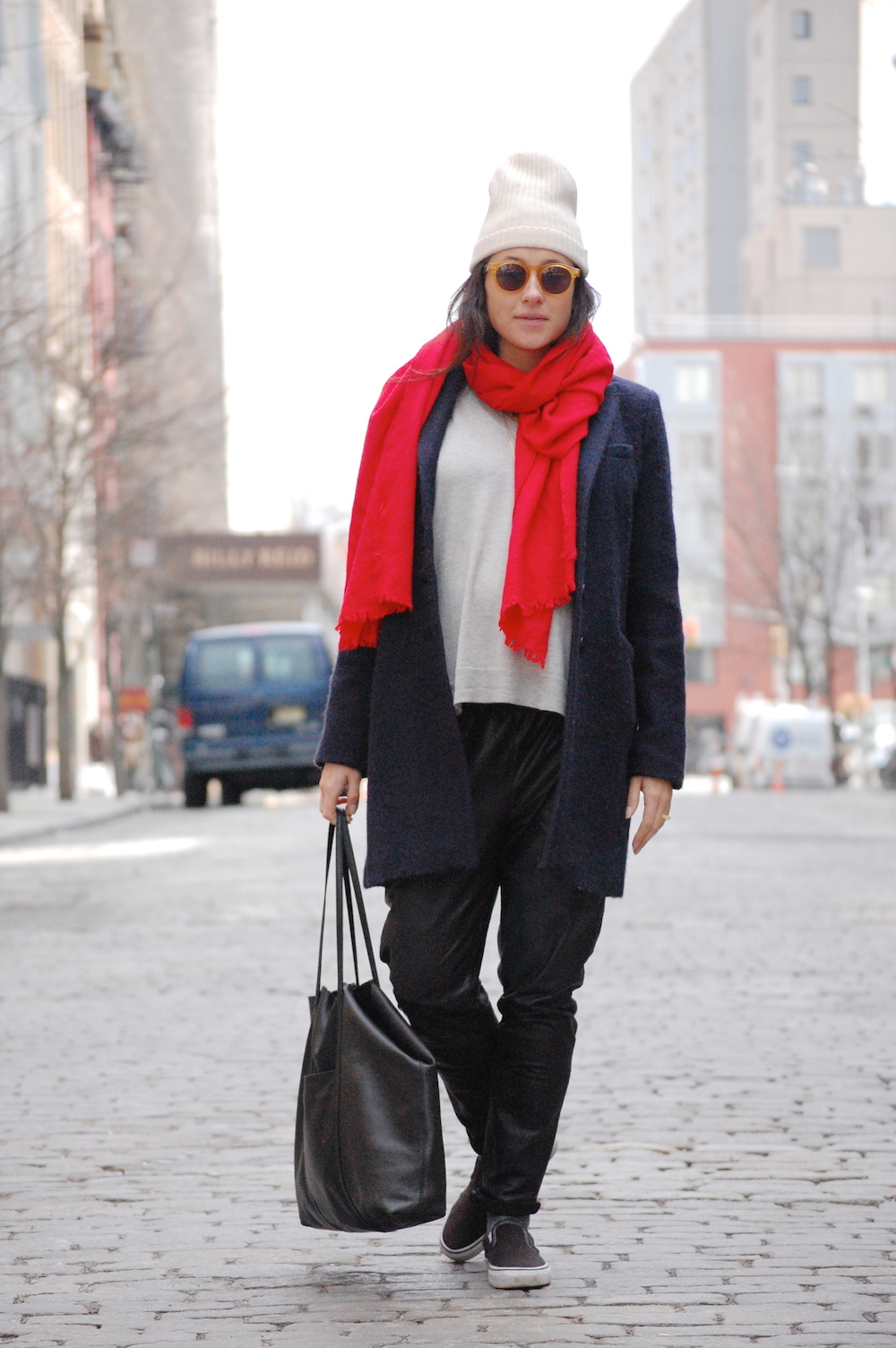 Any advice to women on how to embrace style throughout a pregnancy?
Stick with what is comfortable and don't be afraid to show that you are pregnant.  That does not mean wear clothes that are too small, but it is certainly no reason to wear a tent!  Have a few things on hand that make you feel great and lock down your shoe game for whatever season you are dealing with.
You've lived in NYC for quite some time. Where are your favorite places to shop?
VEDA.  Reformation.  Creatures of Comfort.  American Two Shot.  J.crew and Zara for basics.  And online.  I love some online shopping.
Where do you draw inspiration from?  Do you have a style icon?
I generally get inspired by what I see in the streets, from the construction workers to the Upper East Siders (UES).  For me confidence goes a long way.  My brother Grahm is inspirational as well.  He has a certain ease about his style (he actually is the style example of construction worker meets the UES).  In terms of style icon, I say I don't have one, but am lucky enough to have very successful friends in the fashion industry, so I tend to wear what they are coming out with – lucky for me.
Do you have any style challenges?
I would say that liking high quality, well made clothes has it's price, along side the cost of living in a major metropolitan city.  But the good stuff lasts longer. The ole verbiage " you get what you pay for" rings very true when it comes to clothing and accessories.  Honestly, the greatest challenge is keeping up with the ever evolving fast fashion culture in New York while remaining true to myself in terms of what works for me.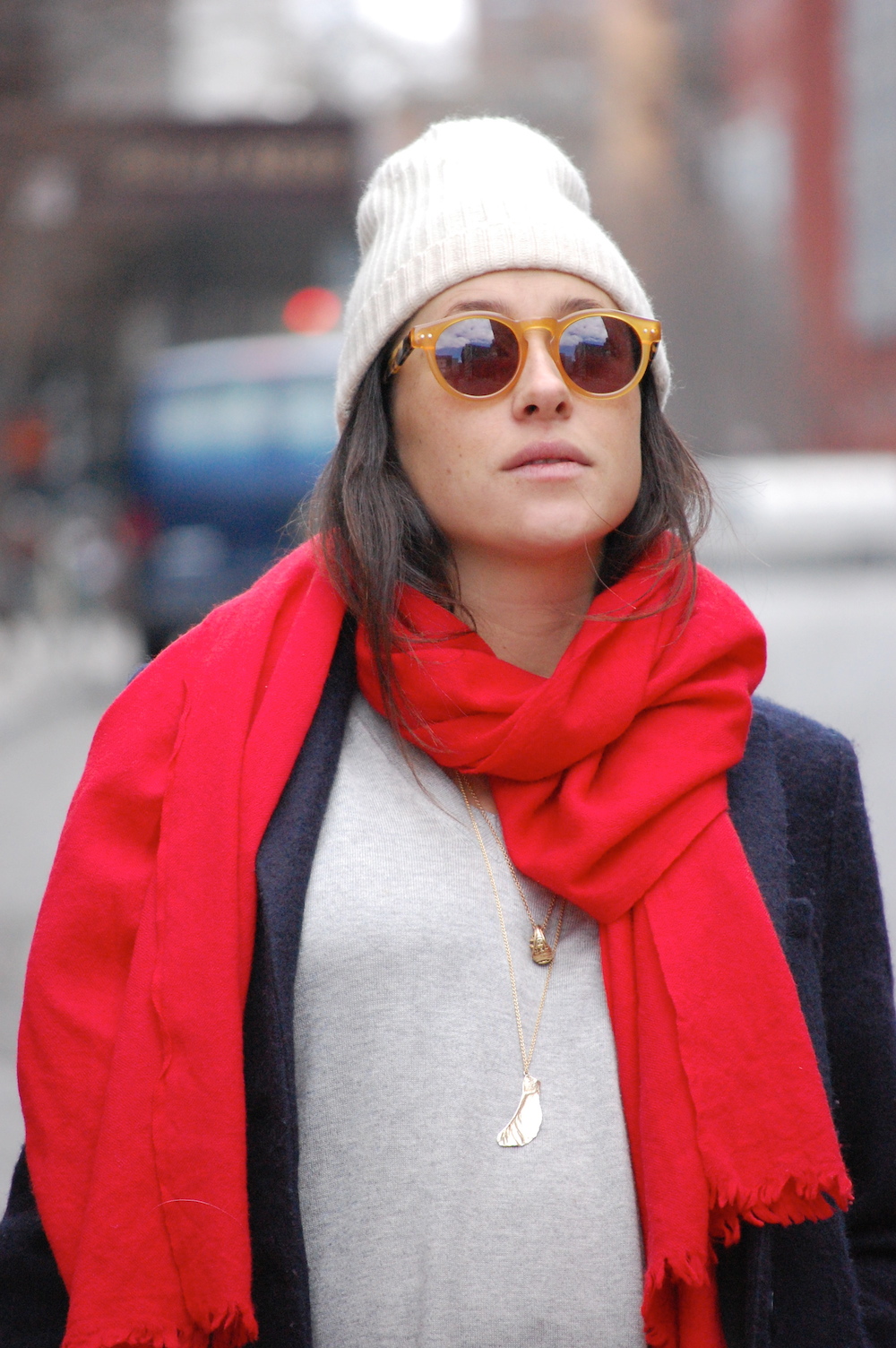 Do you have  favorite fashion/style moment?
I honestly can't remember my favorite moment or most amazing outfit.  But I do think there is a specific feeling that comes when you are wearing something that suits you perfectly on a particular day, in a particular moment.  A feeling of confidence and comfort.  That is the style moment I aim for. 
And your worst?
That day when all you can think about is going home to change your clothes.  And the year of my life that I wore raver clothes, oops.Must have item in your wardrobe?My VEDA leather sweatpants.  No brainer.  And my black slip on vans. 
Three things people don't know about you….
I am a soccer (football) super fan.  Manchester United, specifically.  I am also really looking forward to the upcoming World Cup in Brazil.
The girliest thing about me is that I get my nails done without fail, once a week.
I am extremely competitive no matter what it is, a road race or controlling the TV remote, I like to win.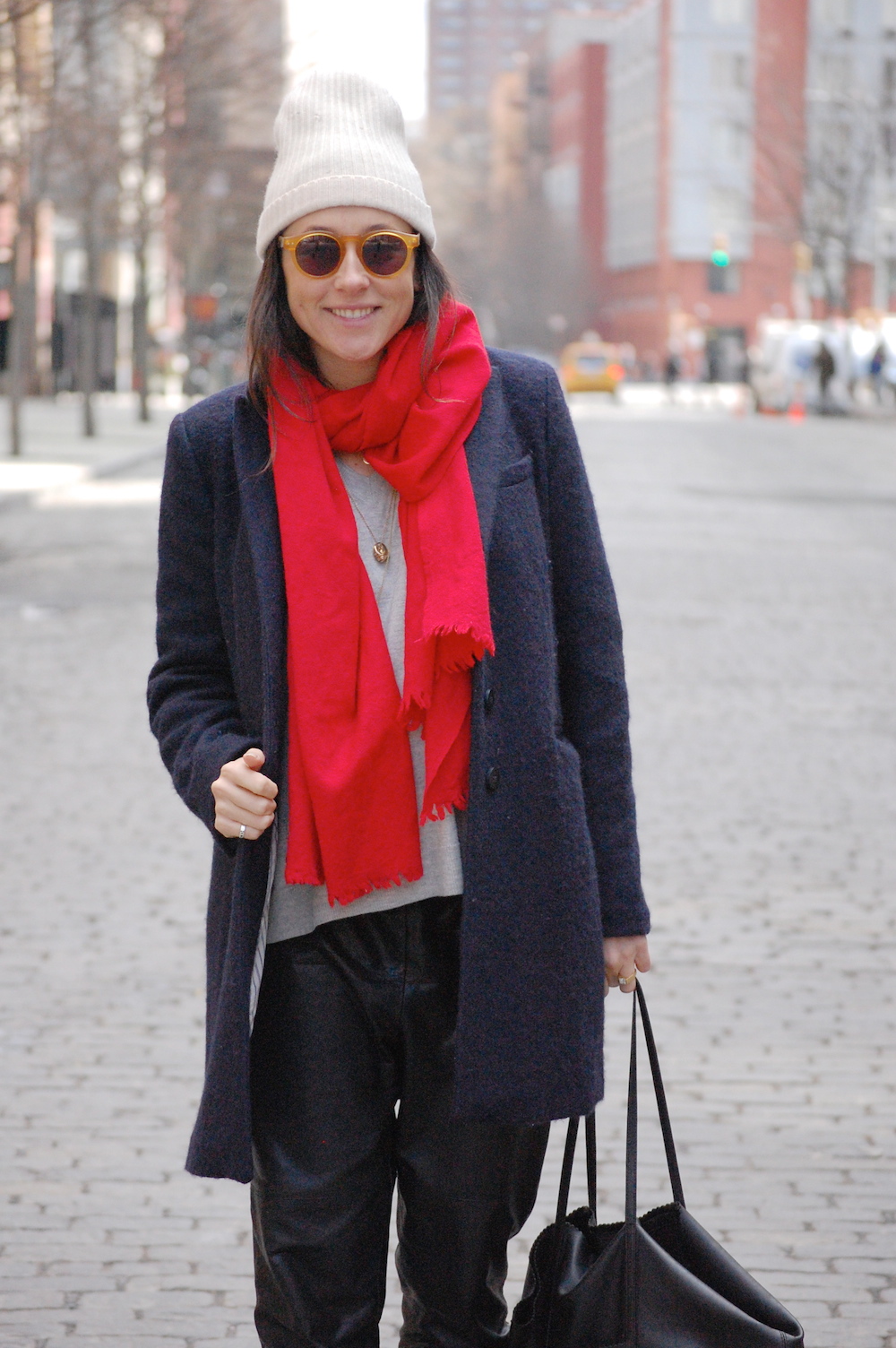 Katelin is wearing, sweater: VINCE // leather pants: VEDA // jacket: ZARA // hat: SOFIA CASHMERE // scarf: MADEWELL // sunnies: ILLESTEVA // sneakers: VANS // bag: J.CREW
For retreat schedules and more information on Yoga For Bad People (YFBP), hop on over to their website and follow along on instagram, facebook and twitter for your daily dose of inspiration.  Find Katelin directly on instagram, facebook and twitter as well.