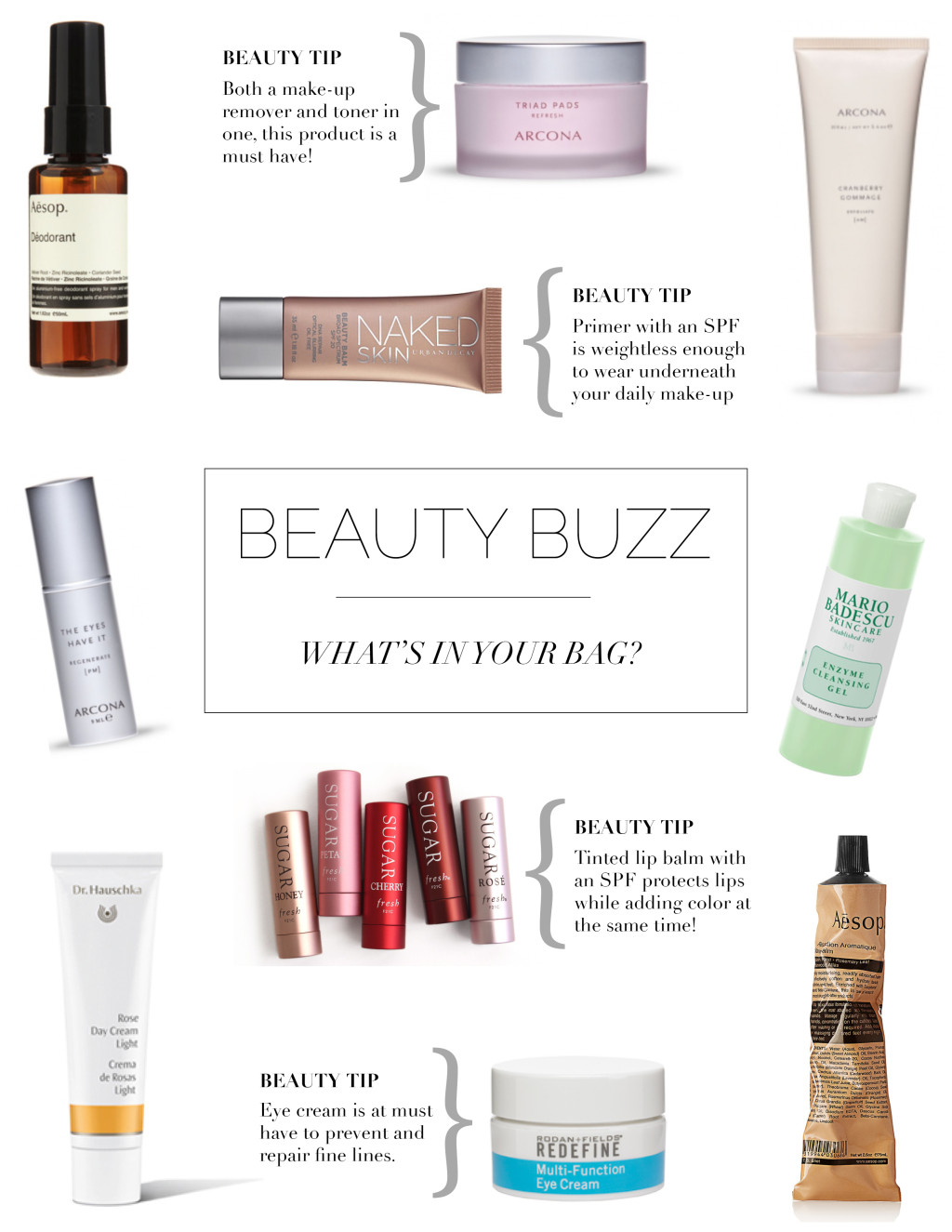 I posted a status update on Facebook last week asking friends for SPF suggestions that were organic, not full of chemicals, not oily and skin friendly.  With an overwhelming response (THANK YOU!), I learned that women definitely have the unlock on skincare, something I knew but never really really realized!  Industry insiders and beauty editors give advice, but it's real people, with real thoughts, feedback and opinions which are most relevant!  I think I'm late to the party on this one, and need to solicit more questions and suggestions from all of you, because you girls seriously hold the key!  
In an effort to pay it forward, here's a snapshot into my regimen.  I've gone through boatloads of trials and tribulations over the years, and am pleased with the cocktail of products I landed on.  But all suggestions are welcome, and if you have a secret to erase my wrinkles, remove my bags, and make my skin shine like J-Lo's, I'm open to converting.  Tomorrow I turn 35 (whoa!) – and while every year that passes, I become more comfortable in my skin – bring on the beauty tips and secrets!!!  At the end of this post, I'd love if you would each add your favorite life-changing skincare product(s) and the reasons why in the comment section!  I want to hear it all!  Then I'll put together an update to this post, compiling all the info to share and pass on!  
To kick things off, here are mine….
Arcona Triad Pads:  Up until a year or so ago, I never used a toner.  It added one more extra step to my skincare routine that I wasn't interested in, and I didn't really get the point of it.  But since using Arcona Triad, my skin has retained more moisture, feels super refreshed, awake and cleaner then ever.  Plus the smell is divine!  Made from all natural, organic ingredients, Arcona recommends using products within 6 months.  Head over to LA based company, Arcona's site for more information.
Aesop Deodorant:  I currently don't use deodorant.  I used to wear Tom's which is made from all natural ingredients, but I stopped because I don't like putting anything near my breast that clogs the pours in that area.  With that being said, I found Aesop's deodorant which is made of mostly natural ingredients and is aluminum FREE.  It spritzes on (non-aerosal) so it doesnt feel like it's completely closing the pours.  It also smells seriously AMAZING.  I decided that on specific occasions, I would use it.
Arcona Cranberry Gommage:  Living in NYC leaves my skin feeling heavy and full of residue after a long day out and about.  The Arcona Cranberry Gommage scrub exfoliates, while also nourishing with all natural and organic ingredients.  It doesn't dry out the skin or strip it down.  I combine it with my Mario Badescu Cleansing Gel (see below) to make it a 2 in 1 process.
Urban Decay NAKED Beauty Balm:  The newest item in my beauty/skincare regimen, I was looking for mascara in Sephora and fell down the make-up rabbit hole, followed by coercion from an Urban Decay beauty rep that happened to be working in the store that day.  I don't wear a lot of make-up and don't do foundation but since I have freckles, am open to finding a primer that evens out the skin tone.  One with SPF to boot.  I've only used it a few times, but I LOVE, LOVE, LOVE it!  Super lightweight, feels incredibly natural, absorbs quick and color matches exactly to all skin colors.  I use it with nothing else on days when going make-up free, but wanting an overall glow and evenness.  There are so many more benefits of the product that I won't waste your time in listing.  Head over to Urban Decay for the full monty.
Arcona The Eyes Have It:  I'm not sure any product will ever really erase the fine lines around my eyes.  A lifetime in the sun combined with my parents genetics, I think they are here to stay.  On the flip side, I believe Arcona's "The Eye's Have It", has slowed down the aging process and prevented further damage.  I've been using it religiously for a few years.
Mario Badescu Enzyme Cleansing Gel:  It'll be really hard to convince me to change my face wash because I'm a Mario Badescu Enzyme Cleansing Gel lifer.  I do not use eye-makeup remover (and don't want to) so need a one stop shop.  This is a most perfect product – light, leaving your skin feeling fresh, with no residue, clean and not oily.  I love it!  Thanks to bestie Jackie for the introduction.  Combines both chemical and natural ingredients.
Doctor Hauschka Rose Day Cream Light:  I've loved this product since the facialist at Soho Sanctuary made the recommendation.  It's light, fast absorbent, smells amazing, keeps skin hydrated, is holistic and made from chemical free and natural ingredients.  To endorse this face cream even further, a week ago, when Andy Cohen was interviewing Jennifer Lopez, a viewer asked how she keeps her skin so radiant and her reply was, "I use Rose Day Cream".  Read more about Doctor Hauschka's mission on the site.
Sugar Lip Balm:  I use lip balm before I go to bed every night since everything dries out when asleep.  And using it at night keeps my lips nourished throughout the days.  Lately I've been using Sugar which is sticky enough that it stays on (I previously used vaseline) and super nourishing.  It's great for the during the day too since it has an SPF of 15.  Don't forget to cover up your lips in the sun!  They are just as prone to UV rays as the rest of your skin.  Sugar lip balm, with SPF 15 comes in tints too.  I use Sugar Passion when I want subtle color.
Rodan & Fields Multi Function Eye Cream:  My sister-in-law bought me Rodan + Fields Multi Function Eye Cream as a gift, and I have to admit that I thought the whole line was a hoax with really strong marketing.  I am trying it this month for the first time (putting my Arcona The Eyes Have It on hold), and I think it's actually working!  At least a little bit.  The fine lines are there, but are firmer and not as visible.  The verdict is still out on this one.  This is not an organic, or natural product.
Aesop Resurrection Hand Balm:  Australian company Aesop, opened up in my neighborhood and after popping in to buy a gift for a friend, I wound up scooping up the hand lotion, and went back for the deodorant (see above).  Definitely on the pricier side, but I am a sucker for yummy smelling lotion that is not sticky, absorbs quick and still does the trick of nourishing.  This product is a combination of both plant and laboratory based ingredients.  More about their philosophy on Aesop's site.
Aimee Raupp Nourishing Face Oil (not shown):  I use Aimee's face oil before bed to give it some extra intense moisture while sleeping.  Made from organic and natural anti-aging ingredients, it works at restoring a youthful glow, promoting collagen production, detoxifying skin and healing damaged skin.  Find more of Aimee Raupp's all natural beauty products on her site.  
Jivamukti Lavender Aloe Lotion (not shown):  Nothing beats the smell of this lotion.  Made from only organic ingredients, I love it so much I want to eat it.  I use it on my hands and arms before bed.  The lavender scent calms and soothes to help me decompress.
Avalon Organics Lavender Body Lotion (not shown): I use Avalon Organics for all over body lotion.  Applying it right after I am done showering, it keeps my dry skin nourished all day and night.  They key is to putting it on while your skin is still wet!
In lieu of my 35th birthday tomorrow and July 4th this coming Friday, I'll be signing off and taking it easy for the rest of the week.  I hope you have a fantastic long weekend ahead, eating lot's of yummy food, enjoying the sunshine and love with your friends and family!  Don't forget to leave your beauty/skincare recommendations in the comment section of this post!  Till next week…..
xx Jenny