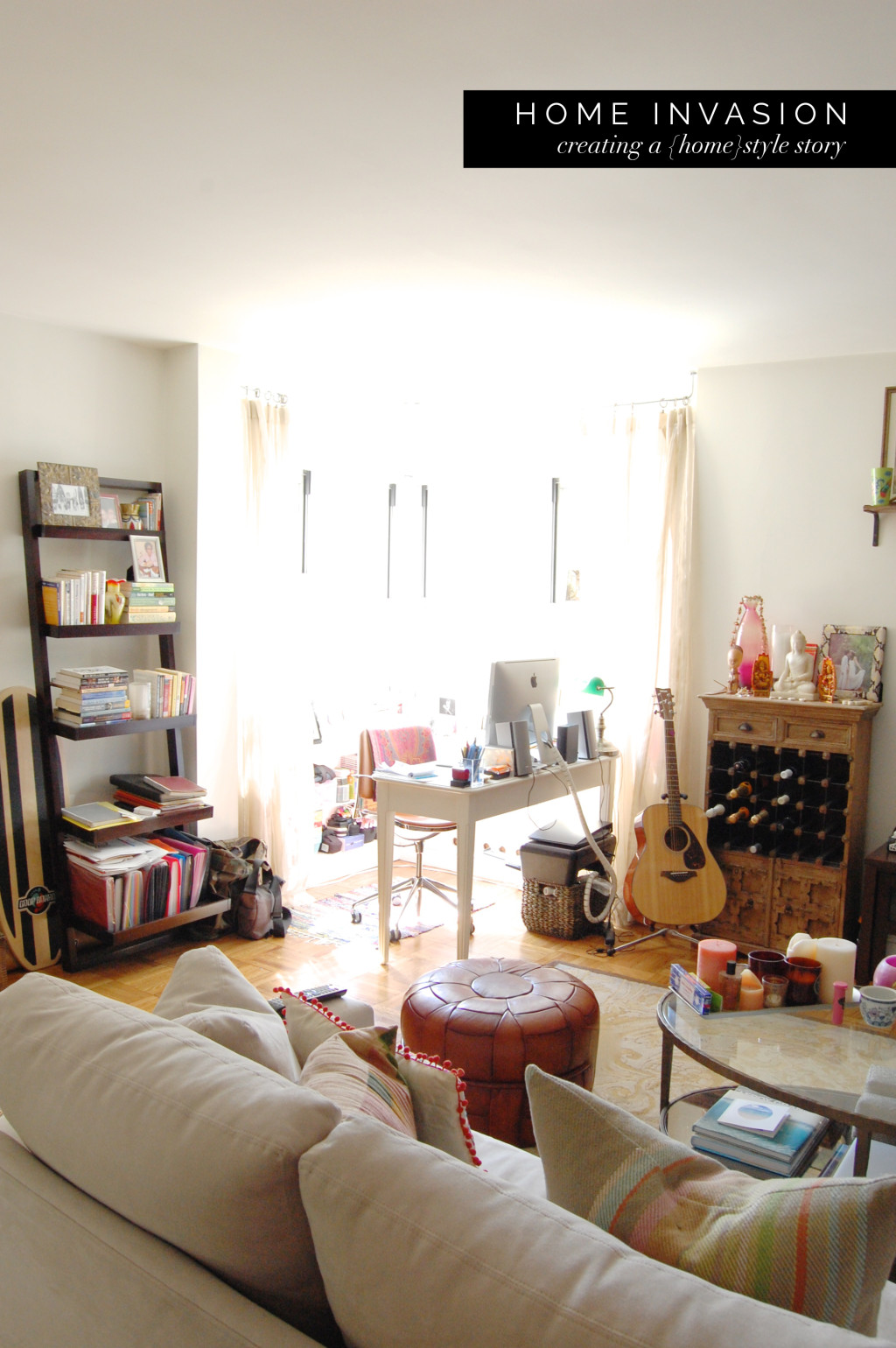 Your home is an extension of you.  It's somewhere to store your treasures, a safe zone from the crazy world outside, a place where your most intimate moments are experienced, and holds memories of times with the people you love.  Just like we express ourselves through the vehicle of personal style, our homes silently communicate our essence too.  Over the years, Dina and I have accumulated items both new and old, high end and affordable, gems from our travels, flea market finds, free props from work, the list goes on.  So much can be understood about us just by observing, and in any corner of the apartment there is a story to be told.  I've shared snaps here and there on instagram, but I want to invite you in for a deeper look and divulge a bit more.  Some things are still available if you care to purchase, and some have since been discontinued, but I hope to give you some ideas and inspire you to create your own home style story too.  xx jenny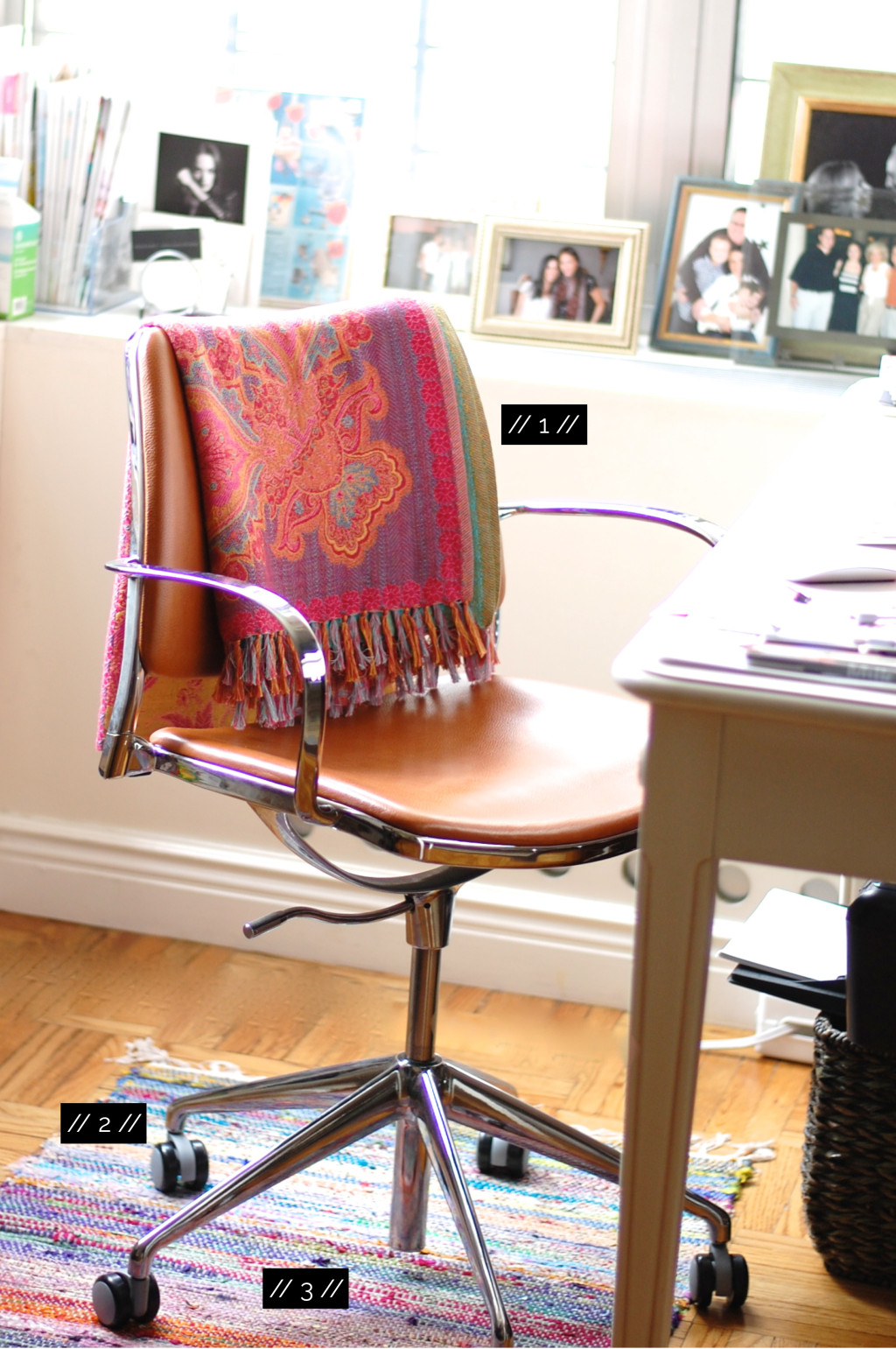 1 // Throw from Karma Living:  I scooped up this throw from the Union Square Bazaar that occurs every year during Christmas.  The Karma Living booth always lures me in with its international goodies from countries like India and Tibet.  In spite of not being able to travel to Asia every year, picking up imported items like this temporarily eases my fix.
2 // Gas Chair from Design Within Reach:  Looking for an office chair that we both loved took years.  We bought one when we first moved in, but always hated it.  It didn't fit the small space appropriately, and aesthetically it just didn't work.  Last year, we decided to invest into a new one.   Since we were willing to spend a little more money, we had to find one that we both would love for a long time to come, fit the space properly and was comfortable.  Believe it or not, this was no easy feat.  We finally found our dream chair at Design Within Reach and when the saleswoman told us the designer hails from Barcelona, it sealed the deal.  We both have an affinity for the city since our visit in 2009.
3 // Area Rug from Urban Outfitters:  Urban Outfitters has a fantastic (and elaborate) online home decor collection.  We needed a small area rug that would live under the desk, but didn't want to spend tons of money.  When I came across this one that evoked a bohemian sensibility and was super affordable, I scooped it right up.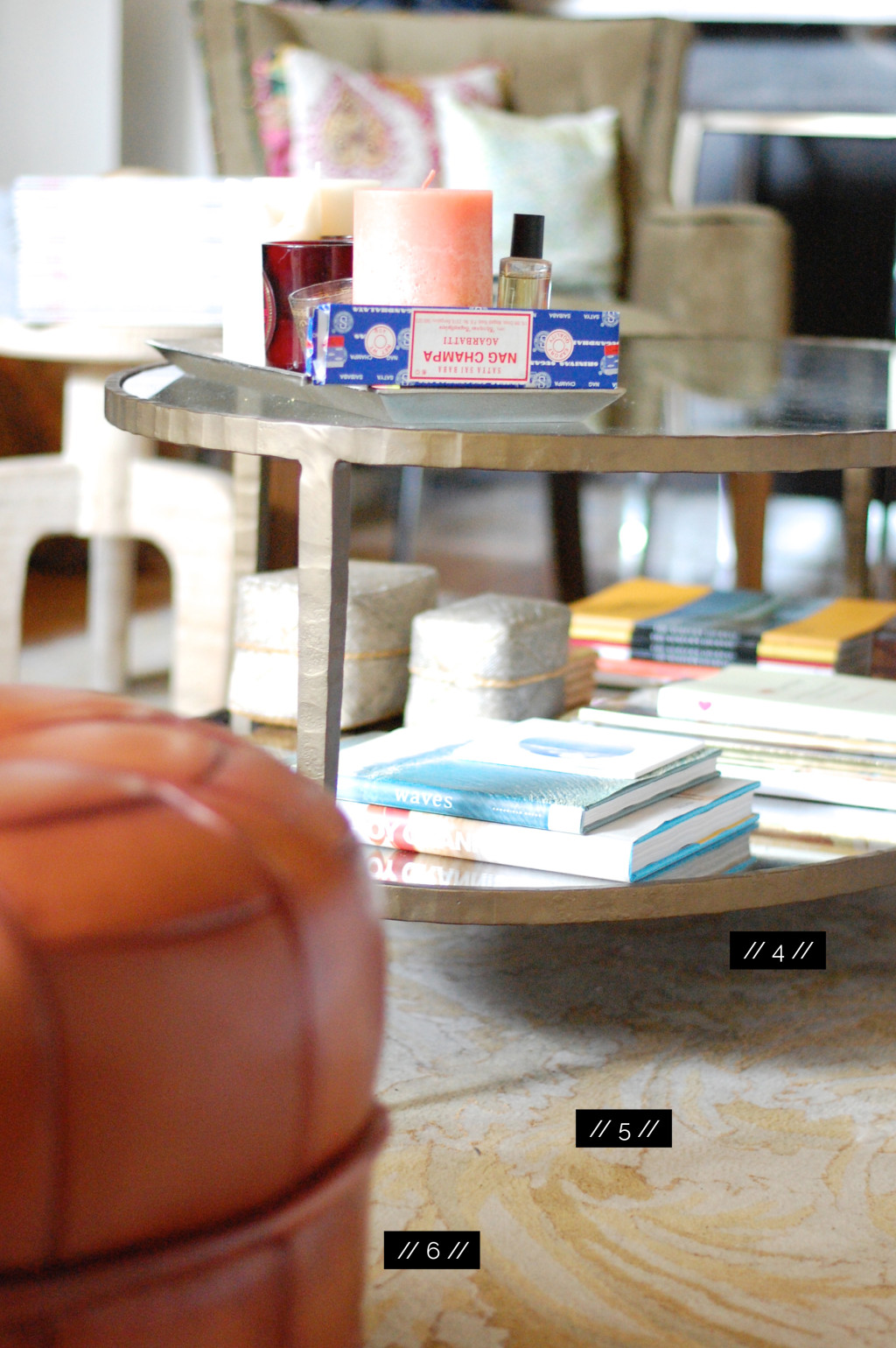 4 // Clairemont Coffee Table from Crate & Barrel:  I wanted a coffee table that was glass and brass.  I also wanted a round/oval shape since the structure of our apartment is angular with sharp edges.  A round table will soften up a rectangular space.  I came across many modern styles, but finally found this unassuming, not overly detailed oval coffee table at Crate & Barrel.  It works with our bohemian/eclectic style today, but can also fit in other environments too if we decide to redecorate.
5 // 8 x 10 Area Rug from Overstock:  Large area rugs can be very pricey so I decided to look on Overstock since it has hundreds of affordable options.  I found this subtle yellow/ivory style that fit the overall aesthetic of the apartment and which didn't break the bank!  It is super comfortable, and because of the color/pattern, stains and lint are not obvious to the naked eye.  I have loved it for years, but have recently been itching to spruce up the living room.  I'd like to start by switching out the rug because this small change can make a huge impact.  I have my eye on this one from West Elm.
6 // Moroccan Pouf from Neiman Marcus:  I knew I wanted a Moroccan pouf for the look and because it would provide extra seating.  Originally I had my eye on a metallic leather one, but couldn't commit to such a statement piece.  We found this perfect luggage brown leather one at Neiman and it's one of those pieces that will get better with age.  I'm sort of craving the metallic one again though.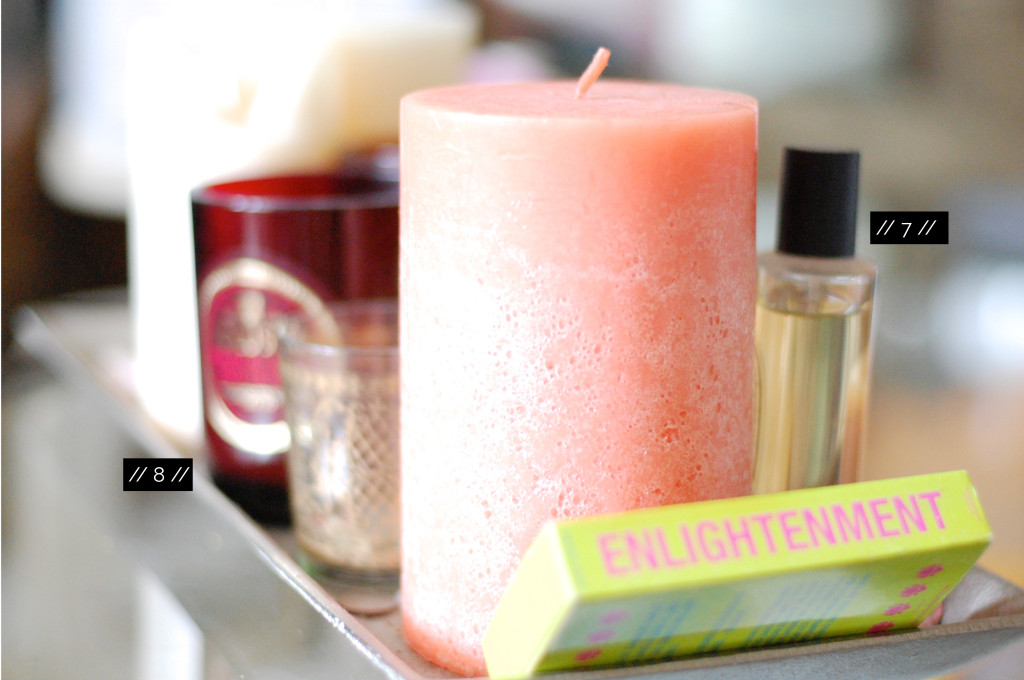 7 // Tarocco from Diptyque:  This room scent happened by default.  It was originally bought as perfume, but Dina didn't love it on her body so it migrated over and became a home fragrance.
8 // Pomegranate Patchouli and Lavande candles from Voluspa:  As far as I'm concerned, a home could never have enough candles.  We light them endlessly and they immediately add a sense of coziness, calm and romantic vibe.  I also love incense and am always lighting Nag Champa.  I immediately feel zen when the apartment is filled with it.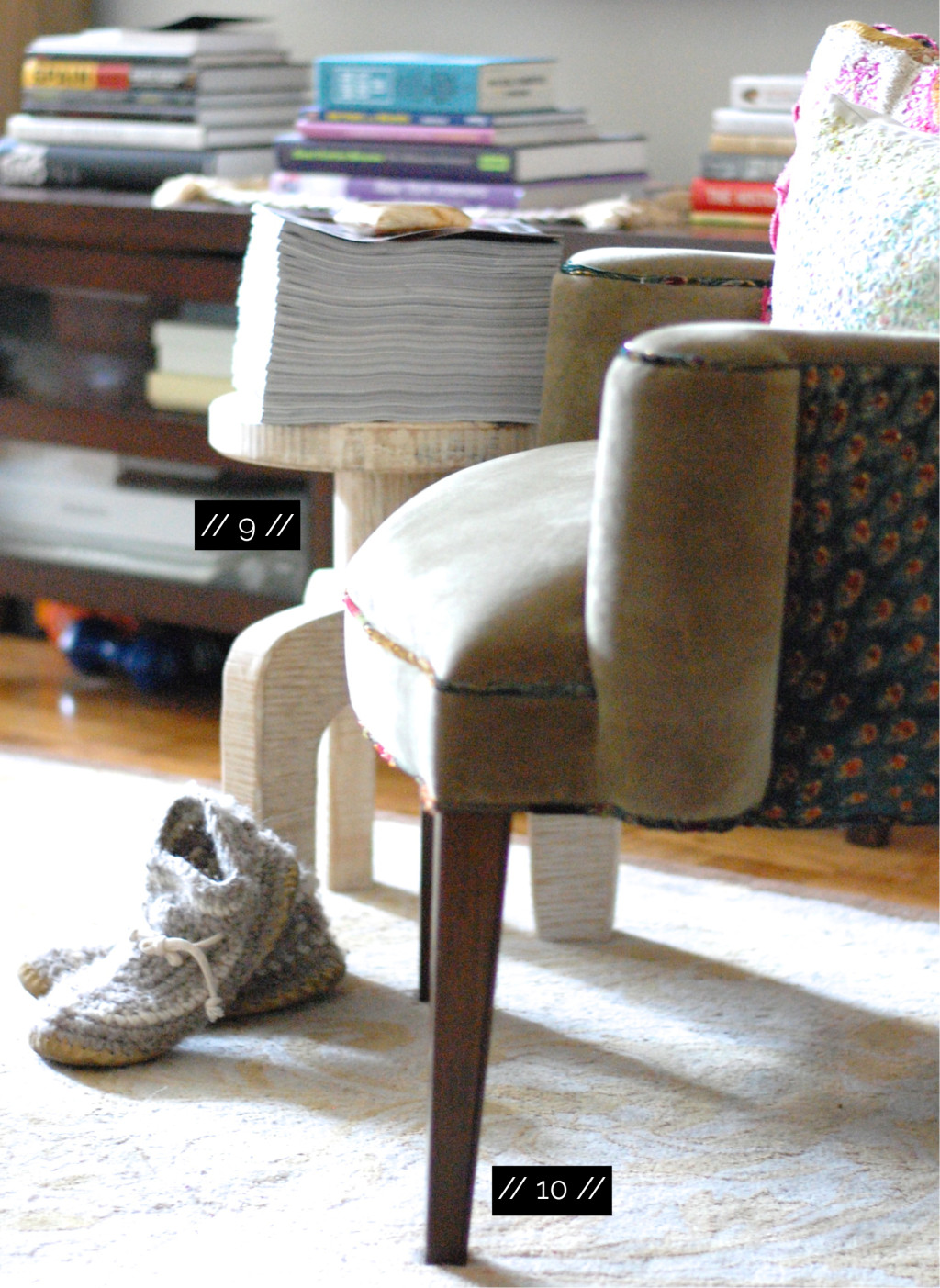 9 // Wooden Stool from West Elm:  We registered for this West Elm stool when we got married.  With all of the vintage and bohemian going on in the apartment, we wanted to incorporate some natural elements as well.  This white washed wooden stool was a perfect touch.  It's stacked with all of my Elle Decor magazines (I'm a magazine hoarder).
10 // Peacock Chair from Horchow:  When I bought this apartment, I had yet to invest in furniture.  But as I made the move into home ownership, I decided to start spending a few extra bucks on items with longevity.  I found this peacock chair before anything else, had a love affair with it and after weeks of debating if I should buy (and it going on sale!), decided to pull the trigger.  It was the inspiration board for the entire apartment and I decorated based on its color palette.  I don't love it today as much as I loved it five years ago, but it still works for the space.  It's a forever piece and if one day we have a little girl, I will likely move it into that room.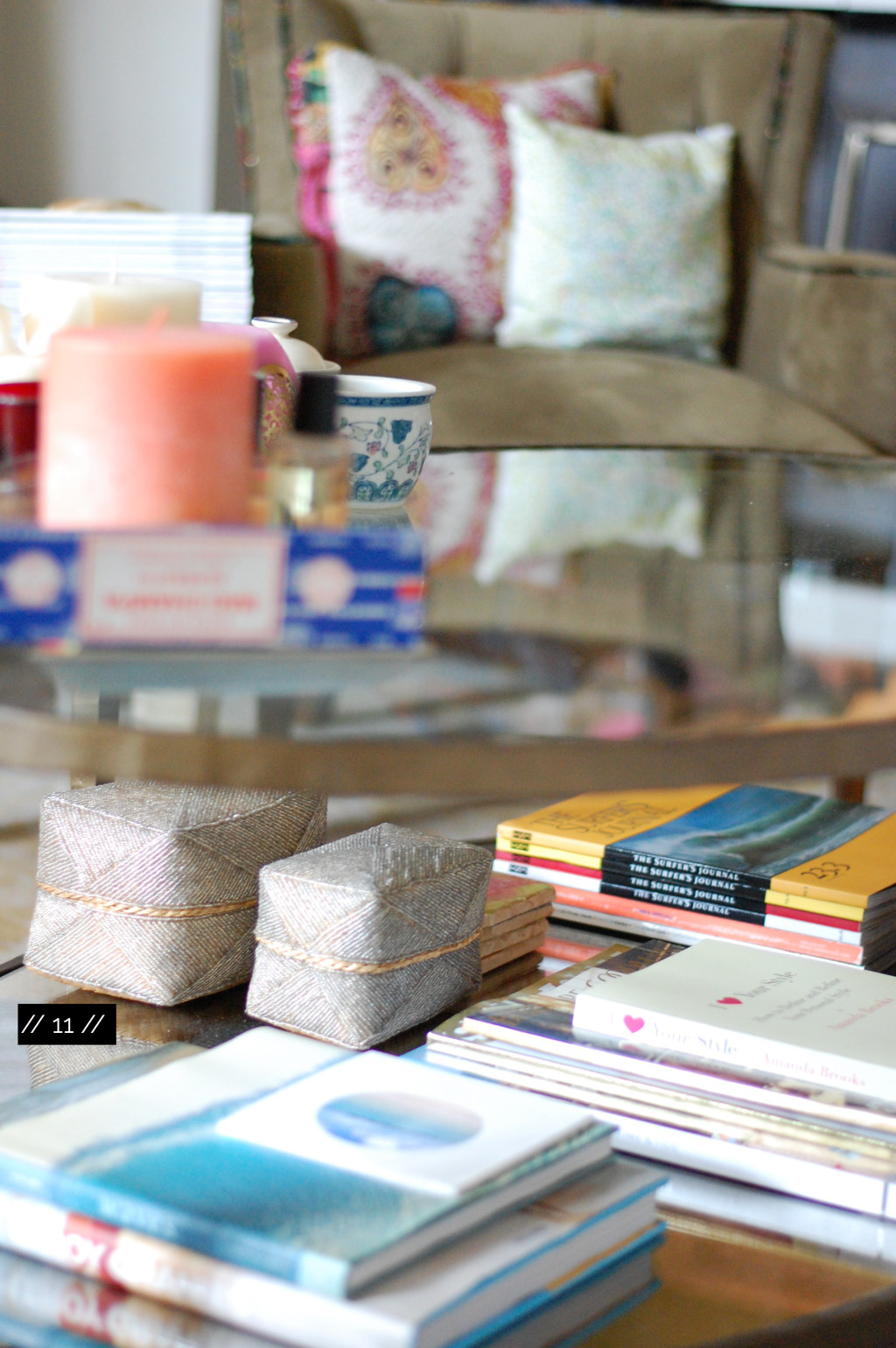 11 // Beaded boxes from Home Goods:  I'm a mega sucker for Home Goods.  Throw me into that store and I will get lost in the tchotkes and buy too many.  I definitely need to be regulated when it comes to putting too much "stuff" in our home.  I'd fill every corner if I could and then some.  These beaded boxes were a bargain though, had a Southeast Asian flare and held the odds and ends that always wind up floating around the apartment.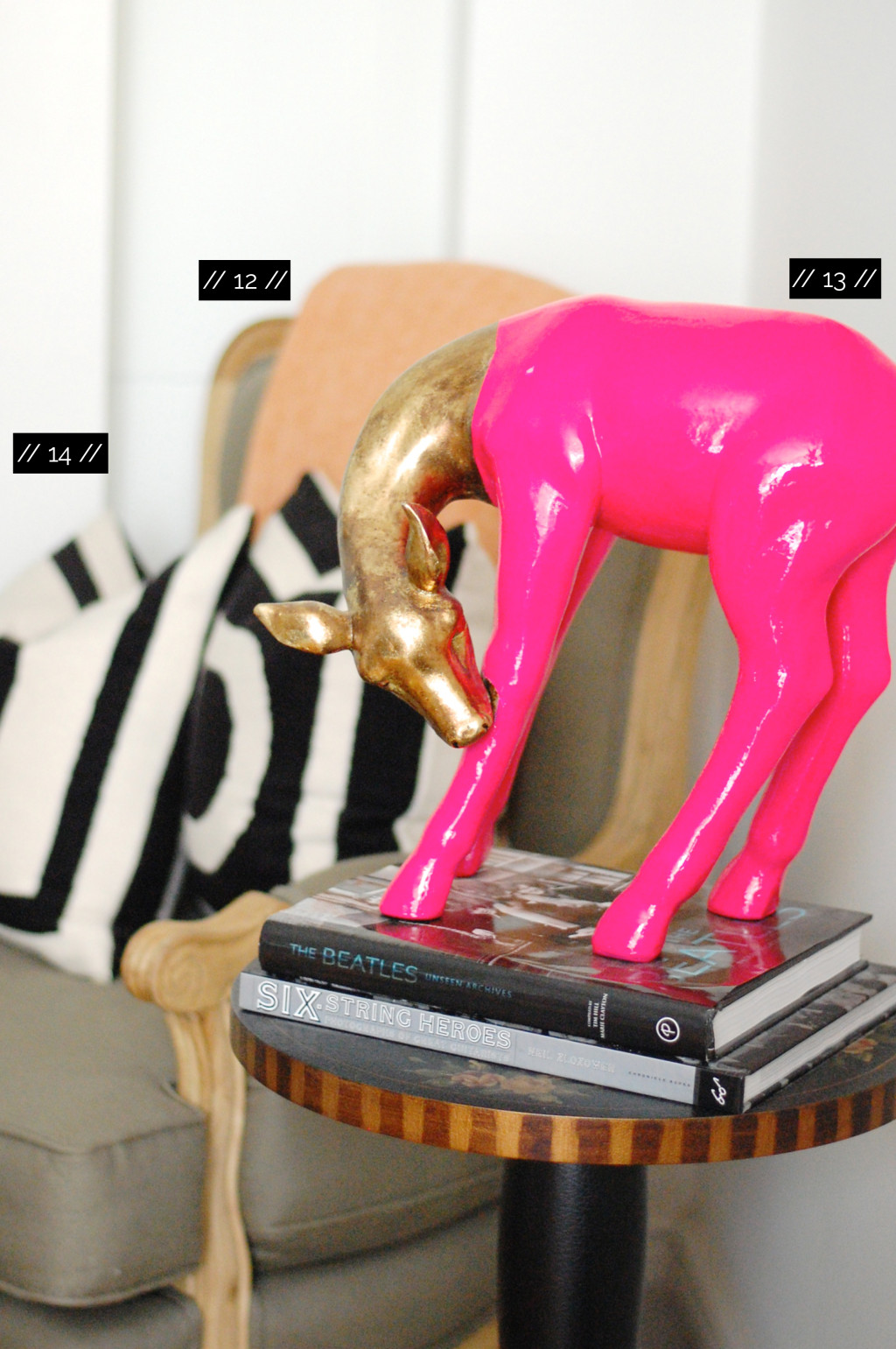 12 // Throw from Sferra:  Montauk is one of my most favorite places in the world.  Each time I go, I take a lap around Gansett Lane which is filled with beach chic goodies that I decorate my imaginary dream beach house with.  When we first began to decorate, I came across this throw.  It was comfortable, subtle and we wanted to add hints of beachiness to our New York City digs.
13 // Painted Deer, free prop from work:  Working in the Visual Merchandising field, there are tons of random things that get stored in the visual closets from years of propping out the store.  When we decided to clean it out while I was working at Cole Haan, we came across this painted deer and I immediately knew I needed it in our home.  It was edgy, gold + bright, and it's Jonathan Adler'esque sensibility reminded me of our Parker Palm Springs wedding.
14 //  "J" & "D" pillows from Jonathan Adler:  A wedding gift from our dear friend Glenna and Brad, these pillows are so personal for many reasons.  They will be with us forever.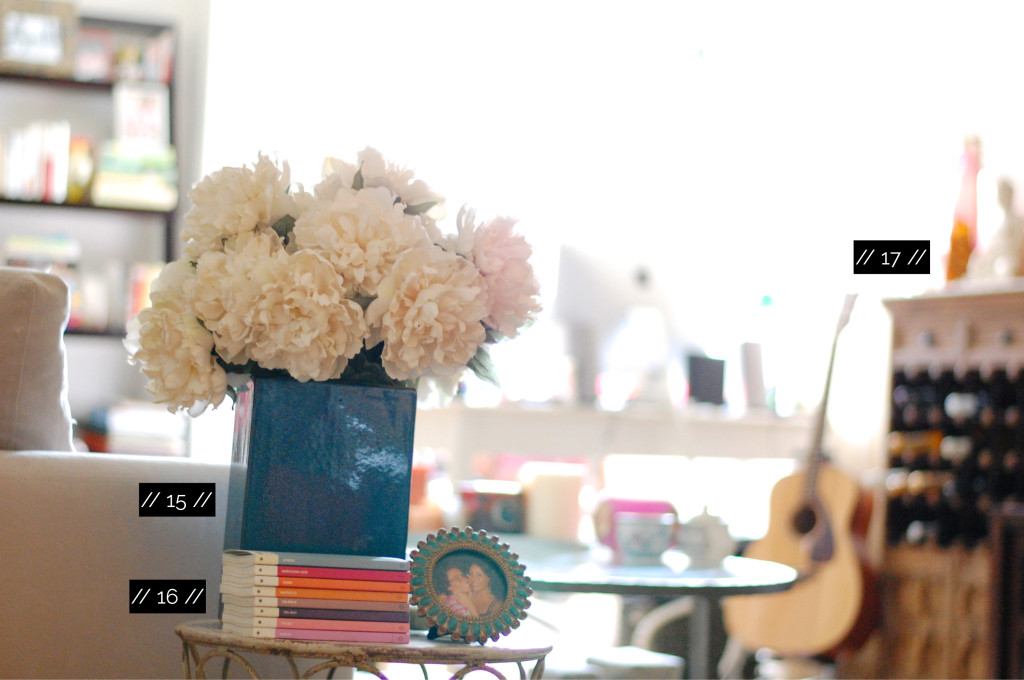 15 // Faux Flowers & Vase, free prop from work:  This floral arrangement and vase is another item I snagged from a visual closet clean-up from my time at Ann Taylor.  I love keeping fresh flowers in the house, but it's nice to have this one, which can live all year round with zero maintenance.
16 // Wallpaper City Guide books:  I love me a good coffee table book or travel guide.  These ones from Wallpaper give a quick "what to see, do & where to stay" snapshot to tons of cities around the world.  We've been to a couple of the destinations in our stack, and hope to visit the others.
17 // Wine Cabinet from Nadeau:  To fill an empty space between the desk and main wall, we needed a piece of furniture.  We decided to add this reclaimed wood wine cabinet and it provided us a place to a) keep our wine and glasses and b) give us a surface for housing spiritual items we brought back from India.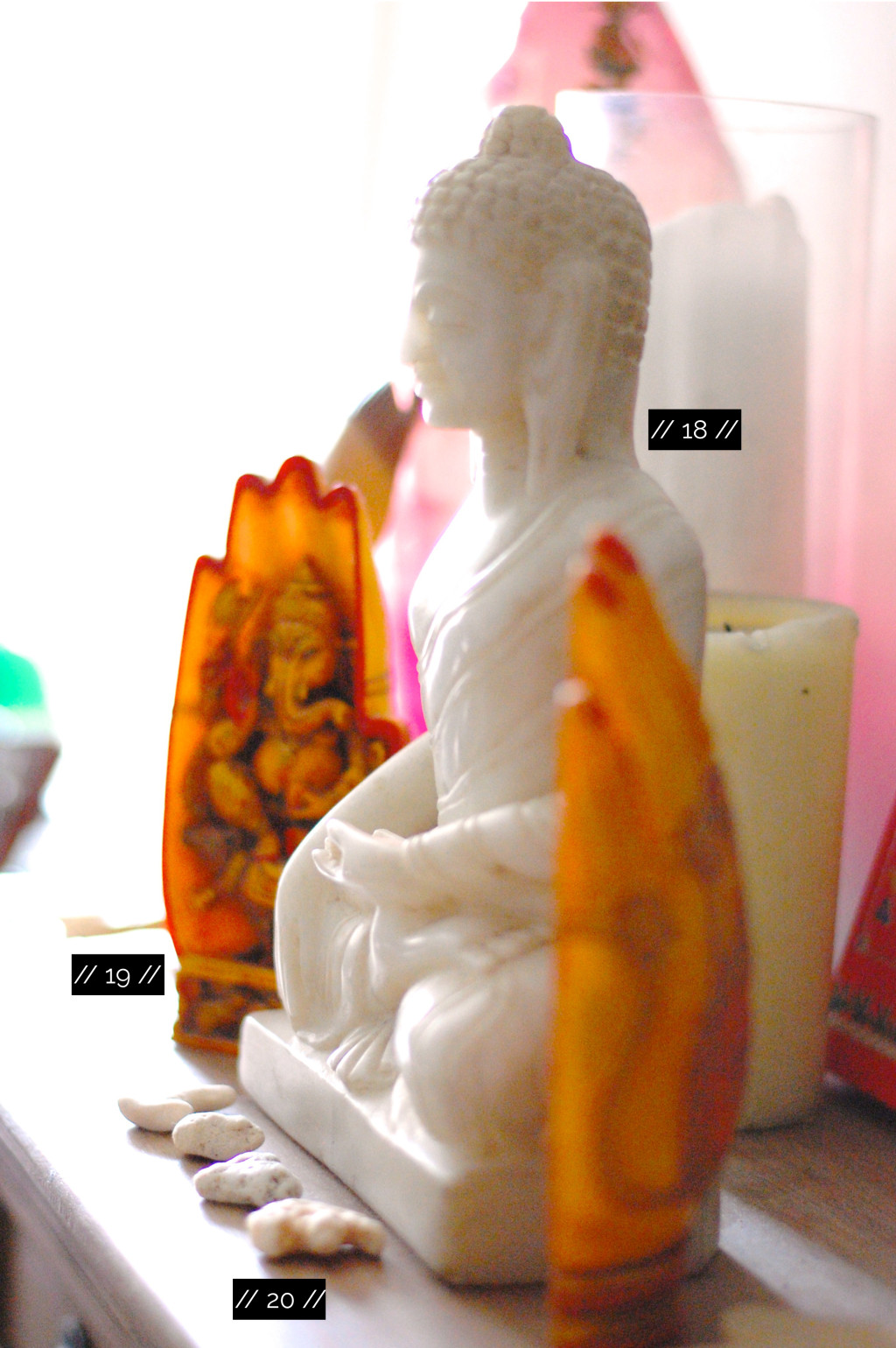 18 & 19 // Praying hands & Buddha figure:  We went to India for our honeymoon and knew we wanted to bring back meaningful items that represented both our experience and the rich and spiritual culture.  I cherish these items whole-heartedly and they are a reminder to stay present and centered.
20 // L -O-V-E rocks:  These "L-O-V-E" rocks were a gift from a friend of ours who lives on Maui.  On the last day of our trip there, she gave us these found letters she collected from the beach.  Sitting with our praying hands and buddha figure, they are a reminder to always keep love in your heart and mind.