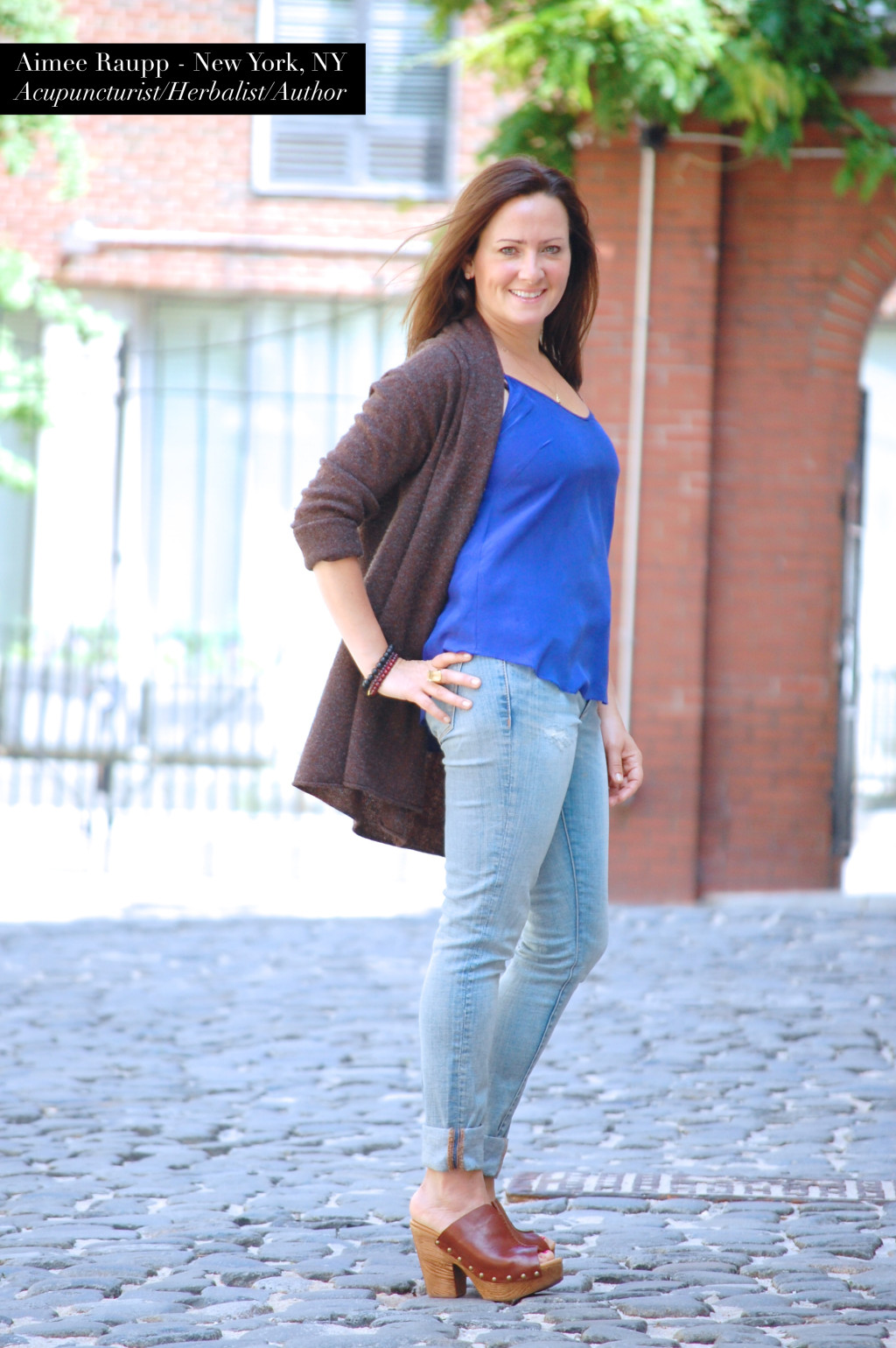 When it comes to mind and body health, there is a clear relationship between both.  Which is why holistic tools like acupuncture can be super beneficial for overall wellness.  I met acupuncturist and herbalist Aimee Raupp, MS, LAc a couple of years back and although I've always been a believer, I was hooked after our first session.  I walked out of her office feeling a sense of calm and zen that I never experienced before – a natural high.  It felt as if my equilibrium was restored.  Finding my way to her after deciding to take a holistic approach in my thyroid health, and now seeing her regularly for optimal fertility health, I have never felt better.  She has provided me with a diet & lifestyle plan catered to my specific needs, and helps keep balance in both my mind and body in check.  A spiritual, emotional and physical practitioner, I know that I am in the best hands.
Aimee's path began by receiving a Bachelors degree in biology at Rutgers University, followed by graduate school for neuroscience at the University of California, San Diego.  A natural born healer, when her grandmother was diagnosed with Altzheimers disease she started to evaluate alternative solutions to ease pain and find relief.  After exploring a workshop at the Pacific College of Oriental Medicine – something immediately clicked, and she decided to enroll.  What she couldn't find in Western medicine, she discovered in Eastern.  Four years later she left with a Master of Science in Traditional Oriental Medicine.
Wellness is programmed in Aimee's DNA and she has dedicated her life to helping women bring balance and harmony back to their bodies by encouraging the body to function better and empowering patients to optimize their overall health.  Specializing in women's fertility heath, "the end goal is always the same, and a women in optimal health should be able to get pregnant."  Her second book, Yes, You Can Get Pregnant: How to Improve Your Fertility Now & Into Your 40's, (available now) "combines her clinical expertise and personal experience helping scores of women — many of whom have been told they had poor fertility outlooks — to get pregnant, stay pregnant, and have healthy babies."  She is a pioneer in a time where women are exploring themselves first, before diving into motherhood in their mid thirties and beyond!   Visit YesICanGetPregnant.com for more information and how to pick up your copy!  
In conjunction with her now second book on wellness (her first book, Chill Out and Get Healthy!), Aimee has also created a holistic skincare line, Aimee Raupp Beauty.  The entire line is fertility friendly, made of all natural ingredients that are free of endocrine disruptive chemicals.  They are even clean enough to eat!  I am personally obsessed with the organic nourishing face oil which contains ingredients such as certified organic coconut oil, sweet almond oil, sesame oil, rose hip seed oil and kukui nut oil and the organic butter eye cream.  All products are available on her site!  
Meeting Aimee has been a game changer for me.  What began as something that I thought would be a few sessions of needles, has unfolded into a life-long relationship with not only her, but my own well-being.  Aimee has provided me with an education in wellness, and has taught me diet and lifestyle tips that I use now and will forever.  Our time together is sacred and I am so grateful for the opportunity to bring awareness to such an unbelievable and inspiring practitioner.  Acupuncturist, Herbalist, Author, Beauty Expert & Spiritual teacher, this is a woman with plenty of soul and tons of style.  It was my privelage to find out a bit more about hers – so I asked, "Aimee, What is Your Soul Style?".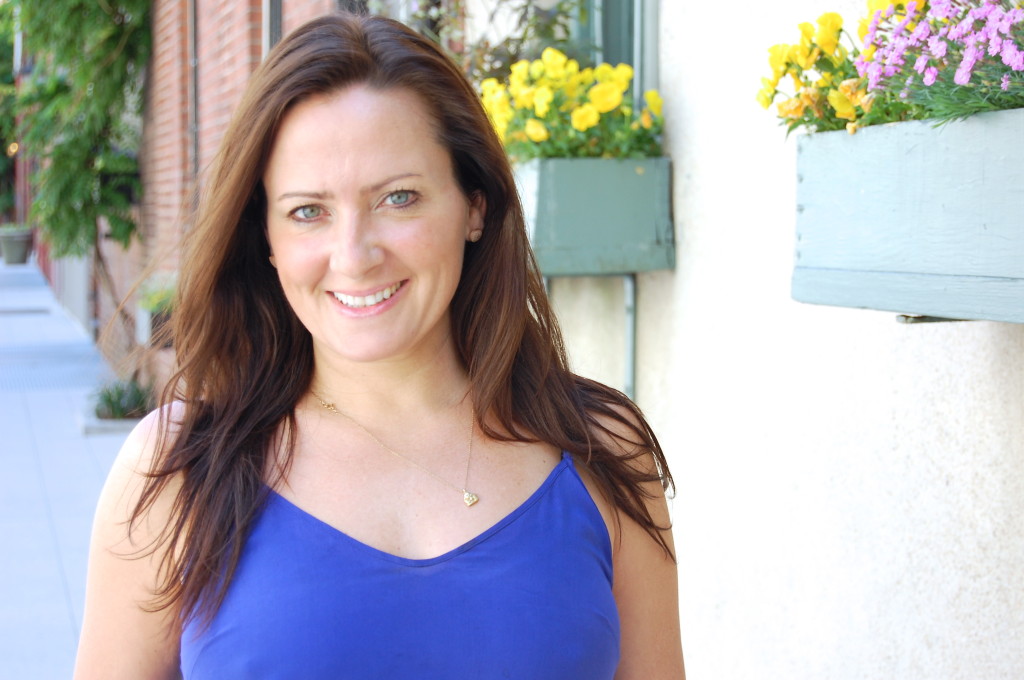 YSS:  What is Your Soul Style?  How is your personality reflected in your style?
Aimee:  I am pretty simple and casual.  A jeans and t-shirt kind of girl.  However I do like to have some subtle statements – so a big necklace or a scarf or a sexy pair of shoes usually goes with my ensemble.
YSS:  How do you describe your style?
Aimee:  Simple with a little flair of fun.
YSS:  What does your style say about you?
Aimee:  Exactly who I am –  simple with a little flair of fun.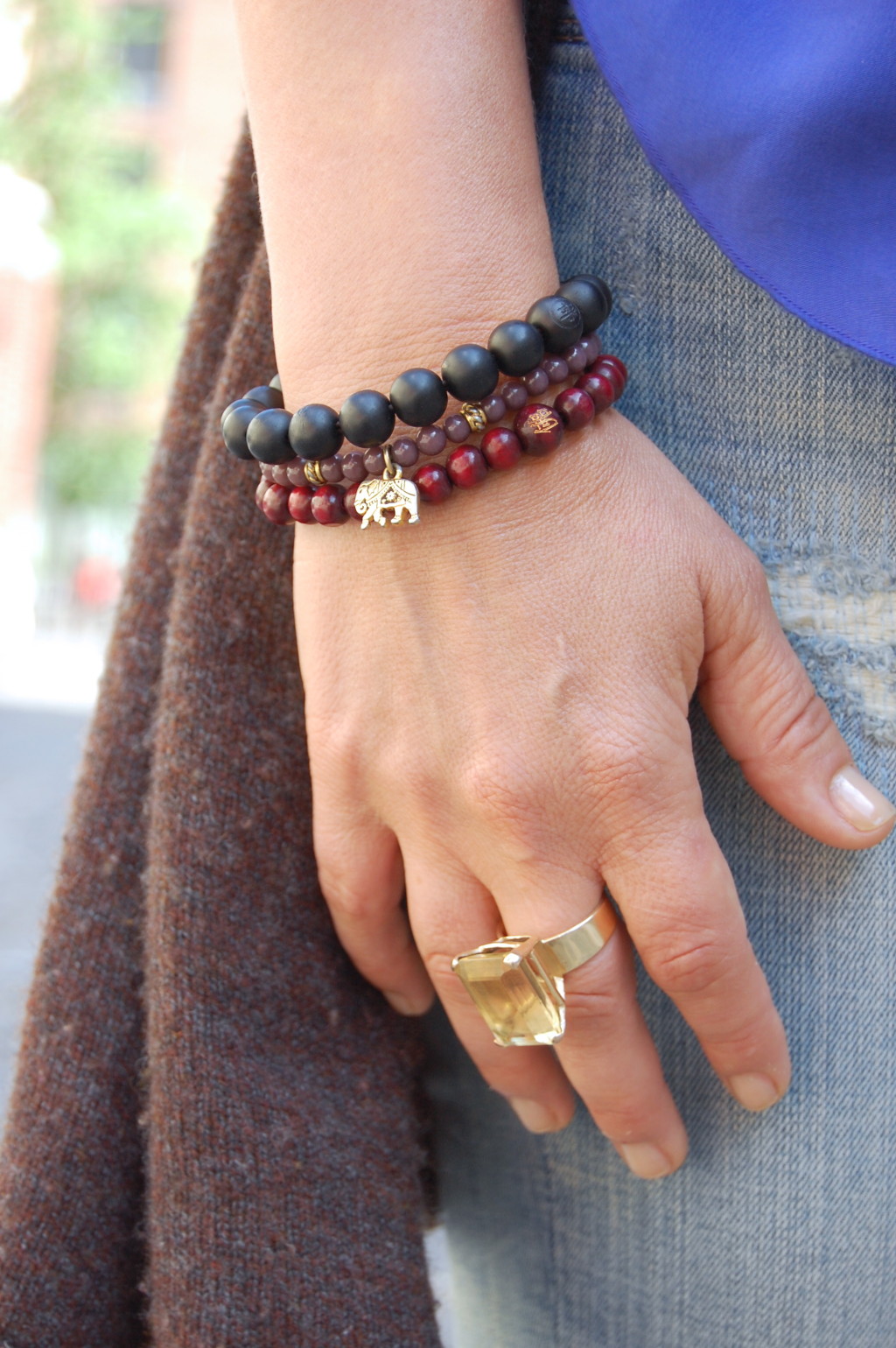 YSS:  Since you are in the wellness profession, is your style influenced by that?
Aimee:  Possibly.  I do think that the basis of wellness and health is approaching your life simplistically and with balance and joy.
YSS:  You just recently launched the book, "Yes! You can get pregnant".  Hopefully to be followed by lots of interviews, TV appearances and book tours!  What are your fashion goals for the year ahead??
Aimee:  When doing media, I definitely like to bring my style to the 'stage' as well as my professionalism.  I just bought an amazing Lanvin dress with a bright green flair.  To me its important to present my message in a sophisticated and professional manner, with color and vivacity.
YSS:  What is your head-to-toe look on a typical day?  
Aimee:  These days it's jeans or leggings, a comfy t-shirt or flowy blouse and my platform clogs.  And a colorful scarf.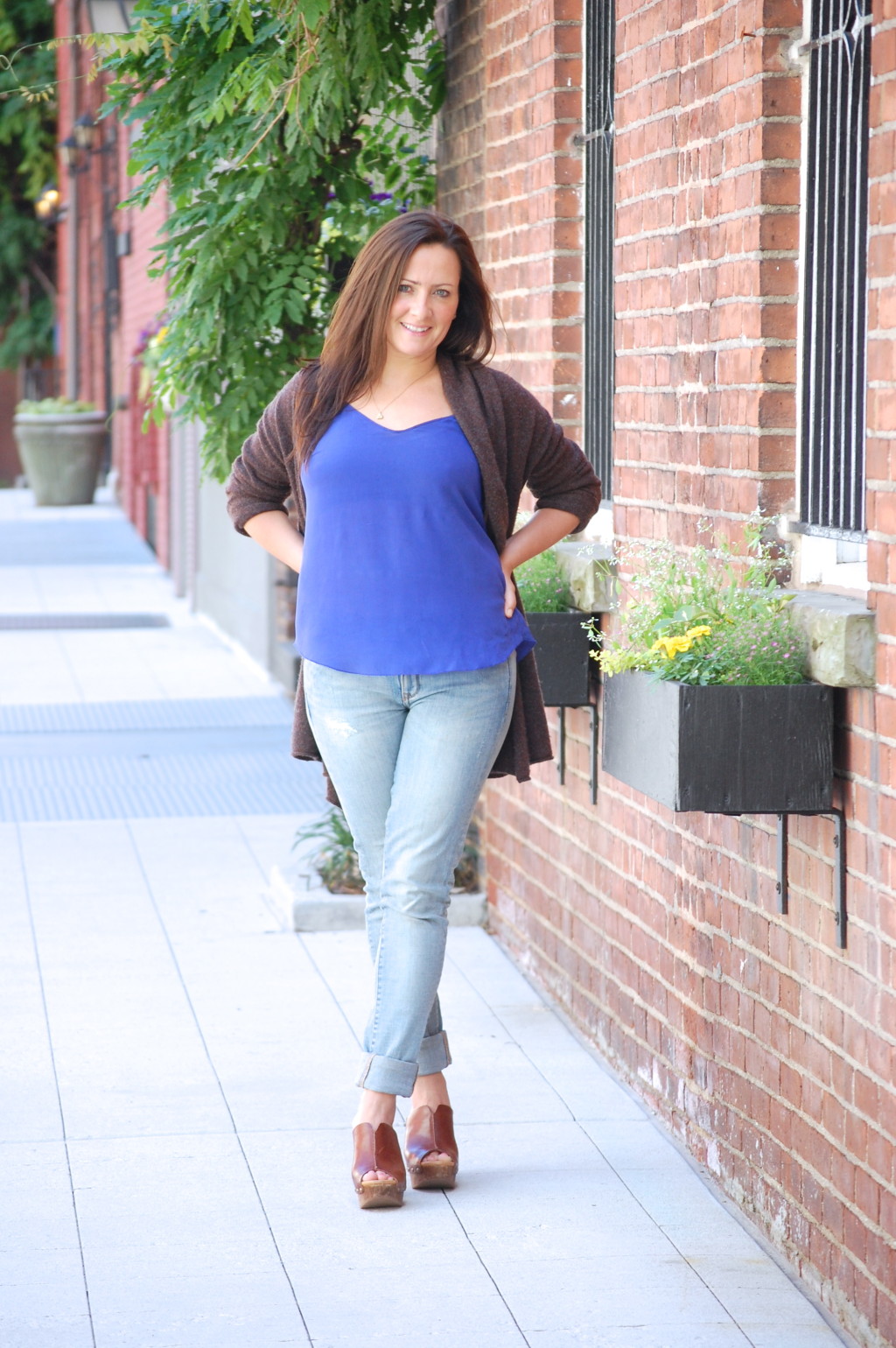 YSS:  Did your style evolve over time or has it stayed consistent?
Aimee:  It's been fairly consistent.  Although I have the most confidence now than ever, so I wear that proudly. 
YSS:  You've lived in NYC for quite some time. Where are your favorite places to shop?
Aimee:  Im a big fan of second hand couture shops like Second Time Around and INA.  And American Apparel.  
YSS:  Where do you draw inspiration from?  Do you have a style icon?
Aimee:  I just love women who look comfortable and fashionable in their own skin.  Women like Gwen Stefani and Christy Turlington come to mind.
YSS:  Do you have any style challenges?
Aimee:  Sometimes I am told that I don't show off my shape enough.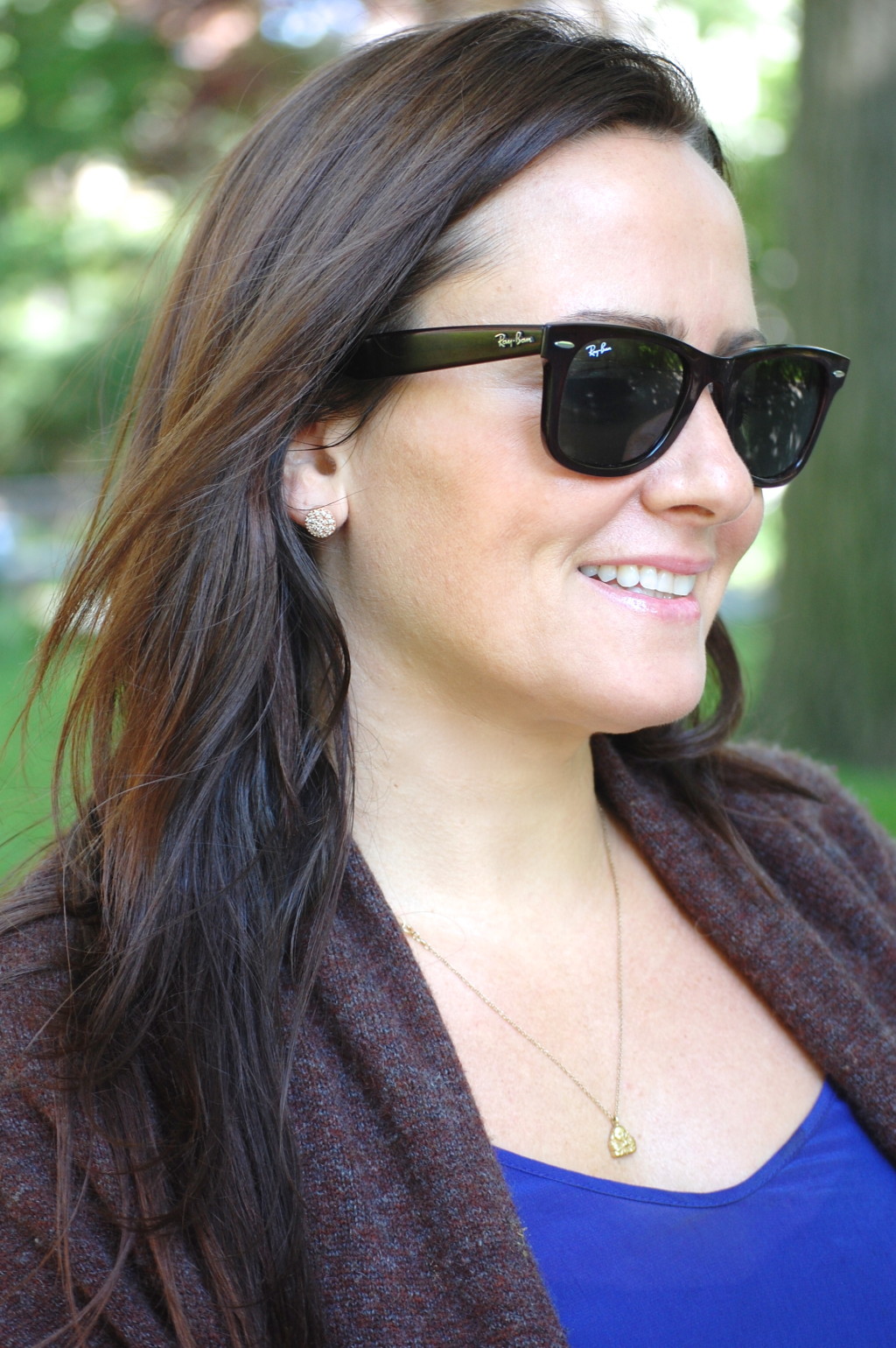 YSS:  Do you have a favorite fashion/style moment?
Aimee:  Who didn't love the 80's!  Side ponytails and leg warmers were my favorite!  Oh, and a Swatch watch as my ponytail holder.
YSS:  And your worst?
Aimee:  I had an awkward time post college where I didn't know if I was still a college student or a 'real adult' and finding a style was difficult for me then.
YSS:  What is your advice to women on how to embrace their style from the inside out?
Aimee:  Love yourself and let the rest fall into place.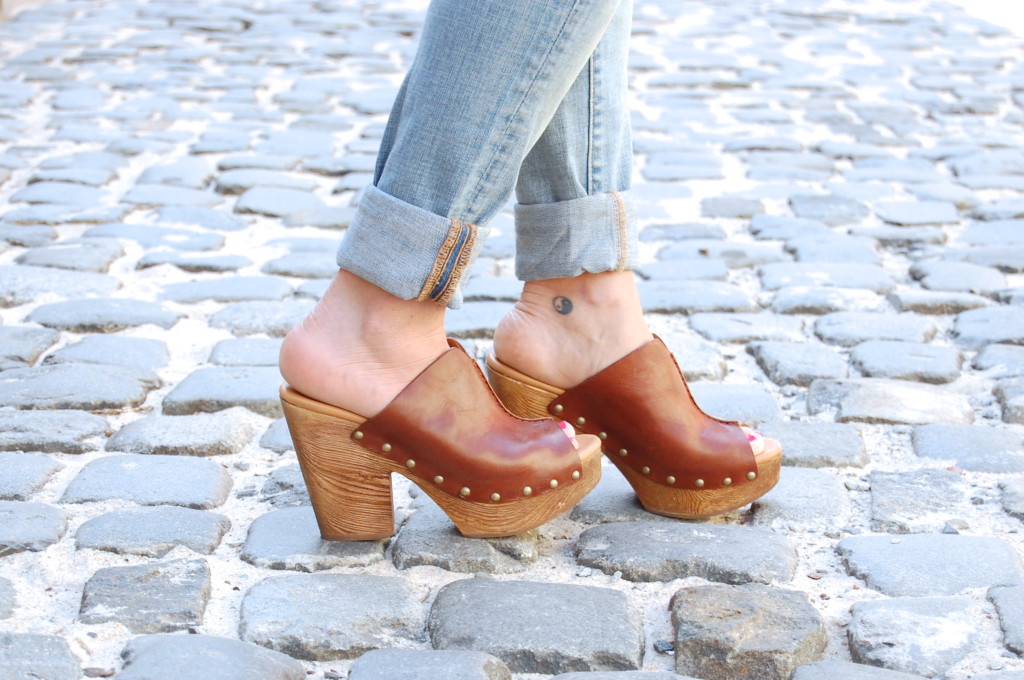 YSS:  Must have item in your wardrobe?
Aimee:  Comfy sexy jeans from Paige or AG.  Easy slip on shoes like my new favorite clogs and a great scarf.
YSS:  Three things people don't know about you….
Aimee:  Hmmm -
I still have and wear a pair of jeans I've had since college  
I mostly love my body, but I have times when I don't  
I really don't like to shop.  I'm more of a impulse shopper
Aimee is wearing, tank: ARITZIA // sweater: CLUB MONACO // jeans: PAIGE // clogs: KORK EASE // sunnies: RAY BAN // bracelets: prayer beads from monks in hong kong and bali // ring: grandmothers yellow topaz
Aimee Raupp is licensed by the State of New York to practice acupuncture and traditional Chinese herbology, and is certified by the National Certification Commission for Acupuncture and Oriental Medicine.  She is currently in private practice in Manhattan, the Hamptons and Nyack, NY.  Follow her along on Facebook, Instagram and Twitter for daily inspiration and visit her site here to make an appointment!