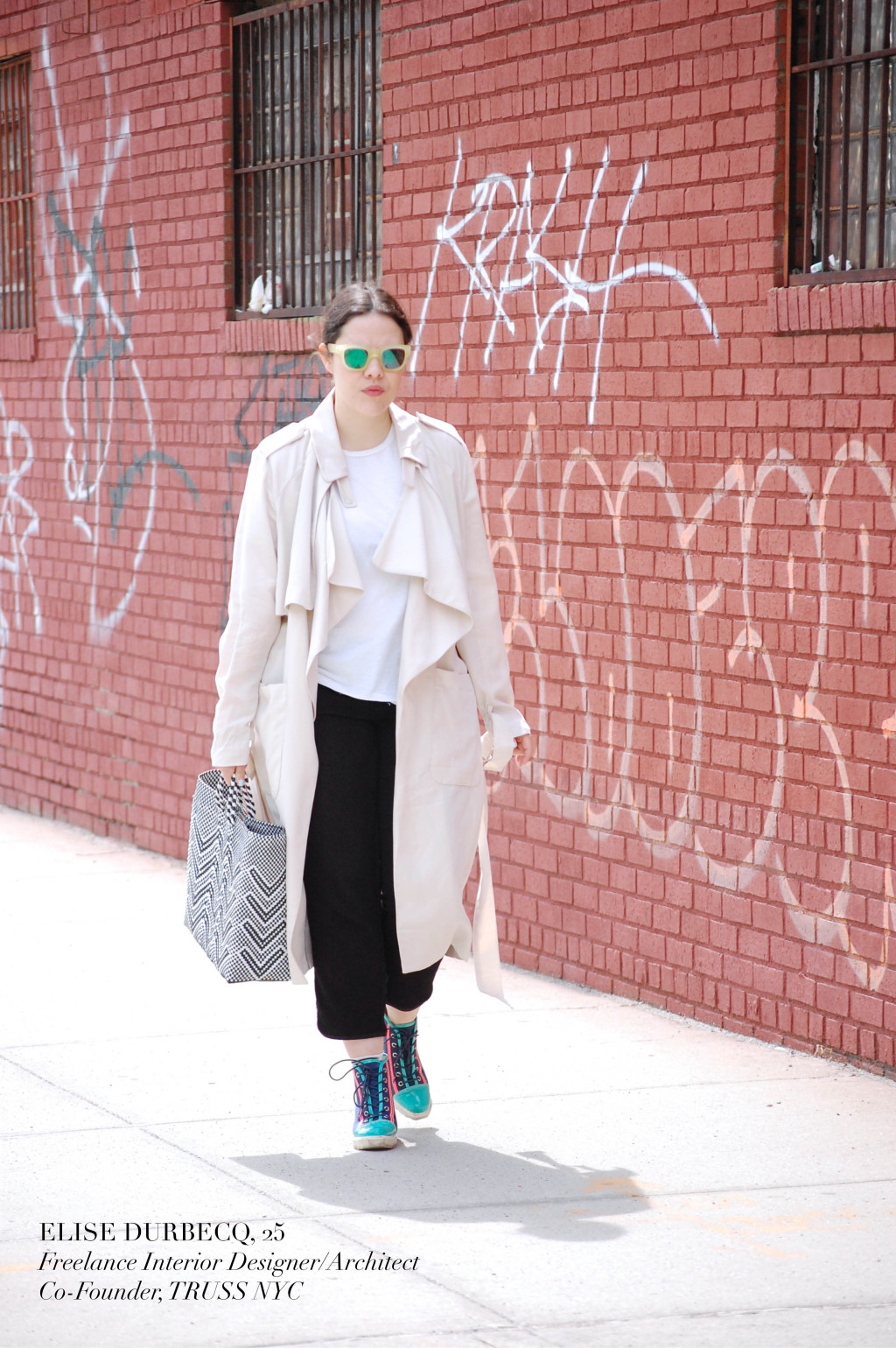 When I imagine Mexico City, I think vibrancy, a culture that runs deep and authenticity.  Which is why when meeting Elise Durbecq who hails from the country, it makes total sense that I immediately fell in love with her.  Highly intelligent, articulate and worldly, I was in disbelief when finding out that she was only twenty-five years old.  We crossed paths when both freelancing at the women-centric retail company, Ann Taylor LOFT.
Elise came to the United States when she was eighteen to study interior design/architecture at the Fashion Institute of Technology.  Along with her work as a design consultant on residential projects and for LOFT, in the Fall of 2013 Elise with partner Gillian Tozer,  launched a line of custom totes called TRUSS NYC.  Both Elise and Gillian, "fell in love with the traditional market tote while in Oaxaca, where we spotted the bags on top of the heads and in the hands of market women. We loved the bright colors geometric shapes, and sturdiness of the bags and immediately pictured them being a part of every girl's life back in New York City."  What began for Elise as childhood visits to Oaxaca, has now developed into an emerging brand that is not only fashionable and functional, but more importantly supports local weavers from the small town.  A dying art which TRUSS is passionate about sustaining, every bag is handwoven from indigenous Mexican craftsmanship.  A percentage of the profits aids in the support of these Oaxacan communities.  
The future looks bright for TRUSS since they were immediately picked up by Opening Ceremony, and sold in their New York, Los Angeles, London locations, and online.  The totes are beautifully made, durable, lightweight and come in a variety of patterns and colors.  Each style is original, slightly different then the next.  The quintessential summer bag that not only looks good, but gives back!  They retail between $150-$175.
When Elise and I sat down to chat, one thing she said that resonated with me was, "I don't work to live, I love to work." which is the perfect philosophy to live by, in order to achieve the most rewarding type of success.  TRUSS is a do-good brand with many emotional elements that hit at the core of who Elise is.  So I was curious about her soul, her style and how it all aligns with the incredible work she's doing at TRUSS.  Here's what she had to say…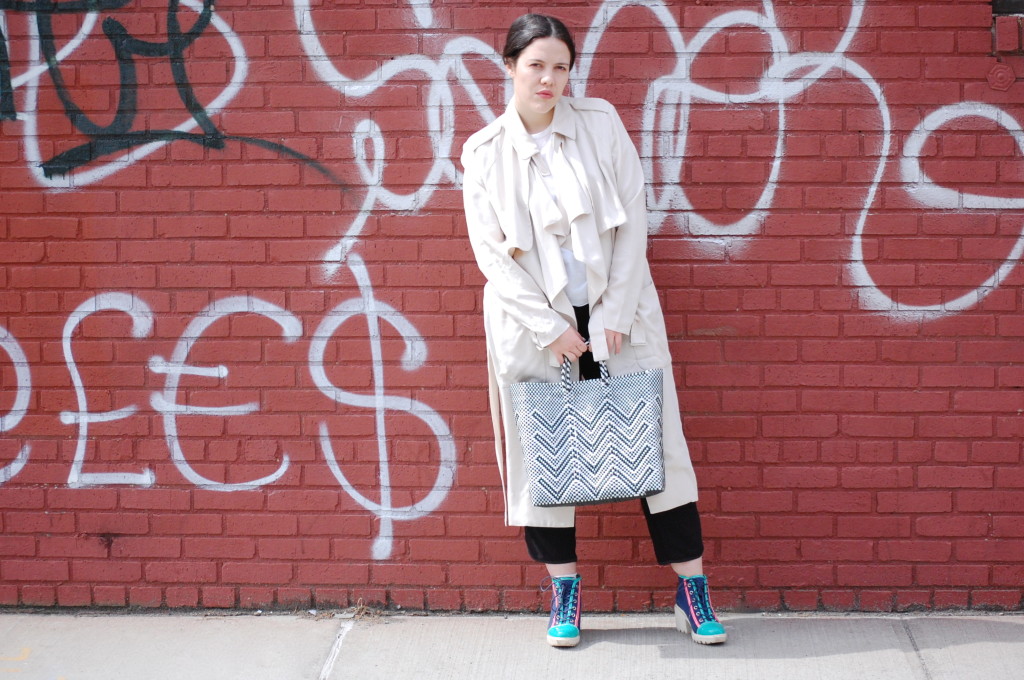 YOUR SOUL STYLE: What is Your Soul Style?
ELISE: I'd like to think my work directly affects the way I dress.  As an interior designer I'm constantly inspired by projects I'm working on – it might be an architectural period I'm researching or a new material I'm working with.  I'm hyper aware of texture, structure and scale and the same goes for my style.  I love ultra structured garments, fabrics with a lot of texture, all in muted colors.  Details are very important to me, and I love any architectural jewelry.
YSS: How is your personality reflected in your style?
ELISE: I think its important to add humor to the way you dress: for instance pieces that have a story behind them like jewelry from my travels, good thrift finds, unusual shoes, etc.  I love borderline tacky souvenir t-shirts from places I've been, the more random the better (latest addition is an Atlantic City Tee) and I'll pair that with some nice tailored pants and nice heels – to me that's funny.  That's also where my accessories come to play – I like to add in a little color with pieces that I pick up when I go home to Mexico and I'm definitely always wearing a Truss bag.
YSS: How do you describe your style?
ELISE: Monochromatic, practical, humorous  and hopefully a little chic?
YSS: What does your style say about you?
ELISE: I'd like to think it says I work in design and that I'm fun.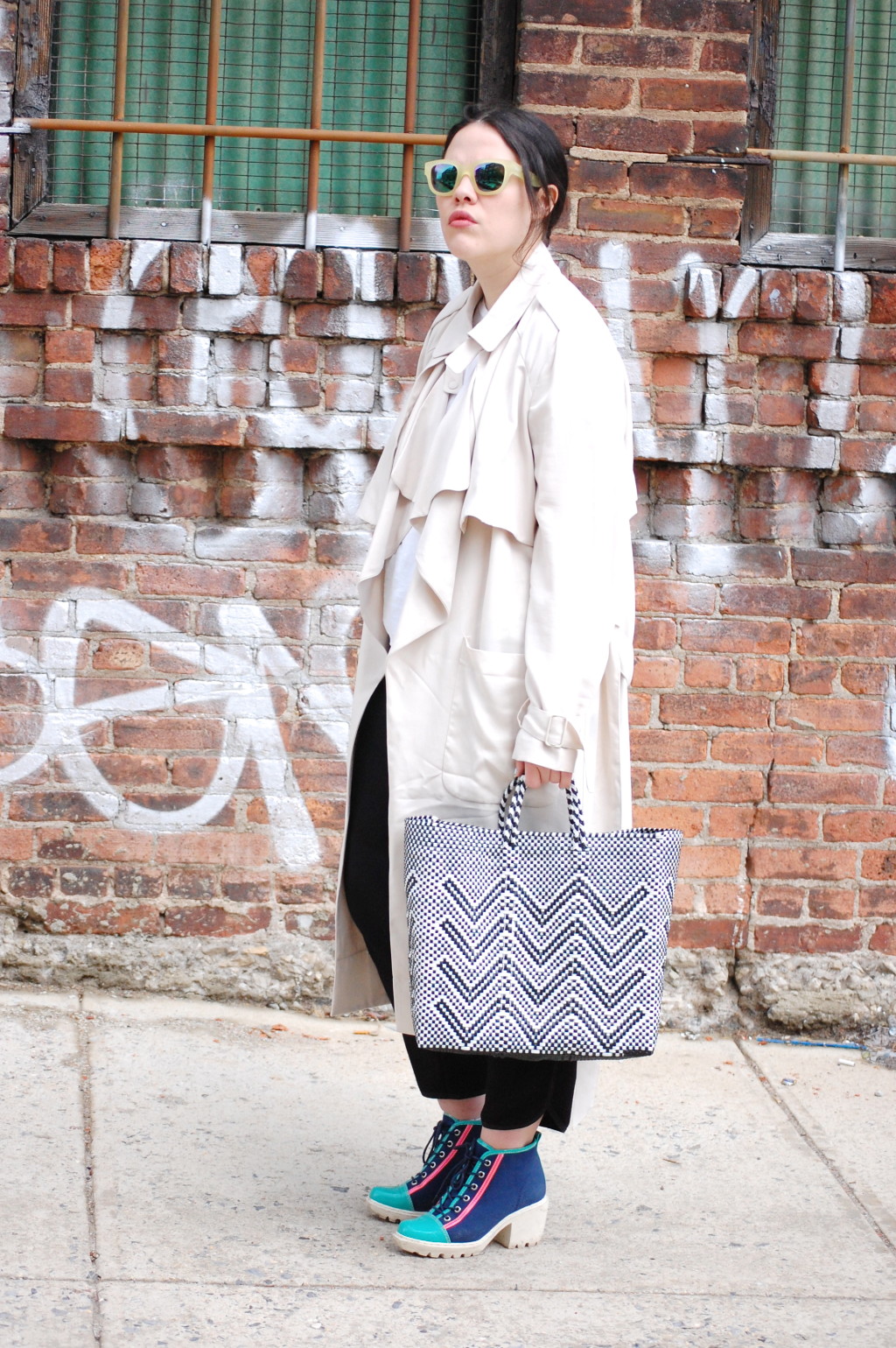 YSS: Did your style evolve over time or has it stayed consistent?
ELISE: Definitely evolved as my design tastes have developed.  I have always been interested in fashion, constantly keeping up with runway shows on style.com etc.  But moving to New York definitely gave me more up-close-and-personal access to these designers.  Also my time at Opening Ceremony schooled me on a bunch of new designers like J.W. Anderson, Jacquemus, Isa Arfen and kept me in loop with designers like Raf Simons, Comme des Garcons etc.  Unfortunately (for me), I can't really afford these guys on the regular so I focus on saving up to buy key pieces that will (hopefully) remain in my closet forever. 
YSS: Since you were born in Mexico, is your style reflective of your culture?
ELISE: Traditional Mexican textiles and clothing have always had a big influence on the way I dress and appreciate fashion.  Seeing first hand the hard work and detail that goes into weaving these pieces is nothing short of incredible.  This respect definitely drove my appreciation for quality and craftsmanship and a desire to start a company like Truss, which focuses on the quality of the product and the people who make it.  I'll occasionally wear a traditional shirt called 'huipil', which is basically a piece of fabric that has been folded over once, sewn at the sides, and has an opening for your neck and arms.  It's very universal in its fit and lightweight.  Often the front has an intricately sewn pattern and it comes in varying lengths and colors.  I always wear neutral with minimal embroidery, but I do own about twenty-five Frida Kahlo-esque moments that I've collected during the years.  They're still stored at home in Mexico City somewhere.  I'm saving them for some extravagant Halloween situation. Stay tuned!
YSS: How has living in New York influence/changed your style?
ELISE: The seasons have for sure made an impact on the way I dress!  I love winter!  I love playing with fur accessories (I try and keep all my fur sustainable/vintage), layers  and oversized coats.  New York is obviously a super fast paced city so I find myself opting for practicality over everything: I climb those subway stairs at least 6 times a day!  I'm always on the look out for a pair of heels I can wear all day.  Another of my favorite aspects of New York is how exposed you are to new fashion.  Not only do I have many talented friends who are starting their own lines etc., but so many small retailers focus on carrying emerging designers.  Its always fun to discover and wear something new. 
YSS: You've lived in NYC for quite some time now.  Where are your favorite places to shop?
ELISE: Opening Ceremony has always been one of my favorites.  Not only do I love their own collection but the range of styles & designers is pretty spectacular.  I always find something incredible there.  Others include Acne, Uniqlo and I'm pretty excited about the new arrival of Dover Street Market.  There are some incredible places in my neighborhood like Beautiful Dreamers that carry some of my favorite brands like 69us and Quarry.  Many pieces in my closet are thrifted: I always find something at Urban Jungle in Bushwick, although thrifting is always better outside the city.  And of course I always pick up a souvenir t-shirt whenever I'm in a new city.
YSS: Where do you draw inspiration from?
ELISE: Whatever project I'm working on will usually be very influential – I easily become obsessed with something new:  may it be working with a particular material, technique or person.  And of course my immediate surroundings –  architecture, magazines, instagram, the internet, my friends – everywhere!
YSS: Do you have a style icon?
ELISE: I don't have one in particular.  Usually it's people I know and admire.  Oddly enough some of my biggest style inspirations come from men.  I love menswear!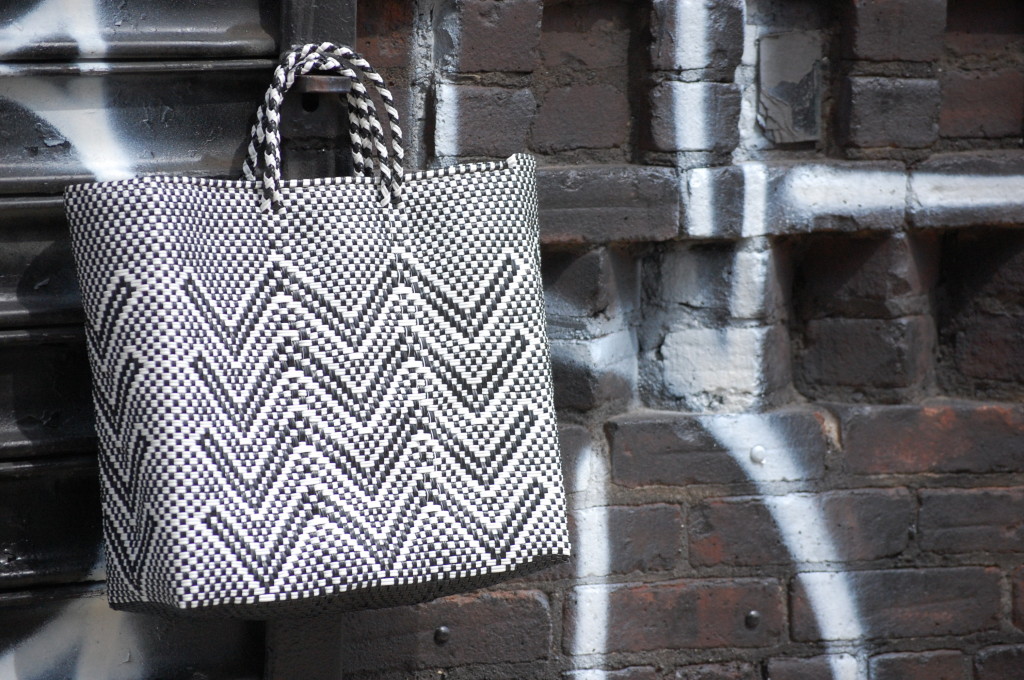 YSS: Do you have any style challenges?
ELISE: One word: Summer (How long until Fall is here again?).  I love layers and outerwear, two nearly impossible things to wear in a New York City Summer.  To this day I'm still shocked over how hot and humid it gets here.  People think I'd love it or I'm used to it because I'm from Mexico, but the truth is Mexico City is super dry with hot sun and a cool breeze – perfect for a light jacket.
YSS: Do you have a favorite fashion/style moment?
ELISE: I can't think of a specific one, but every season I'll develop a look I'm obsessed with and wear it over and over again. I like when that happens.  
YSS: And your worst?
ELISE: So many!  I went through so many 'fashion phases' growing up.  I look back and can't help but laugh.  Notable mentions include a time when I looked like something out of a Missy Elliot video, all decked out in Puma or Adidas matching tracksuits and some out-of-this-world trainers.  At this point I had dyed my hair black and white – yep, cue the onset of nicknames I collected during that time. 
YSS: Must have item in your wardrobe?
ELISE: My favorite denim jacket I'm obsessed with, my favorite shoes; the grunge sneakers from Opening Ceremony (I have so many of them!) and a TRUSS bag of course!
YSS: Three things people don't know about you?
ELISE: I was a competitive ice skater until the age of 18, my dream is to have my own olive plantation and I have two adorable love birds, Ike and Tina – keep up with them via @_lesoiseaux_ on instagram.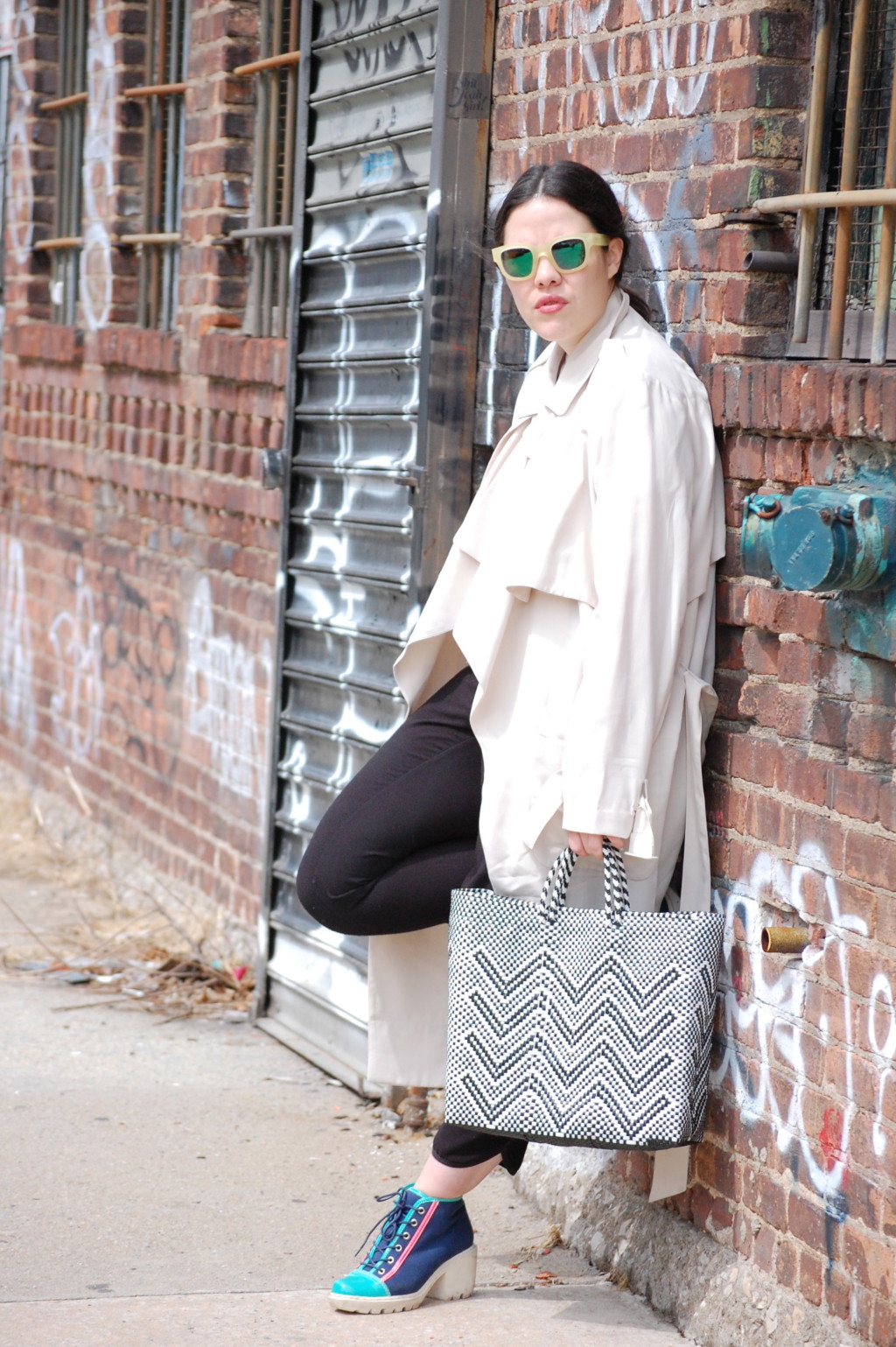 Elise is wearing, t-shirt: JAMES PERSE // pants: CLUB MONACO // coat: H&M // shoes: OPENING CEREMONY // sunnies: ACNE // bag: TRUSS NYC 
TRUSS NYC totes can be purchased on the Opening Ceremony website or in their store(s).  Stay connected with TRUSS via Facebook, Instagram, and Twitter.