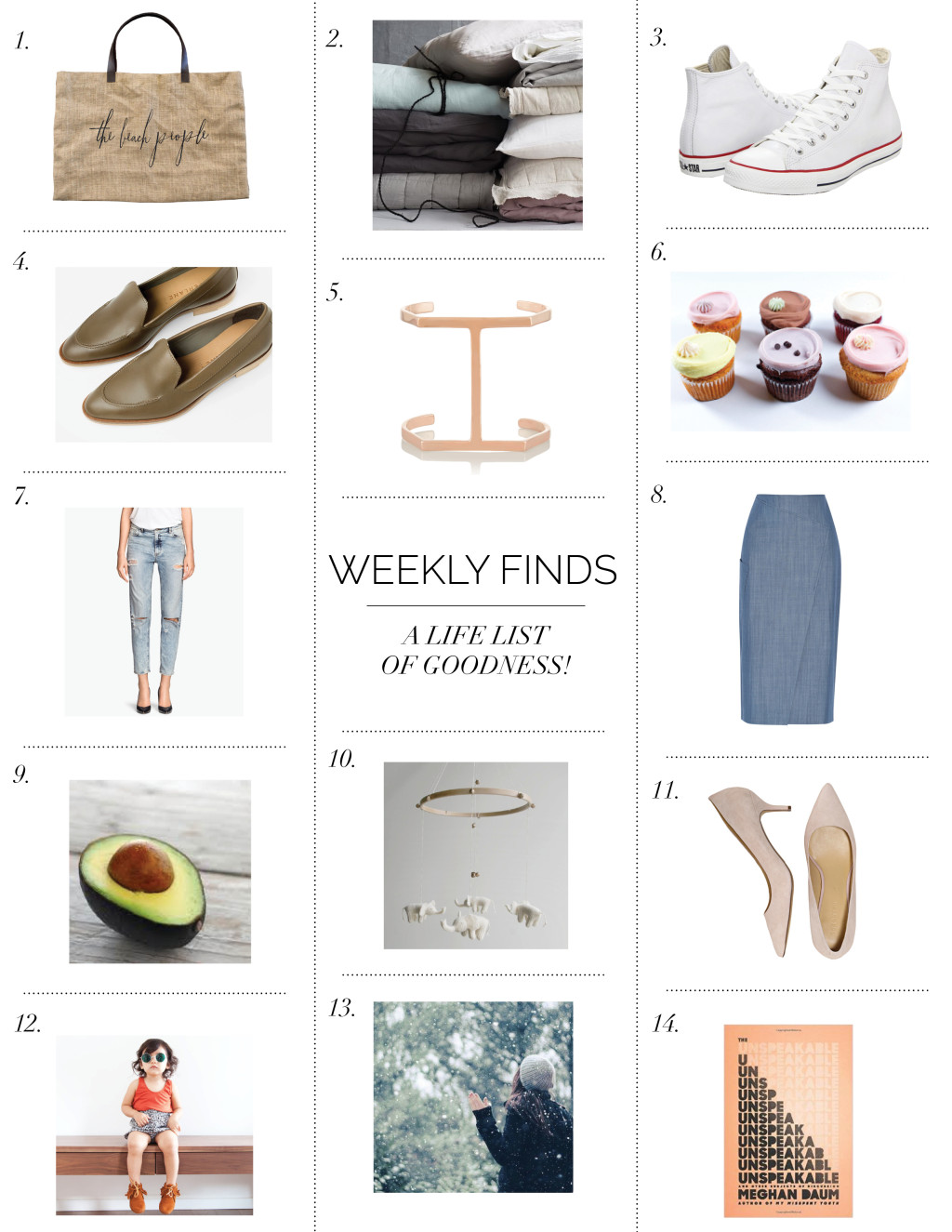 Today I'm kicking off a new series called "weekly finds", which includes my recommendations of things I've discovered over the course of the week, be it on the interweb or elsewhere. I'll share anything from fashion – to articles – to design – to books – to travel ideas, and provide links on where to find it. Be sure to stop by for a weekly dose of goodness that will hopefully give you some interesting food for thought over your weekend ahead. I hope you love!
THE WEEKLY LIST:
1. When I dream about the beach during these cold winter days, I envision myself carrying this The Beach People tote. Be sure to also check out their round beach towels/blankets which are super cool.
2. We haven't landed on a new apartment yet, but in the meantime I'm thinking of refreshing our bed with some West Elm bedding.
3. Once the temperature turns slightly warmer, I'm going to swap out my black leather high tops for a white version from Converse.
4. The only way I can embrace the menswear inspired trend is if the item has a feminine touch. These Everlane loafers are a perfect combination.
5. This Jennifer Fisher cuff is on my wish list, but in the meantime, I think I'll grab this cheaper version from Jules Smith or Elizabeth and James.
6. For all you gluten free, dairy free, vegan, wheat free, soy free, egg free, kosher and no refined sugar people, Baby Cakes Bakery has got your name all over it. Y U M ! ! ! !
7. Vintage jeans are always a favorite of mine, and will be huge this Spring. If I was not preggers, I'd have certainly scooped up this awesome pair from H&M. You should!
8. Denim always and forever, but especially for Spring 2015. This Tibi skirt, also on my wish list (if I was not pregnant).
9. I eat avocados daily, and if you do too – this article from Prevention Magazine will validate your decision to do so!
10. I know it's superstitious to buy stuff for the baby this early, but I couldn't resist this elephant mobile from Etsy.
11. Nude pumps are on my list, and between the heel height and price, this Joe Fresh style is a keeper.
12. I found THE CUTEST kids clothing website ever, based in LA called Ultra Violet Kids. I'll be spending lots of time in the coming months in this corner of the interweb. Obsessed.
13. An article on "7 Ways to Maintain Balance this Winter" from Well & Good. Yes please!
14. Just started "The Unspeakable" from Meghan Daum, a personal collection of essays about "the ways that some of life's most burning issues are considered inappropriate for public or even private discussion." Meghan dives in and is raw, insightful and will likely validate many of the things that have crossed your mind throughout your life, but have never shared. A must read!
Happy Weekend!
xx jenny