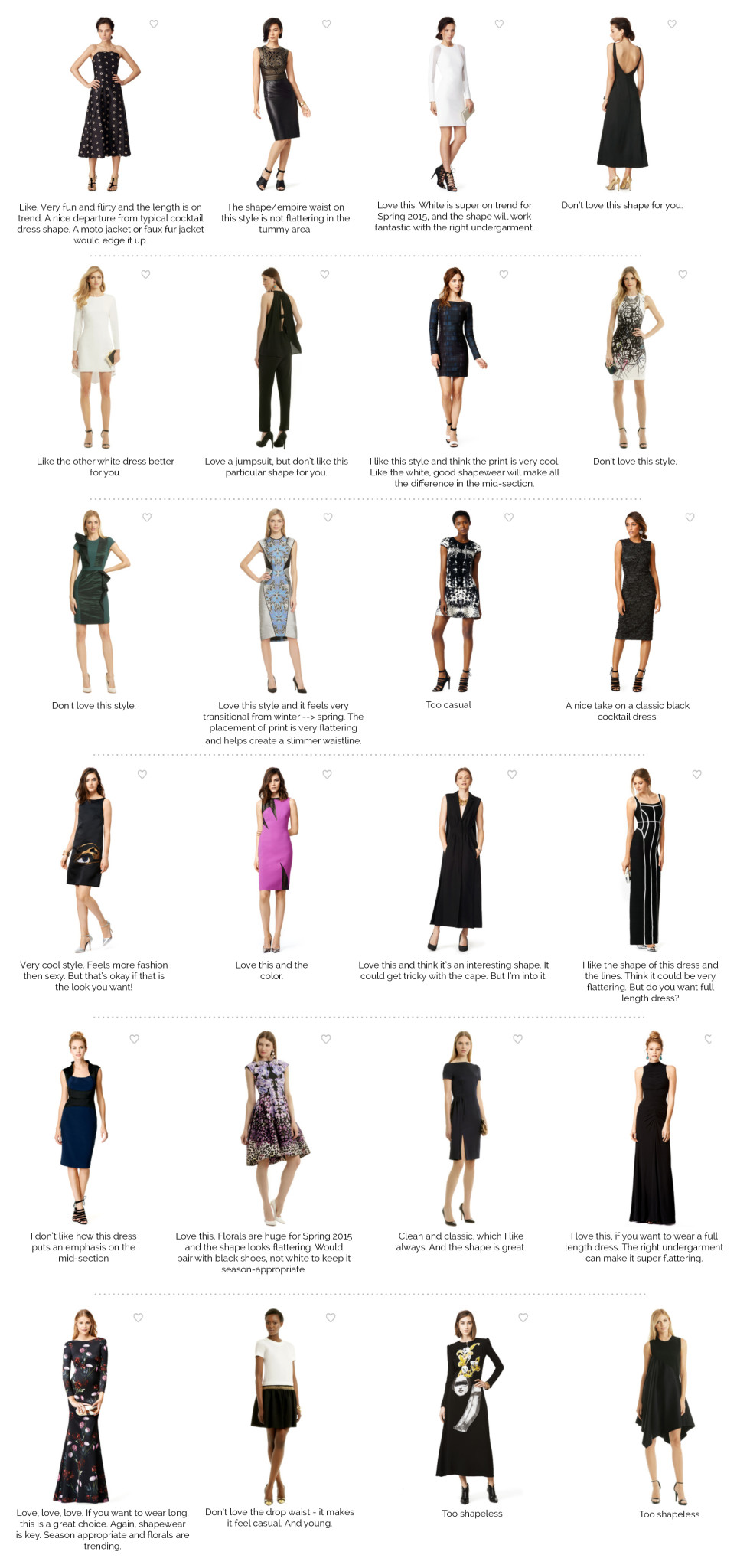 Hello, and happy week. Back in NYC and slowly watching my tan fade away from the frostiness – holy cold! Things have got to start warming up soon around here! Yesterday I was going to pop over to the Hatch sample sale, but aborted because of the negative degree temperature. Maybe I'll try for it today. With that said, I worked from home and virtual window shopped instead. Speaking of virtual shopping, last week a client reached out requesting help to find an evening dress for an upcoming event and instead of hitting the pavement, we worked exactly this way. My client wanted a "sophisticated", but low-key cocktail dress, that was season-appropriate, and which concealed her mid-section. Rent the Runway was ideal since she didn't want to invest in a new dress right now.
Whatever your specific needs, timeframe, and budget, hand-picked, edited selections and personalized, coordinated outfits can be delivered to you via e-mail and revised until we find what works best. In this case, my client narrowed down her own choices, and I provided guidance and feedback. Once the dress is chosen, we will work on the layers such as shoes and accessories. We also may take a shopping trip to the NYC Rent The Runway store to try on in person. Above is the example of our first round of edits. Keep in mind that my feedback was based on her individual style personality, body type, specific wants and needs. We are all very, very different! 
More affordable then in-person styling, virtual styling is not only a great option for clients who don't live close by, but for locals too. Friends and family are always willing to offer opinions, but sometimes we need objectivity and a professional perspective! Reach out and let me help you look your best, always taking into consideration your unique sensibility, specific needs and offering only styles that compliment your shape best.
Rate information can be found here. 
Don't forget to sign up for e-mail updates on the homepage, or head over to Bloglovin' and follow me there!