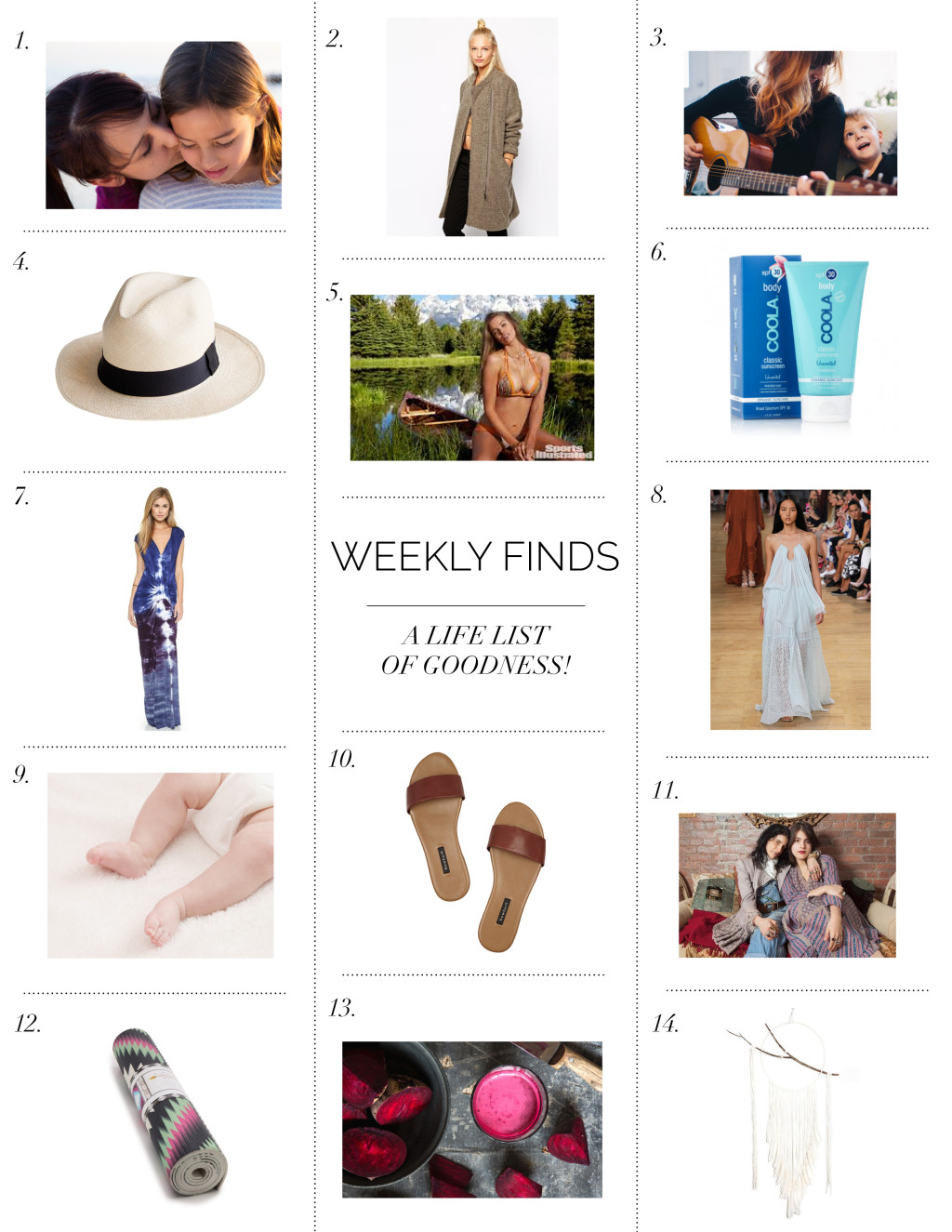 Another week, another snowstorm. I'm over it – for reals. I was trekking around on Monday holding on for dear life and while I have epic weather-appropriate boots that I told you about in last weeks' Weekly Finds, I still almost wiped out. Oh springtime, you are so near I can taste it! I'm heading to Florida on Monday for a visit with my mama and pops, so it'll be a nice teaser of warmth that shall soon be heading our way. Have a cozy weekend friends!
the WEEKLY LIST…
1. As a mama in the making, I'm constantly thinking about the kind of role model I want to be. Whether having a baby or not, Mind Body Green's article 5 Ways To Be A Body-Positive Role Model, gives us all a few tips we can learn from.
2. I have an obsession with outerwear which is odd because I've been dying for warmth since November! While I continue to hold out on shedding layers, I've got this, this and this on the brain from the ASOS sale.
3. "Over several years of parenting, I slowly began to understand that my job was not to fix my children or change their emotions, it was to nurture and nourish their humanity so that they had space to grow, change and be more unified in heart, spirit and mind." An excerpt from an important read, 3 Signs Of Emotionally Strong Mothers.
4. I wore this J.Crew hat to shreds from India to Barcelona and beyond, and had to toss it after Turks & Caicos. It's time to replace it for the upcoming beach days which hopefully lie ahead!
5. Sports Illustrated is featuring its first plus size swimsuit model and I could not be more thrilled about it! Check it! #PROGRESS
6. Had to pick up my new favorite Coola sunscreen for Florida, and wanted to share the goodness. Excellent protection, organic, vegan, gluten free, cruelty free, unscented, hypoallergenic, paraben free, ultra sheer and more. Stock up for Summer!
7. Hundreds of new styles added to Shopbop's SALE category. I've got this, this, and this in my shopping cart.
8. With f/w 2015 New York Fashion Week quickly approaching, I've been compelled to recap some of the spring trends. I'm excited for long bohemian dresses, like the one in the above photo from Chloe, but some others to watch out for are utility, leather/suede, pale neutrals & whites, denim and floral.  The full breakdown (plus slideshow) on Style.com.
9. We didn't want to register for the babe at individual stores, but rather use a site that aggregates from many. A friend of mind recommended BabyList which I've been having a blast with all week!
10. Have my eyes on these Newbark sandals for easy, everyday wear or this more affordable version from J.Crew.
11. Eternally inspired by the StyleLikeU platform, where founders Elisa and her daughter Lily are constantly challenging the stereotypical norms of fashion ideology, and showcasing that true beauty starts from within, from an individualistic place. The What's Underneath Project interviews are a must watch.
12. I'd love to step up my yoga game with these La Vie Boheme yoga mats.
13. Remember my tip on beets in last weeks' Weekly Finds? I finally made my beet and goat cheese salad, which came out amaze! Ironically Mind Body Green did a post this week on The Cleansing Power of Beets, including 10 great recipes. Check it!
14. This Torchlight find is what my dreams are made of, and hopefully will help me have even better ones.