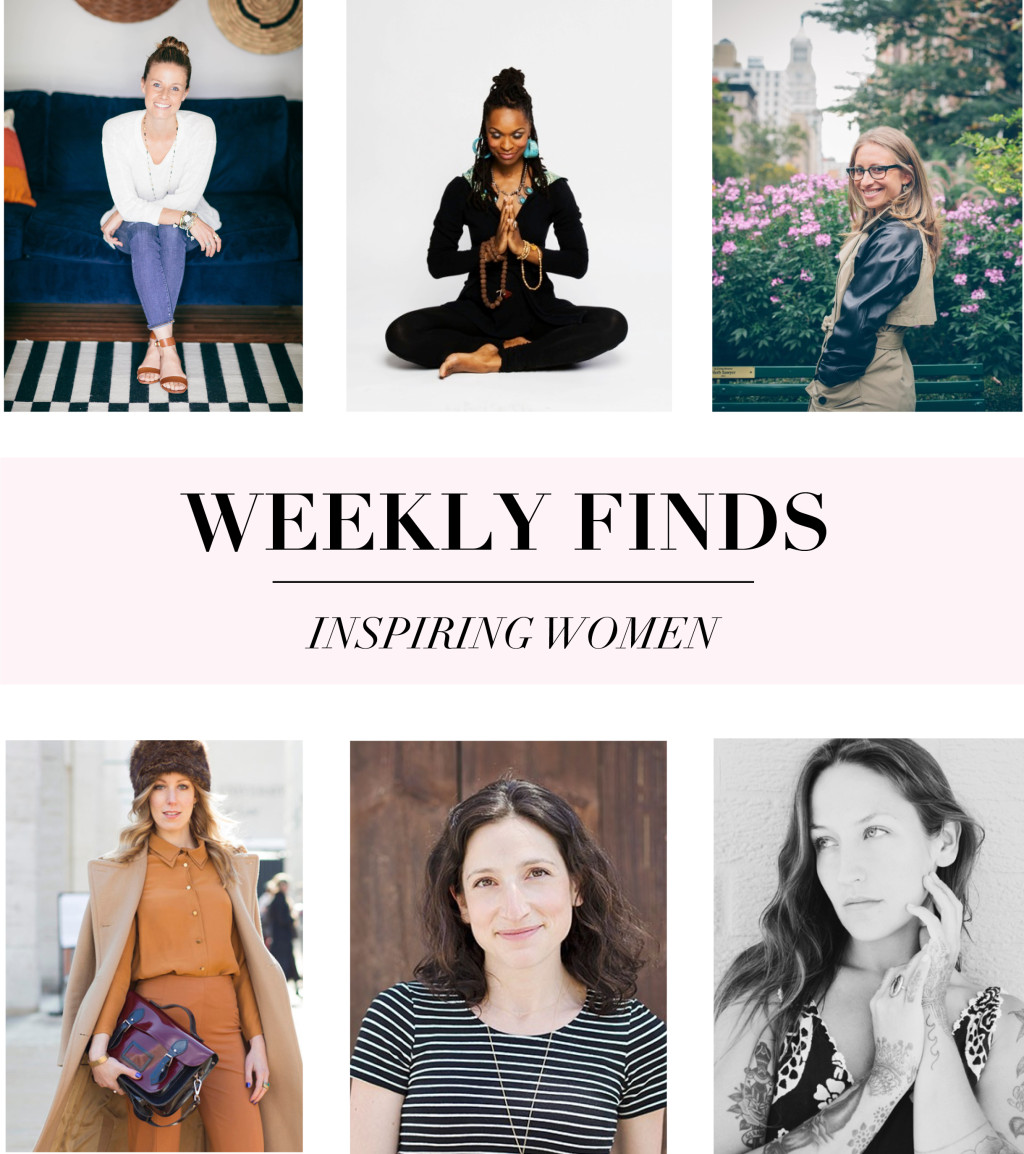 For this Weekly Finds post, I've pulled together a list of women who have been super inspiring to me. Like a sponge, I have been absorbing all of their beautiful energy, and I wanted to introduce you to who these incredible creatures are. I've met most of these women after launching Your Soul Style which has opened countless doors and relationships in my life. I am eternally grateful for this journey, and meeting these strong individuals who are paving their own way – entrepreneurial, creative, soulful, and designing the lives they want to live. All the while giving back to their communities of women and establishing platforms that perpetuate goodness in the world. True women with Style From The Inside Out. Take a peak at these ladies, the incredible businesses they have created, and head over to their sites to learn a bit more…
Clockwise from top left:
Carly Burson, Founder, Tribe Alive | I've written about Tribe Alive in spotlight posts here and here, but I'm continuously inspired by my friend Carly and wanted to include her in this feature. Tribe Alive is all about purposeful fashion, employing indigenous women from countries like Honduras and Ethiopia and giving them opportunities to make a fair wage income they wouldn't have otherwise had. The merchandise is beautiful, all handmade by local artisans and while the company is just about to launch only their second collection, Spring 2015, Tribe Alive is making major strides in the marketplace. Carly, mother of beautiful Elie, entrepreneur, world traveler and do-gooder is someone to watch. A woman who has been inspiring me since the day I met her, she is ambitious, and determined to make this world a better place. Follow her along on the Tribe Alive site, Instagram, Twitter or Facebook.
Latham Thomas, Founder, Mama Glow | I've attended a few events with Latham Thomas, founder, and author of Mama Glow: a hip guide to your fabulous, abundant pregnancy, and felt her energy and spirit radiate the room from the moment I took notice. Latham, who is also a yoga teacher and doula is all about the mind & body alignment for women both expecting and not. She facilitates the important and impactful message of wellness, and believes in the community of women and taking care of yourself, starting from the inside out. It is evident that she practices what she preaches by her beaming soul, and when I recently heard her speak at the Beyond Mom event, I knew she was someone I wanted to stay connected to. Follow her along on Mama Glow, Instagram, Twitter and Facebook.
Randi Zinn, Founder of Beyond Mom | Randi Zinn began Beyond Mom as a way of bringing a community of women together who can inspire and collaborate with one another. "She encourages moms to cultivate a life "Beyond Mom" – one that embraces the gifts of motherhood but expresses all that they are as individuals: creators, businesswomen, thinkers, friends and so much more". After attending my first event two weeks ago, and meeting Randi in person, I took notice of her leadership, and her position as a strong role model to women who are pursuing their dreams outside of having a family. As I embark into my own journey towards motherhood, I'm so grateful to have connected to Randi and her community. Get involved on the Beyond Mom site, and follow along on Instagram, Facebook and Twitter.
Liz Teich, Stylist & Editor of The Brooklyn Stylist | If you google "Fashion Blogger", you will fall down the interweb rabbit hole since there are over thousands in NYC alone. With that said, most are pretty consistent with the standard fashion blogging format, sharing outfits posts, etc. but what I love about Liz Teich, stylist and founder of The Brooklyn Stylist, is that she provides so much more! As a professional stylist and fashion expert, Liz offers tips and strategies that are useful. I admire her witty and not-so-serious perspective, and am inspired by her approach to fashion and style. While she is totally in the know when it comes to what's going on in the industry, she keeps things real and authentic. Stay tuned for a full spotlight feature in the coming weeks! In the meantime, follow her along on The Brooklyn Stylist, Instagram, Facebook, and Twitter.
Jessica Pallay, Co-Founder of Well Rounded NY | Upon my first meeting with Jessica, I knew she was someone I'd be inspired by. At the time she was working for a non-profit company, co-running Well Rounded NY, raising her two beautiful little girls and didn't skip a beat. So well spoken, and articulate – a woman who keeps it real. Her authenticity comes through in her personality and spills over to the site which covers relatable and relevant information for the 'cosmopolitan mom'. Jessica is the kind of woman who I look to when I wonder if I can do it all once the baby arrives. She has shown me that I am capable of running my own successful business, tending to a family, and staying sane in-between. Follow her along on Well Rounded NY, Instagram, Facebook, Twitter and Pinterest.
Domino Kirke, Co-Founder of Carriage House Birth | I recently just met Domino, but was immediately taken aback by her radiating energy and spiritual soulfulness. Domino is the co-founder of Carrige House Birth, a center which provides birth services including doulas, placenta encapsulation, and pre and post natal birthing classes. Domino will actually be acting as our Doula and I felt compelled to include her in this feature because although we've just met, I'm inspired. In a time of unknowns for many women, where there may be fear and anxiety about the impending experience, the combination of her practical knowledge with emotional intelligence is a rare find and ultra comforting. Her nature is gentle, centered and peaceful, all necessary vibrations when bringing life into this world. She has worked with tons of women in this city, and has giving them the tools to empower themselves through their individual birthing experiences. I am so grateful to be in such good hands. Check out her site, Carrige House Birth.