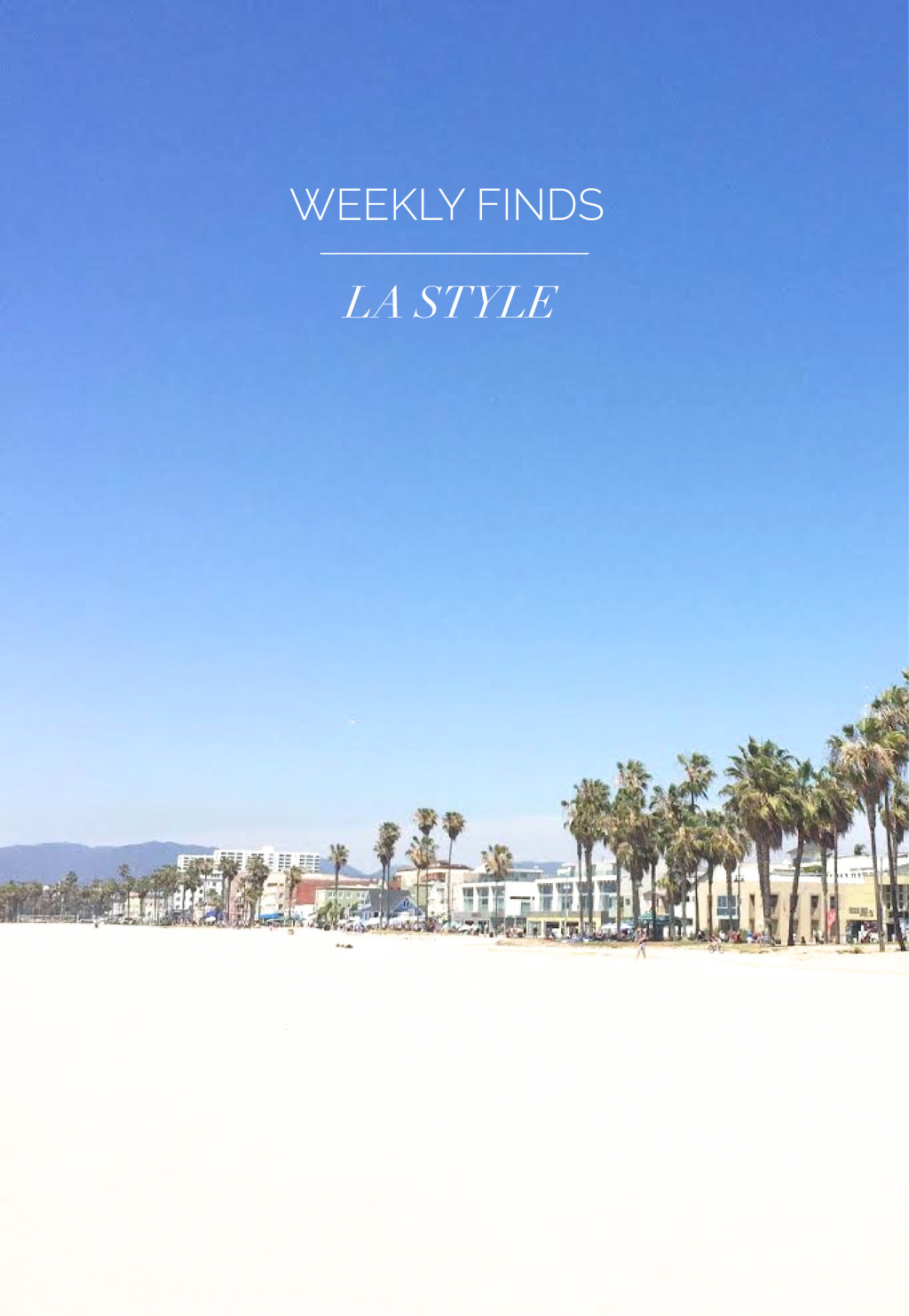 Hello and happy Friday! Today is our last day in California, and we're finishing up the week with some beach time and a friends wedding tonight, (which Dina is actually officiating!). The past two weeks have been nothing short of amazing, and I'm feeling extra grateful that we were not only able to take a proper babymoon and spend a week of quiet, and relaxed time in Palm Springs, but that we've also had the opportunity to spend another week here in LA, working and playing a bit too. There is something about this California sun that keeps me smiling whether working on a deadline or not! While I'm super empathetic to the unfortunate drought the state is facing, I can't help but enjoy the sunny days, and warm temperatures after leaving such a sh*tty east coast winter behind. For the sake of California though, I do hope it rains. But after tomorrow, when we leave!
While in LA, we stayed at an excellent beach bungalow inspired AirBnB in Venice, and had the chance to check out some epic local restaurants and shops. For this Weekly Finds post, here's a round-up of what we discovered. I've documented much of our trip on instagram so pop over there for some visual reference of the past couple of weeks. And stay tuned for my Palm Springs round-up in the coming weeks.
Have a great weekend ahead, and I will catch you on the flip side. xx
RESTAURANTS:
Gjelina: Many friends who live locally recommended this restaurant, which is in the heart of Venice on Abbot Kinney. It was delicious, with a menu that included small plates, pizzas and entrees. Good for people watching too, get there early if you don't have reservations, because it's definitely a hot spot. If not, call ahead and reserve your table.
Cafe Gratitude: In the span of 6 days, I ate at Cafe Gratitude 3 times. It's a vegan spot, but probably the best one I've ever eaten at in my life. Since I'm gluten free, there were also a ton of options that I can't usually get in any typical restaurant like a GF baguette. I worked here during some of my mornings (yay for free wifi!), and between the buckwheat pancakes, vegan blt and sparkling rose water, I'm salivating thinking about it now. Be sure to ask for the question of the day.
AOC: Located in Beverly Hills (and not the same as the one in NYC), we had dinner here with friends during the week. A more upscale and posh place, this is the type of spot where you may or may not catch a celeb spotting. The food was amaze, and environment super hip. Be sure to order the bacon wrapped dates and the shared dessert platter!
Blue Plate: This Santa Monica lunch spot is super casual and cute, but yummy too. Great for brunch, we both had awesome salads. Located on Montana, a good strip for shopping too.
Venice Ale House: More of a pub/bar atmosphere, I met a friend here for lunch because I was jonesing to eat on the beach! A large menu to choose from, all of the food is organic and fresh with gluten free bread options too. Great for people watching, the restaurant is right in the heart of the Venice beach strip.
Kreation: Another organic spot, located on Abbot Kinney, Kreation was good, but not half as good as Cafe Gratitude. I did however order a greek salad sandwich on a gluten free baguette which was nothing short of amazing.
Moon Juice: Someone I know recommended this spot which is your typical fresh pressed juice place. I only went here once, and drank one juice (pineapple, cucumber, jalepeno), but apparently this place is the bees knees according to locals. It's expensive so be prepared to spend at least $10-$12 per juice. It's located across the street from Cafe Gratitude on Rose Avenue in Venice.
SHOPPING:
Beach House Brand: If you're in Venice, and on the hunt for cool beachwear, GO HERE! I didn't buy anything but I could have pretty much bought the whole store. Full of epic caftans, swimsuits, and beach paraphernalia, this shop is located at the beginning of Abbot Kinney near Main street.
Planet Blue: This store should easily be renamed "Coachella" because everything in the store could have been seen on someone at the music festival. Everyone shopping in the store actually looked like they were on their way. Lot's of fringe, maxi dresses, suede hats, bikinis and boho inspired gear, head over to this store if you are looking to embrace your inner hippie. We picked up a cute, bohemian beach blanket for the baby boo. There are a few locations in LA.
Flannel: Located on Abbot Kinney, this boutique is an Australian one, and after visiting on a previous trip I knew I wanted to hit it again. I love the breezy, beachy bohemian styles they carry and I wound up scooping up what could be the prettiest dress I've ever bought to wear now (with bump) and after.
Burning Torch: I couldn't find any silhouettes that worked for my current prego bod in this awesome boutique located on Abbot Kinney, but if I was not 27 weeks along, I may have bought everything. Perfectly in line with my personal style, the store was full of cool, beach'y but edgy and urban styles. I especially dug the rack in the back full of one-of-a-kind items made from recycled fabrics!
Aviator Nation: If you're into surf inspired, cozy tees, sweats and sweatshirts this is your spot, located on Abbot Kinney. The quintessential boutique to fulfill all of your surfer-style fantasies. Dina has loved this brand for a while, which I discovered in Story in NYC. You can order their gear online, but we picked up a few cute items for the little on the way.
The Piece Collective: If I opened my own boutique, I envision it would look something like this. Located at the end of Abbot Kinney, the free-standing lifestyle store is perfectly merchandised with miscellaneous accessories from coasters to candles to jewelry to tote bags, with hanging space for apparel too. It is light and airy, and a shopping experience that made me happy despite not purchasing a thing.