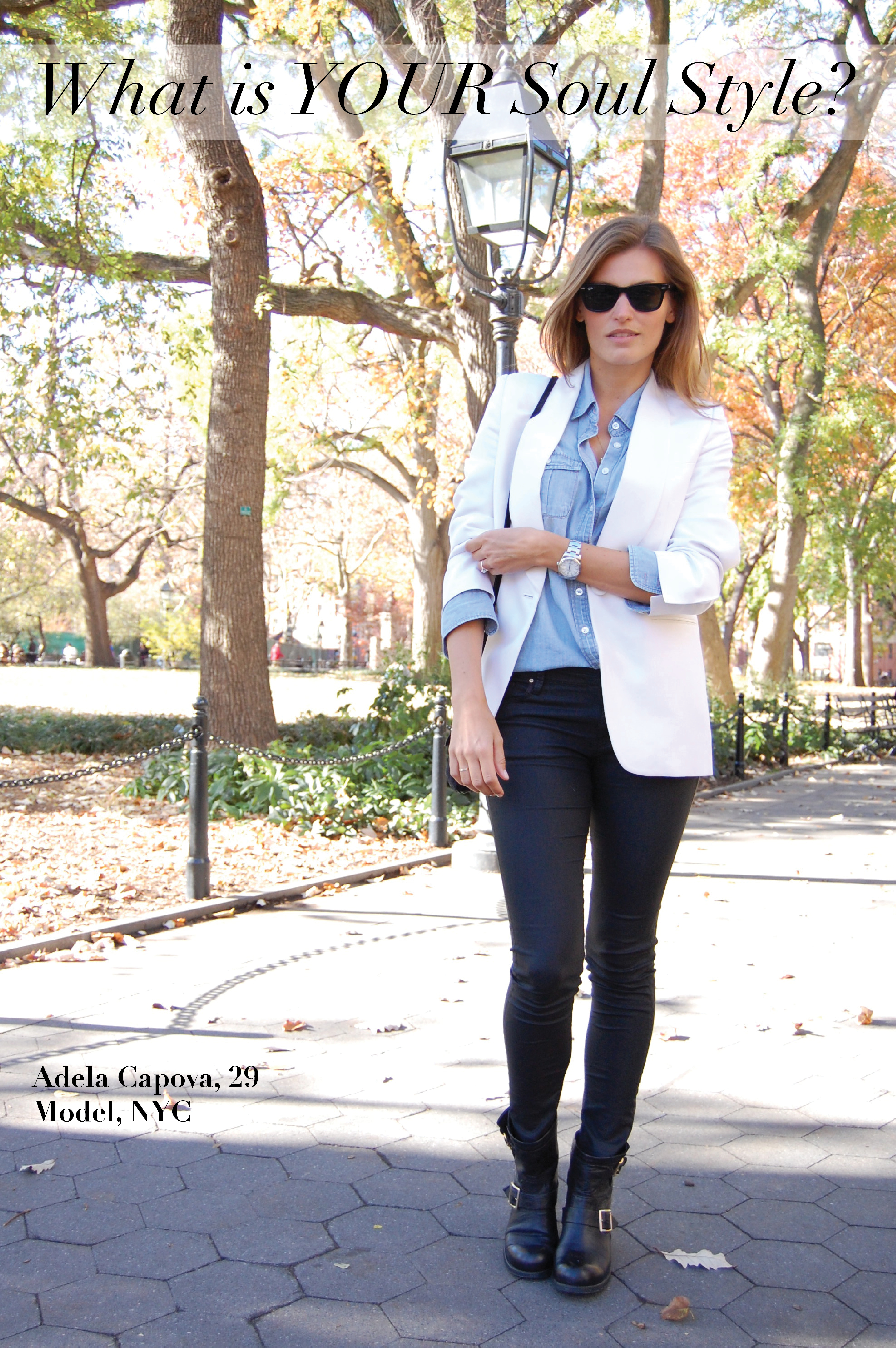 I met Czech Republic born Adela Capova on a recent photoshoot in NYC.  A triple threat, in the most non-threatening of ways, she is a model, lifestyle blogger and recently certified health counselor.  Adela's career began when she was scouted in Prague at the age of 16.  While typical high school students were getting their homework done, she was simultaneously traveling through Europe (alone) for work.  Multi-tasking, hard work and independence were traits established early on that lend themselves to the women she is today.  She's lived in Istanbul, Paris, LA, London and New York – where she currently resides with fiancé, author and CEO, Mike Cooper.  Adela is not your typical model, her passions extend far beyond the lens.  The Models Office, her lifestyle blog, serves up tips on travel, fashion and beauty, but puts an emphasis on fitness, nutrition and overall wellness, which she knows are essential for a balanced life.  She understands the pressure and expectations from her industry and inspires women to engage in healthy behaviors to reach their physical potential.  She is committed to paying forward the success she has gained from her own experience.  Adela is a part of Cleanse, an "initiative to help models achieve their career goals in a healthy and sustainable way while also helping to preserve the health and beauty of our planet" founded by fellow model, Anne-Marie Van Dijk.   She is also building her own nutrition-based brand and starting a charity organization, both due to launch in 2014.  Stay tuned!  My favorite part about interviewing Adela for Your Soul Style was that on my set she got to be Adela.  There is not much room for personal style when modeling, but on this day it was welcomed and encouraged.  She showed up fresh faced and authentic with a radiant smile.  Once stripped of the professional hair, make-up and styling, something way more beautiful was exposed – herself.  Adela and I had a profound discussion about soul, style and soul style.  Here's what she had to say about hers…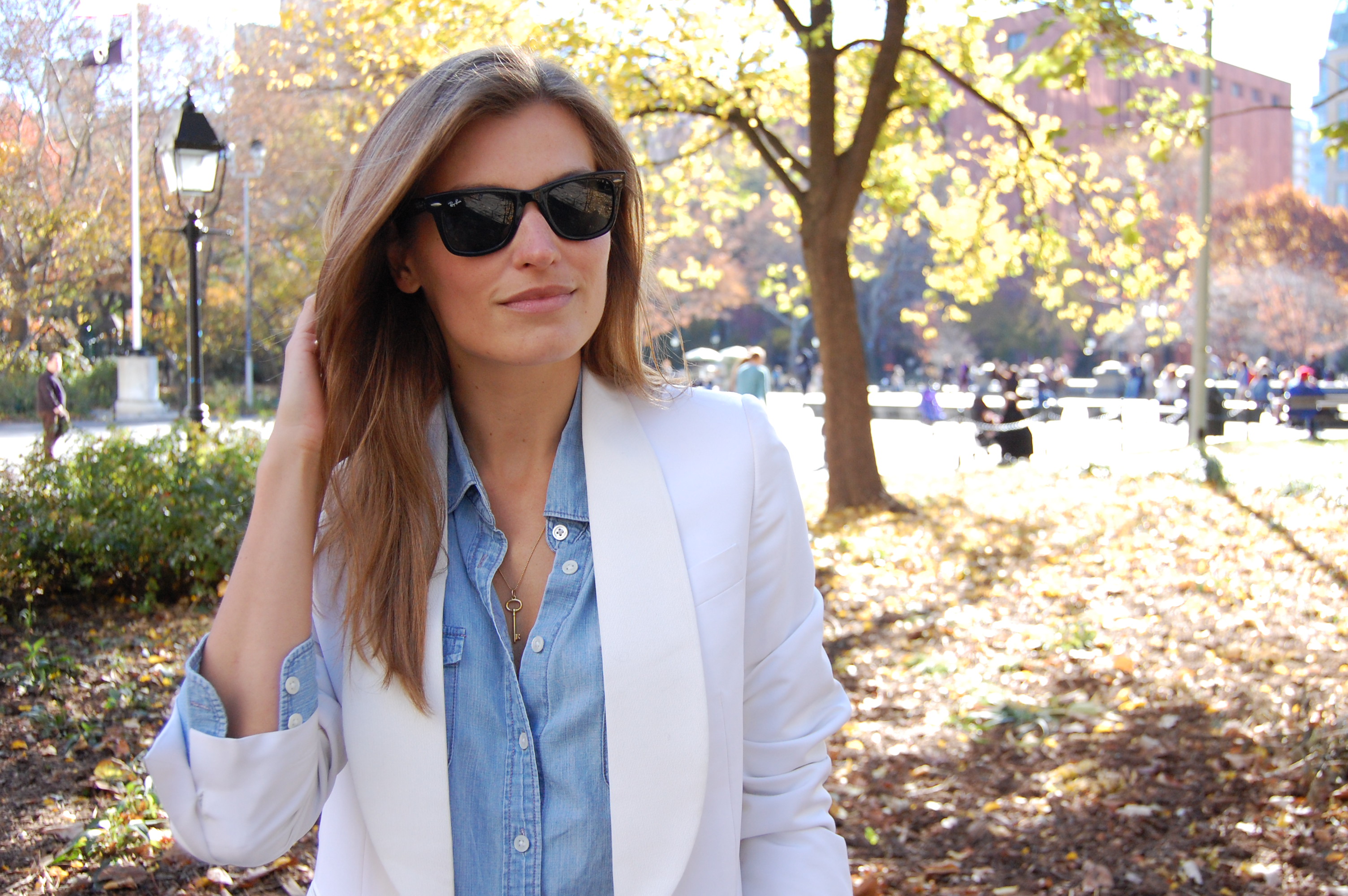 Adela, what is your soul style?
My soul style is very low key and must be comfortable. I like to express myself with what I'm wearing.  I like to show my personality and it represents the mood I'm in.  I'm not crazy on following fashion trends.  I believe that clothes should not over-shine you as a person, they should complete you.   
How do you describe your style?
I like to keep things to a minimum and love wearing 'clean' and fresh looks.  I'd say I have a classic, minimalistic style with a twist.  I love the play of different materials and enjoy combining textures.  Since I'm an enthusiastic "clothes-maker", I stress about the quality of fabrics and construction.  I understand the process so it influences the way I shop and what I purchase.  I enjoy sourcing fabrics, designing patterns and eventually sewing my own designs.  I've been doing this since I was 10, when I designed clothes for my Barbies.  It makes me happy and is a little meditation.

What does your style say about you?
Hopefully that I'm comfy in my own skin, happy, and that I make an effort for that particular occasion, but not that much!  I like to look prepared, but not spend hours getting ready.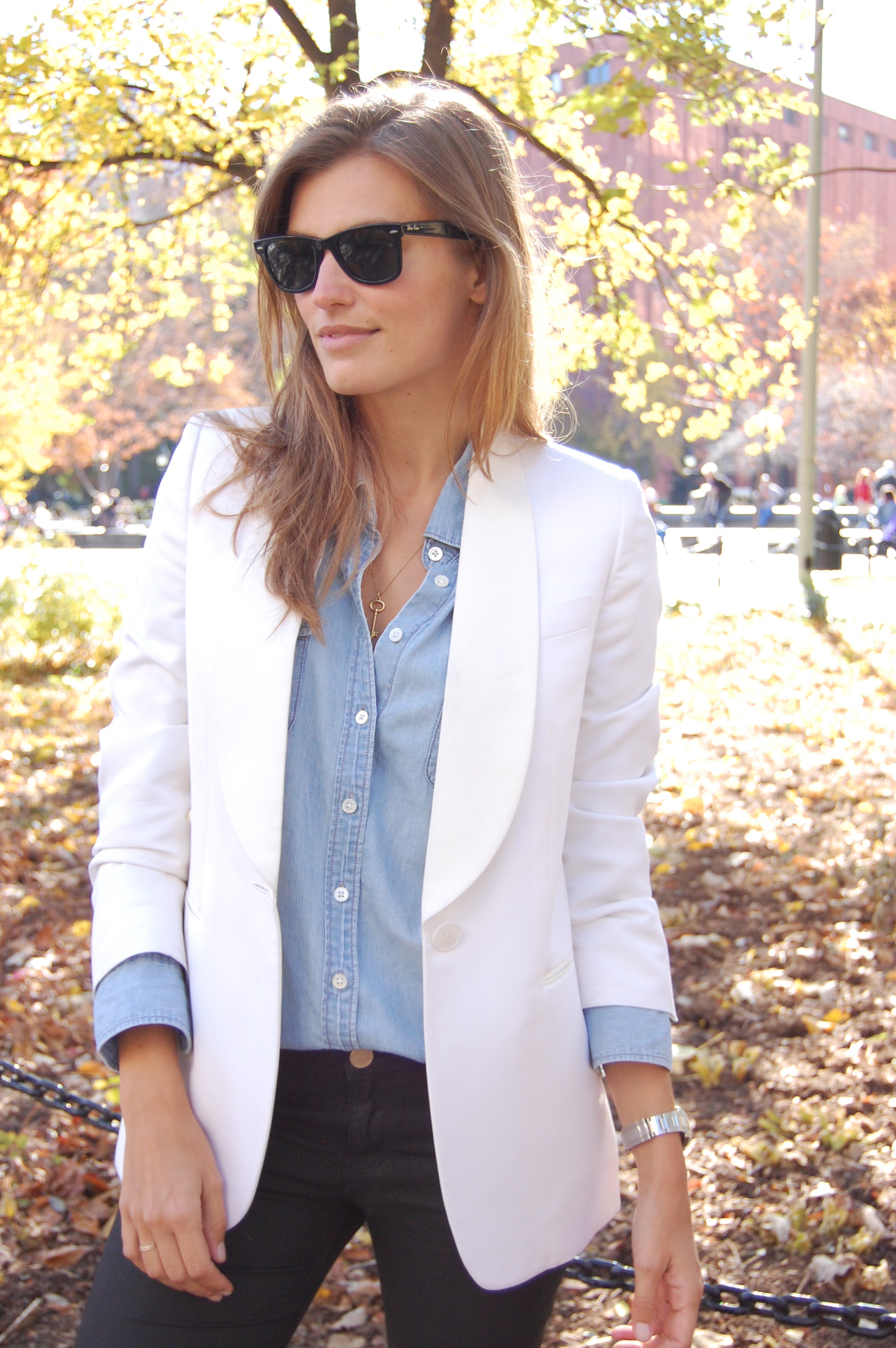 Where do you draw inspiration from?  Do you have a style icon?
I get inspiration from anywhere!  Museums, magazines, people I meet, patterns and colors of the earth, Taschen books and much more.  Very cliché, I guess?  Ask my fiancé; this is actually one of the most annoying things about me.  I pull tears from magazines and books and take a lot of photos of different textures and designs and print them out.  Our house can sometimes look like a huge recycling factory.  I can also spend hours in fabric stores.  It's heaven on earth for me – especially in NYC, where we have some great ones.  I like to create mood boards, which are useful for inspiration to create something new and original.

My style icons come and go, although my mum's style has always been a huge inspiration to me since I was a kid.  She taught me that it's actually okay to have a style, any style, and to get creative with it. She used to make all of her clothes during communism in the Czech Republic.  She wasn't afraid of being different either.  When everyone else in the 80's was wearing puffy wedding dresses, she wore a little slip with lace.
I also admire the simple and minimalistic style of Swedish blogger Elin Kling, who I had a chance to meet.  She looks even better in person than in pictures.  I've always enjoyed the way Sarah Jessica Parker dresses.  She's very original.  Eva Mendes does the curvy, sexy latin-gorgeousness kind of look very well too.  Grace Kelly is a classic, always useful for inspiration.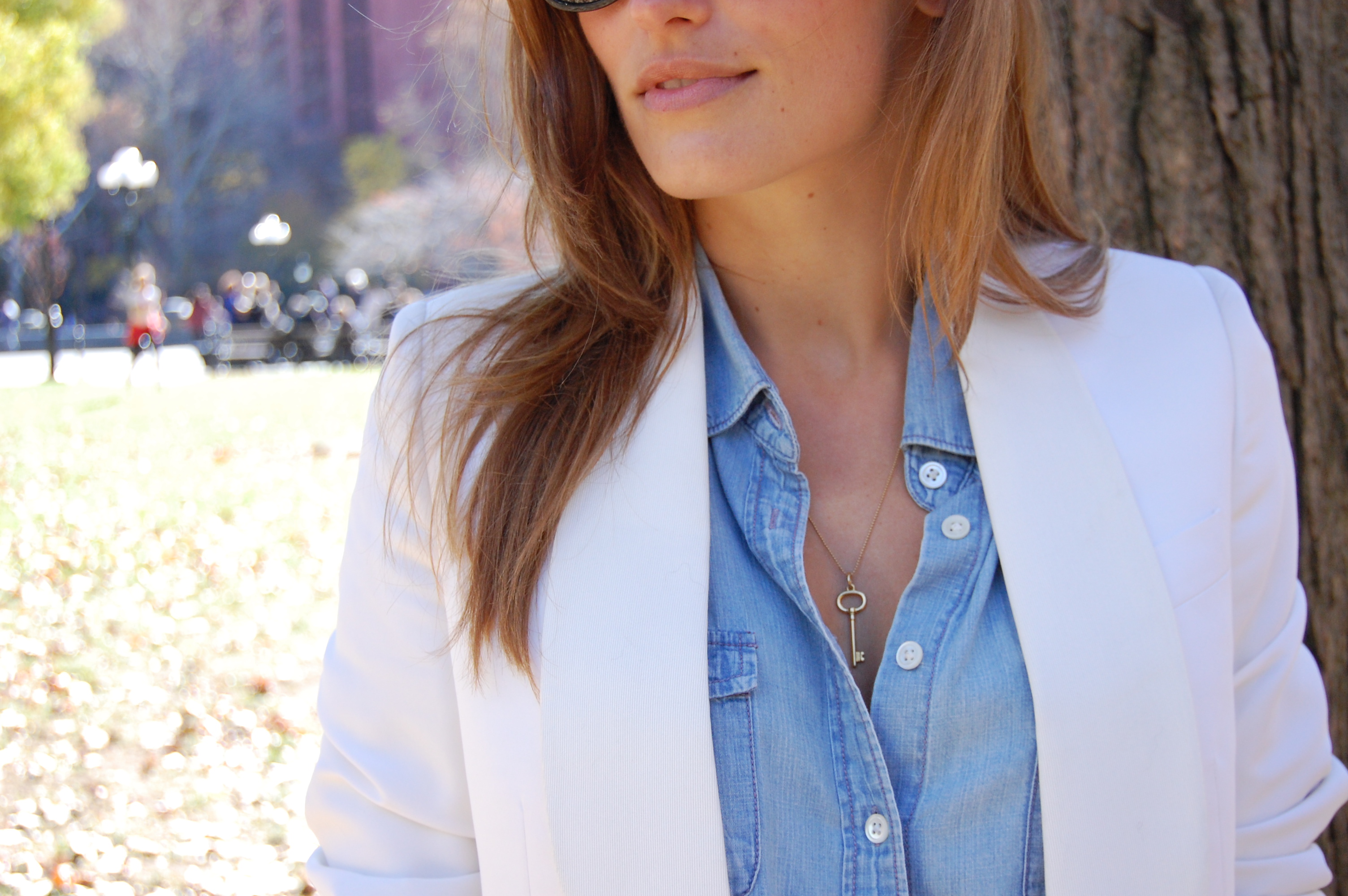 Did your style evolve over time or has it stayed consistent?
It definitely evolved, thank God, and is still evolving.  It's like everything else – you evolve as a person, so does your style.  As I get older, I become more comfortable in my skin.  I like me better!
Do you have any style challenges?  
Yes, of course.  In my job, very often I'm asked to wear specific items for certain occasions.  There's a lot of pressure since it's the fashion industry.  I tend to get really nervous about it and can never find anything to wear. Packing for work trips is another challenge of mine.  I don't enjoy that at all.  I guess all this is about confidence which is my challenge sometimes.  The more confident I am about myself, the less I worry what I wear.  I am most confident when I'm healthy and super fit.
Do you have a favorite fashion/style moment?
Princess's Diana wedding!  Just kidding!  Whenever I get to dress-up for an event or a dinner with my fiancé and I can see how proud he is when introducing me, I feel like a fashion star.
And your worst? 
Loads!   I used to make my own clothes in high school.  I made my own dresses for prom and school dances.  They didn't turn out the best, but I wore them anyway.  Sometimes it's just better to wear that simple black dress.
 Must have item in your wardrobe?
A great pair of skinny jeans that fit just right, a couple of simple white T-shirts, some tank tops and a black blazer.  A nice printed scarf and you're good to go for a few months.  Comfortable, simple and in your own skin.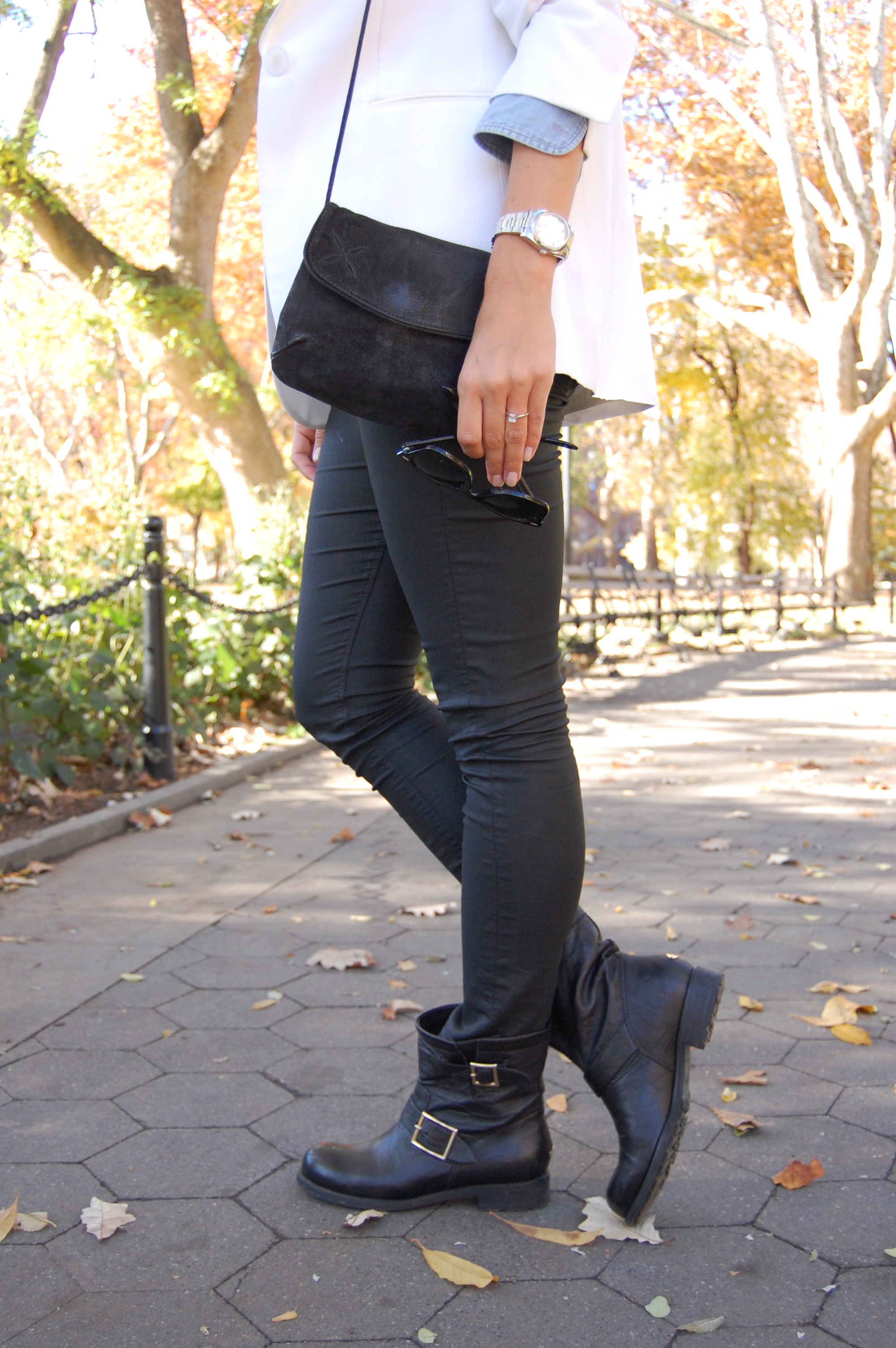 Keep up with Adela's latest happenings & The Model's Office on instagram and facebook.
To be featured on Your Soul Style, e-mail me directly at yoursoulstyle@gmail.com.