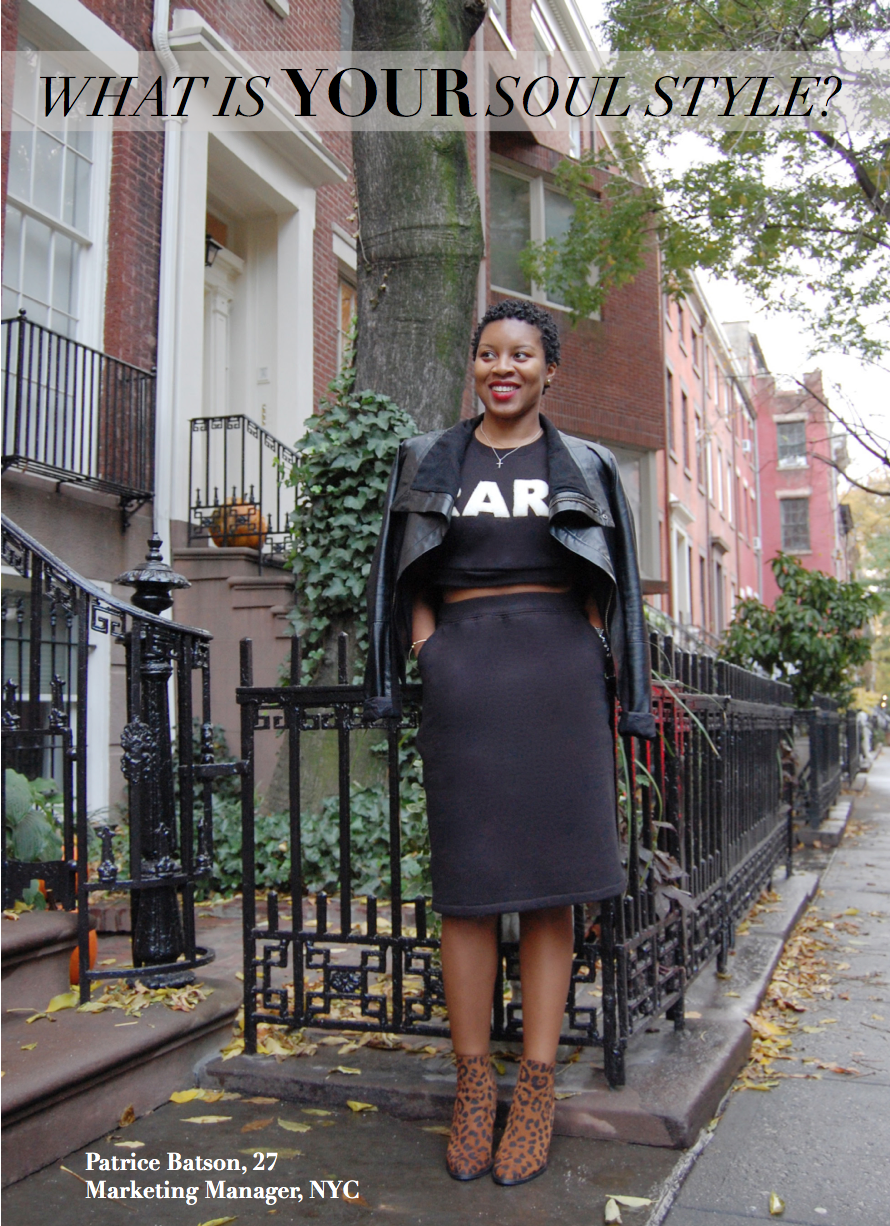 I met Patrice Batson by way of instagram.  Yes – instagram!  We became fast friends via our common ground of fashion and I'm pleasantly surprised by this modern, unexpected 21st century relationship.  At 27, this Bajan beauty quickly impressed me, which I now know is thematic.  While interning during Merecedes Benz Fashion Week at 17, she caught the eye of a Fashion Editor from Seventeen magazine and impressed her too.  Poached right out of the mix and asked to come on board at the publication, this was the beginning of her beginning.  After a few more years of paying her dues and learning the ropes at companies like Donna Karan, IMG Models, Chanel and Versace, Patrice landed her first "real job" at InStyle magazine in Advertising Sales.  It wasn't until her work at Digital Brand Architects though, that she discovered her interest in branding and strategy.  She currently holds the position of Marketing Manager of Brand Development (for products and services) at ELLE Magazine.  It is here where she has found her groove, engaged in creative strategizing, problem solving and understanding the consumer on a deeper level.  She coins herself part anthropologist.  Outside the corporate walls, Patrice co-founded Cup of Tea, an interior design service.  She is passionate about helping others create a home that is personal and inviting.  Like Your Soul Style, she believes in authentic expression and feeling connected to your spaces since they are an extension of who you are.  Her dream job is to travel the world, remodeling boutique hotels.  In June, Patrice will marry Kalvin, whom she's been with for 8 years, in the West Village of Manhattan.  Ethereal, romantic and intimate are just some of the objectives she hopes to capture for the evening.  When Patrice and I got together, I asked what her favorite part of living in this great city was and she said, "of course the food and restaurants", but more importantly, "the people".  Her source of inspiration from the street has provided a road map to her personal style.  So we had a chat about that.  Here's what she had to say….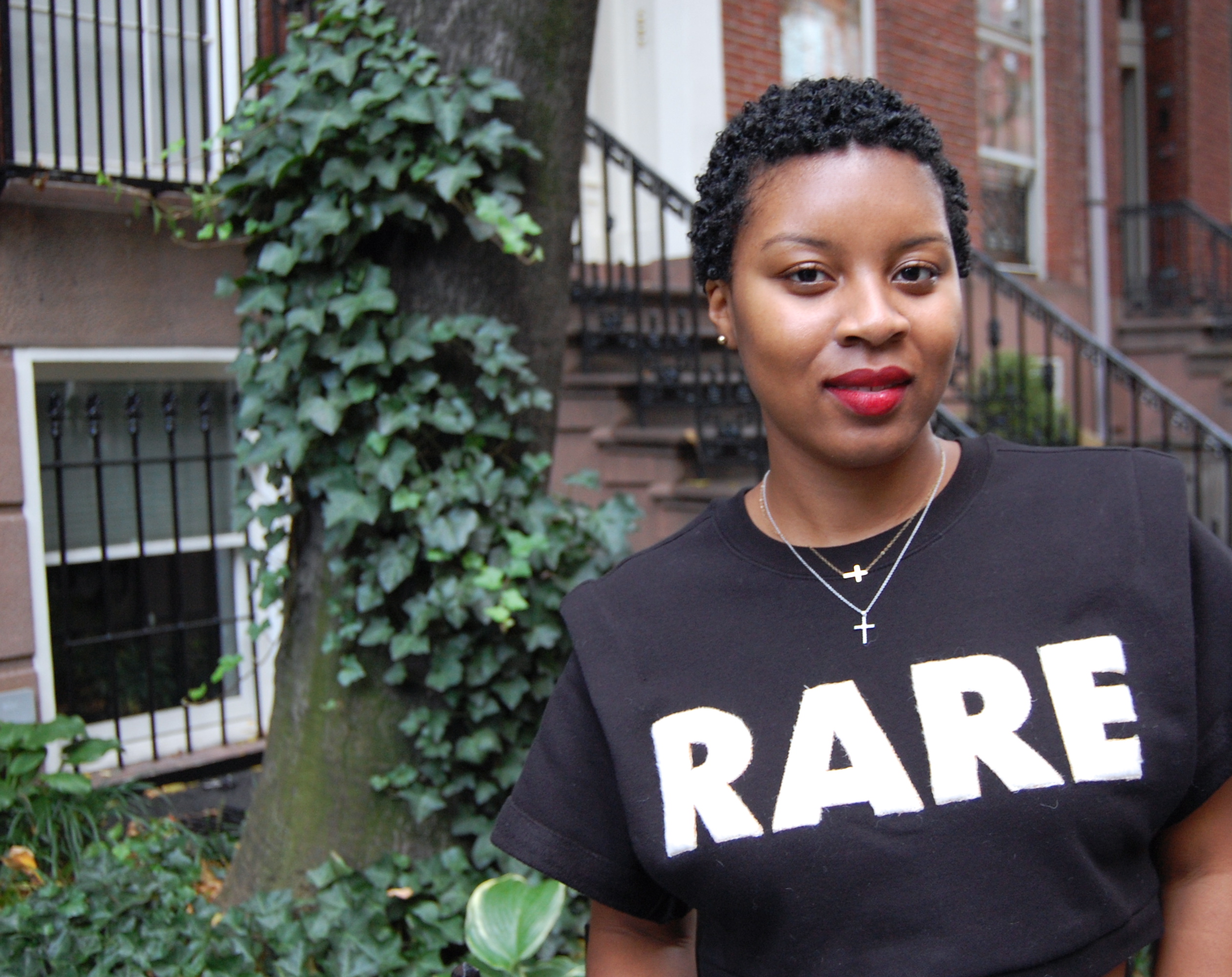 Patrice, what is your soul style?
My soul is actually pretty lazy so my style stems from that. I strongly stick to a color palette of neutrals and navy. I'm almost always in black.  It has become my signature amongst friends.  If I'm not in black, they think something is wrong. 
How do you describe your style? 
My style is minimally classic.  I love finding pieces that are simple, but will still be relevant 10 years from now.  I'm not a fashionista.  Firstly, I can't keep up because there are new trends almost everyday.  Secondly, I don't do well with constant change.  My "uniform" consists of skinny jeans, a t-shirt and a great jacket/blazer.  Or I'm in a shift dress.  I wear some variation of the two almost every day.  
What does your style say about you? 
My style says that I'm comfortable, yet pulled together.  It took me a while to find my style and while it's still evolving, I've reached a point where I'm finally comfortable in what I wear.  And it shows.  I recently cut off all my hair and feel like that has a lot to do with my style right now as well.  I was nervous because I thought I'd have to dress more feminine and girly which is so not me.  But, I'm pleasantly surprised that this hairstyle has enhanced my personal style even more.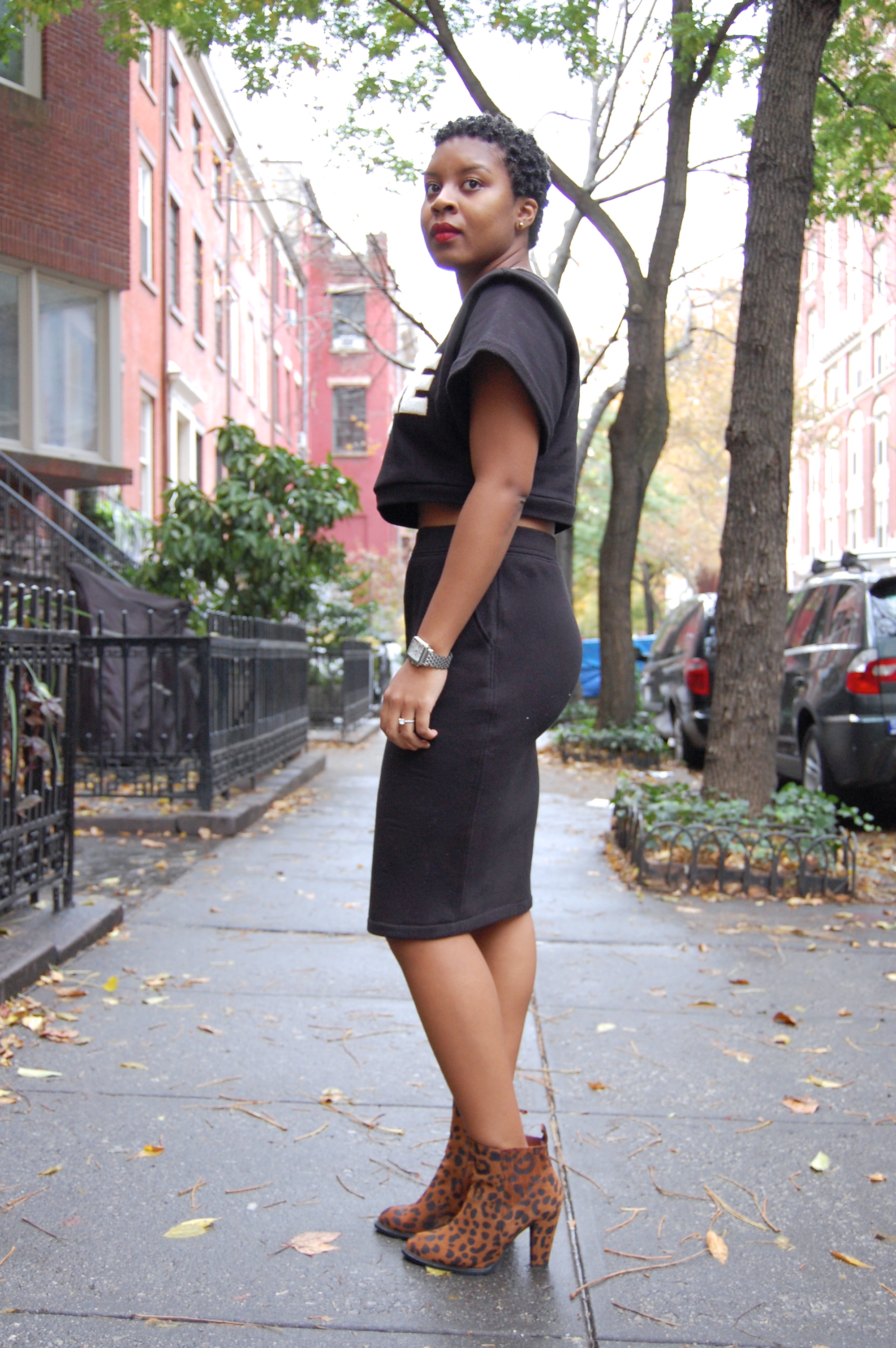 Where do you draw inspiration from?  Do you have a style icon?
I work in one of the most stylish buildings in NYC – the Hearst Tower, so my favorite pastime is going to the cafeteria and people watching.  It's definitely a catwalk situation and I enjoy it because I'm inspired to up my game.  I wanted to start a style blog about the fabulous people in there, both men and women, but I'm too lazy.
I also draw inspiration from my fiance', Kalvin.  He's one of the most stylish and coolest guys I know.  I'm obviously bias, but it terms of style, there are not too many men that can go from a boardroom meeting to a Jay-Z concert and he does this effortlessly.  His closet is much bigger than mine, yet his style is very defined.  If Ralph Lauren and Tom Ford had a baby, it would be Kalvin.
Other than that, my style icons are the French Vogue gang.  They're literally the best dressed women I've ever seen.  I definitely worship at the church of Emmanuelle Alt, the fearless leader and Editor-in-Chief.  She is responsible for making me go home, strip my entire closet full of the 'fluff' and streamline it.  I'm constantly editing because I feel overwhelmed with too many options.  Women don't typically say, "I have too many clothes", right?  Well, I guess I'm rare.  I've applied my edited closet approach to many other aspects in my life, like my desk at work.  It has a curated theme.  Less is more.
Did your style evolve over time or has it stayed consistent?
My style has definitely evolved.  Thank god!  I seriously don't even know what the heck I was thinking with some of my outfits, but I guess everyone has to go through that period of finding themselves.  I'm so glad it's almost over!  For a long time, I tried to dress like someone else and it didn't quite work out for me.  Once I started dressing like myself, it all clicked.  Over the past year and a half my style has been consistent – timeless with a modern twist.  What has also helped is taking the time to find designers and brands that work for my body and are also of a certain quality.  I'm a huge fan of J.Crew, Theory, A.P.C, Francisco Costa from Calvin Klein, Chloe and Rag & Bone.  I adore finding designers that bring bring something fresh to the table like my friend Fe Noel of Simply Intricate.  The top and skirt from this shoot are hers.
Do you have any style challenges?  
My biggest style challenge is my lack of unlimited funds.  I'm at a point in my life where stores like H&M are just not cutting it anymore.  Don't me wrong, I love H&M, but I've started investing in my clothing as I've gotten older.  I find it important.  Since the investment pieces are indeed, major investments, I have to pace myself so I don't go broke.  Especially since I'm in the process of saving for both a wedding and a new home!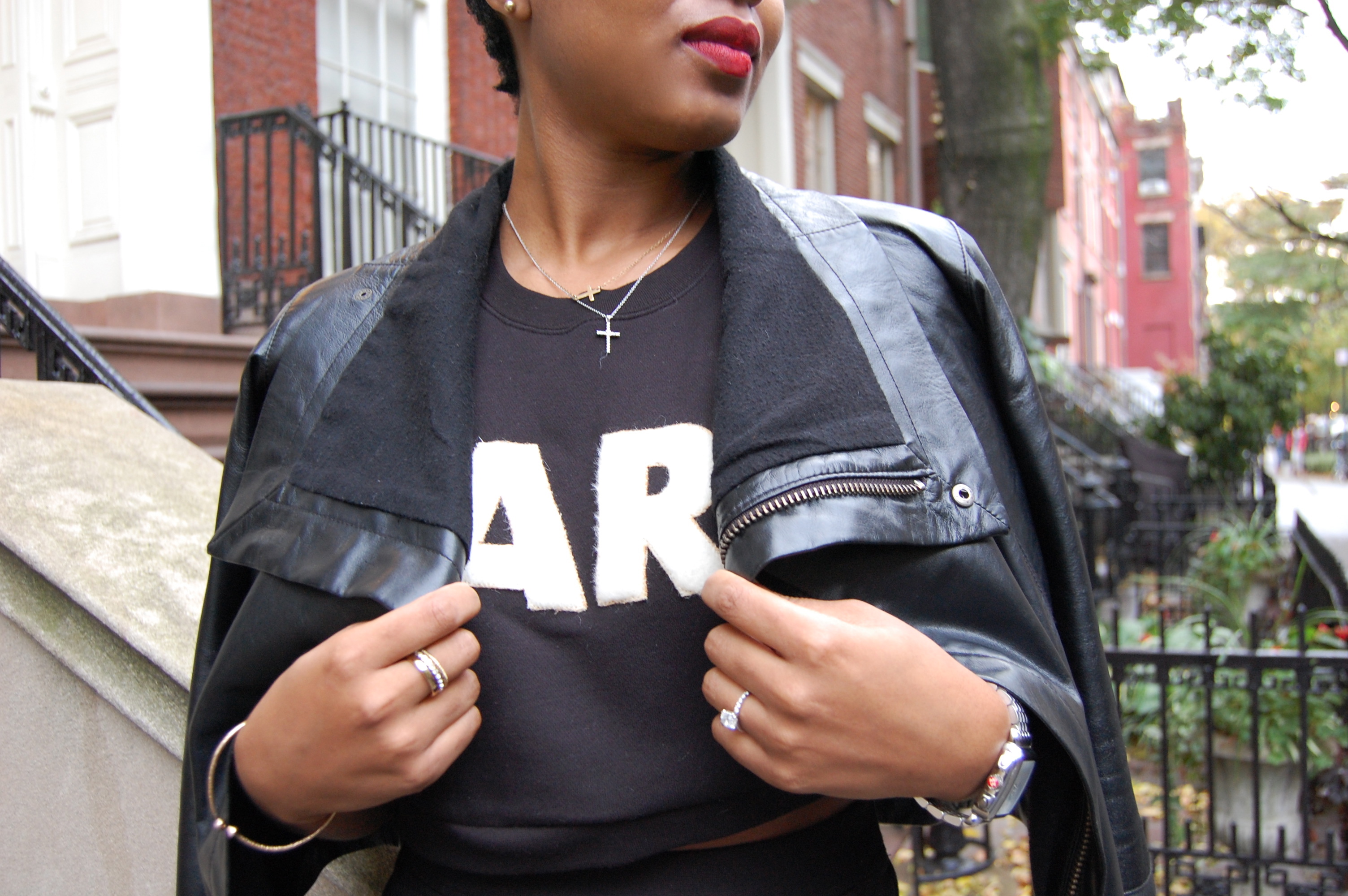 Do you have a favorite fashion/style moment?
My favorite style moments are anything Michelle Pfeiffer wore in Scarface.  I'm actually not a huge fan of the movie, but I find myself constantly playing it to watch her style.  It's effortless, chic, sexy – just genius.  She mainly wears neutrals and simple suits and that (to me) is the epitome of sleek femininity.  My goal is to dress like that by the time I'm 30.  
And your worst? 
Take your pick of my many disasters from kindergarten to my mid-twenties.  I seriously cringe when I click through old facebook pictures and see some of the outfits that I put together.  The irony is how I thought I was so fashion forward and stylish! 
Must have item in your wardrobe?
My Balenciaga moto bag with rose gold studs, now discontinued.  My finance' bought the last one in North America as a Christmas gift last year and it has been with me every single day since.  It instantly adds a bit of luxe, bad-ass-ness to anything I put on.  I hope to hand it down to my daughter one day.  This is probably weird, but sometimes when I shop I say to myself, "would my future daughter want to wear this in 20 years?"  You'd be surprised how many things I put back on the rack because of that question.  Look at her, already helping me make major fashion decisions!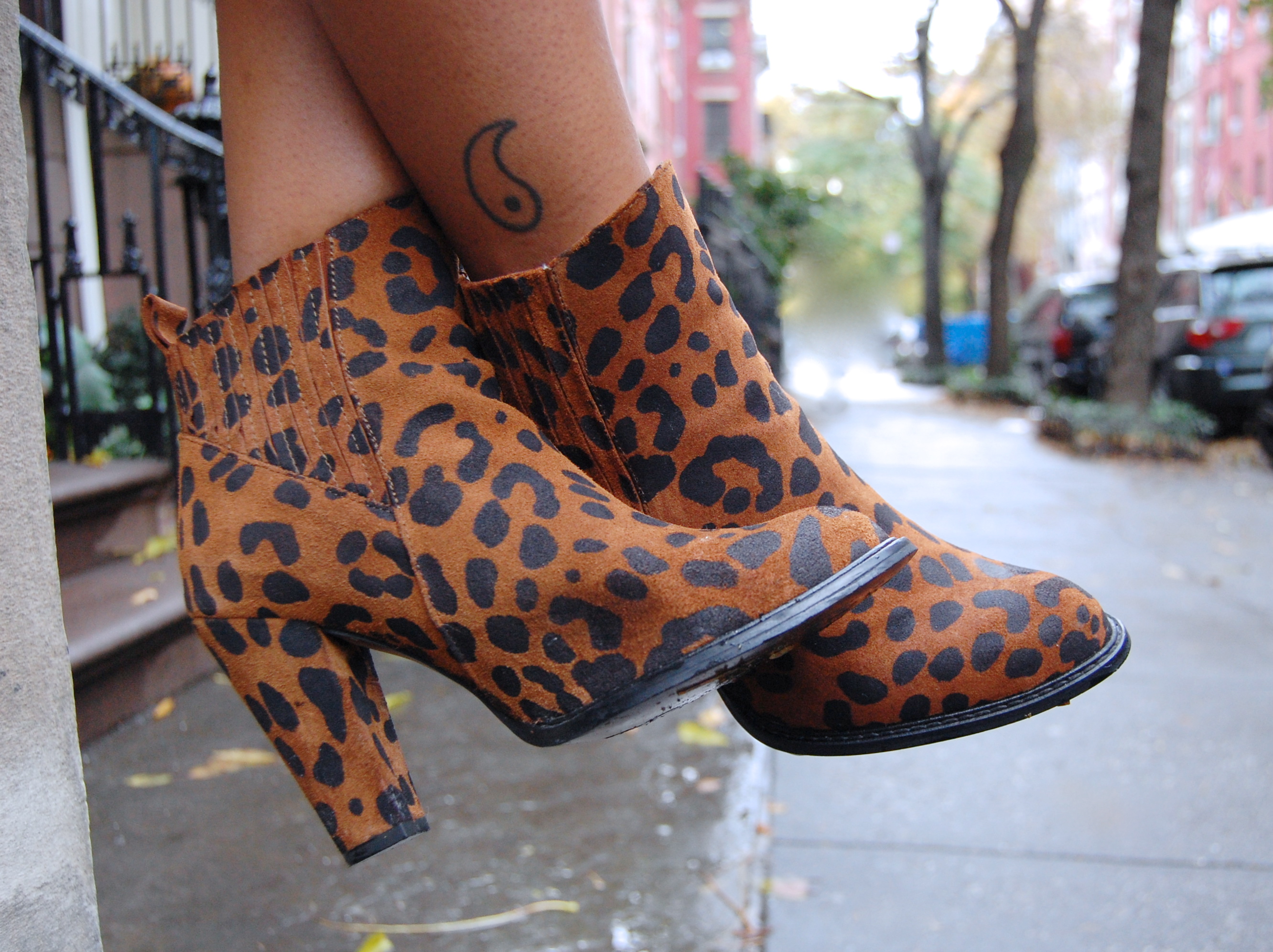 Join Patrice on instagram to keep up with her latest musings on travel, fashion, random inspirations and a peek behind the scenes at ELLE!
To be featured on Your Soul Style, e-mail me directly at yoursoulstyle@gmail.com.