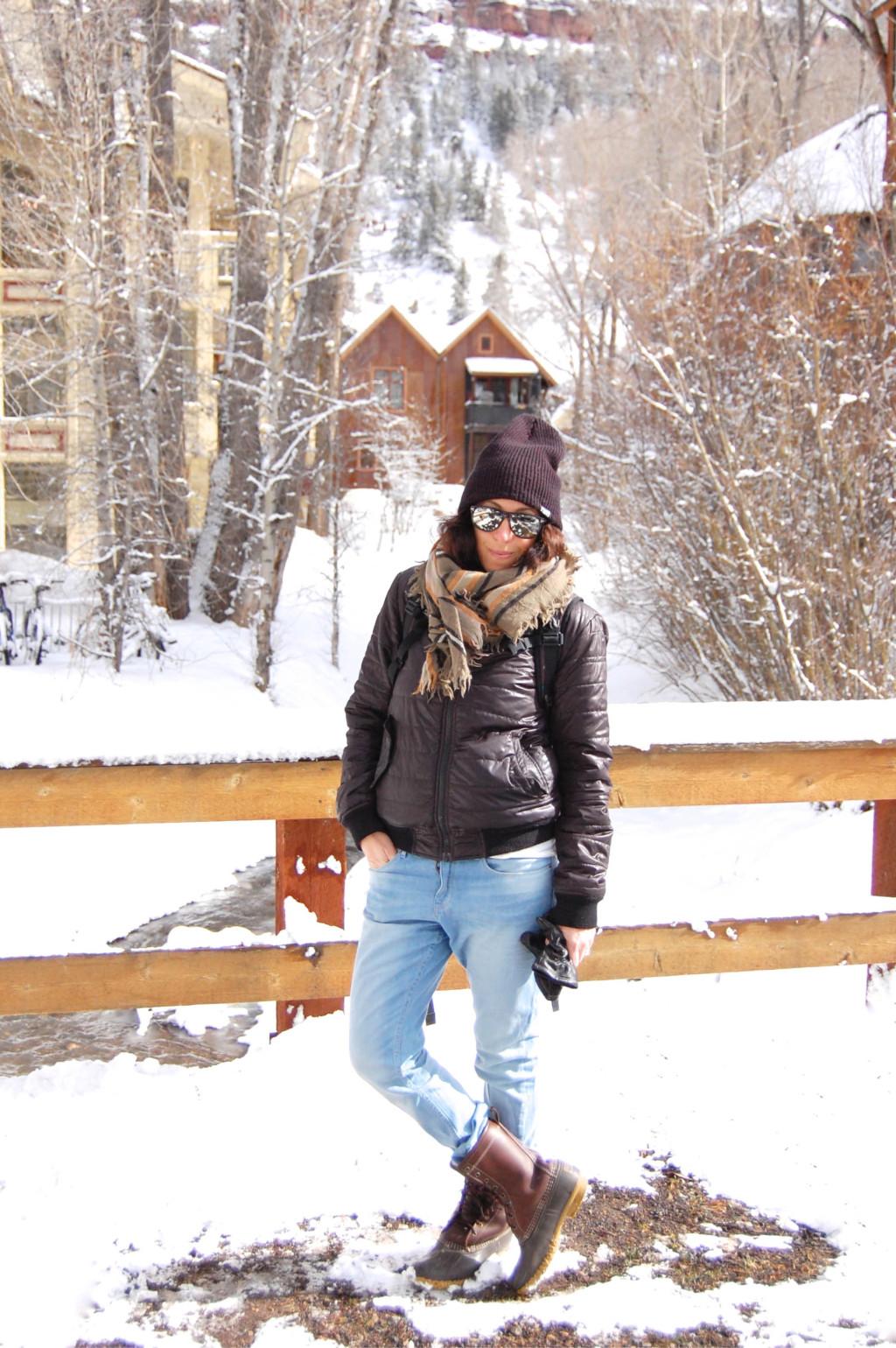 I always use travel as an opportunity to expand my mind.  Like in Moab, Utah back in March when we hiked and off-roaded down a canyon, although not the most comfortable of experiences, it allowed me to grow.  I pushed the boundaries of my limitations and discovered that I am capable of more than I think.  And I know now that the next time we embrace a similar adventure, I'll have a thicker skin and more confidence going in.
After we left Moab, we headed off to Telluride, Colorado which may not seem too adventurous, but I'm way more of a beach gal then a mountain one.  We planned to meet our friends from Maui in Telluride which was the impetus for the trip out west  – to meet in the middle.  Dina loves to snowboard and Jess and Grayson (and now son Cash) love to ski.  Me, not so much.  I would have preferred traveling to them in Maui!  I tried snowboarding back in the day and if I tell you I was petrified the entire time, it would be an understatement.  That was the last time I snowboarded.  Fast forward a few years later and I attempted skiing with my (also new to the slopes) friend Adriann on a trip to Park City, Utah.  I thought skiing could be more my sport then snowboarding, perhaps?  Dina and Adriann's husband were off galavanting down the mountain and we were on the bunny slope with the kiddos.  Not for lack of trying, but I really didn't enjoy it.  I mean, there were moments when I was excited and proud to get the hang of it.  But the second I started to lose my footing (and confidence) it was all downhill – literally.  So much so that after doing our last run with the ski instructor, I had a full-on panic attack approaching the end and needed to get picked up by a snow mobile.  True story – I can't make this stuff up.
Fast forward again now to Telluride.  I had a choice whether I wanted to ski or not.  In lieu of my past experiences, I wasn't really into the idea and decided that "skiing is just not for me" and why keep trying to fit a square peg into a round hole?  I opted to explore the town instead.  A massage and hitting the oxygen bar at Aroma Spa, many lunches at The Butcher & Baker (which I wish was here in NYC – OMG, yum!), a little bit of work in coffee shops, some perusing local boutiques and tons (and I mean tons) of photo-taking were way more my speed.  Intermittently, I would meet the gang at the base of the mountain for hang-time, to see Cash take his first run, watch Dina board and attend a mini-music festival.
I did a lot of thinking throughout the days when I was alone while everyone else was off on their adventure on the mountain.  I'd be lying if I said I didn't feel left out, a bit low on myself and disappointed that I wasn't able to rally.  They were making memories together, bonding, taking in breathtaking views and engaging with nature in a way that intimidates me.  They would return with stories and recounts of the day that I missed.  For lack of a better word, I was jealous and envious.  And it made me sad.  I did a lot of soul searching that week and started to think about why I was this way.  Was it because my parents didn't force me to be adventurous when I was little?  Was I just born this way?  Was it because I was lazy?  Was it because I allow fear to get in the way of my choices?  Or was it simply because I just don't like it?  I'm still not 100% clear about why I don't enjoy skiing (or snowboarding) and can't get over the hump.  And I'm not sure I ever will.  It's probably a combination of many variables.  What I do know is that we all don't have to engage in every activity life has to offer.  What I do know is that I must learn to find the confidence in not being a part of the experience as opposed to always having to be woven in.  Instead of being sad, I want to appreciate their joy and not make it about me.  A little boys first run down a mountain, Dina's euphoria when taking in the views from atop, Jess and Grayson's first time enjoying a sport together, it was all beautiful.  It was all amazing.  It was all theirs and I got to witness such bliss in all of them.  My ego can get in the way at times and I am constantly checking myself.  It's an ongoing struggle and part of my growth is ensuring that I don't compare my journey to others.  We are all created differently based on our own profound experiences and it's ok if being adventurous is not one of mine.  I have many interests that I enjoy and my bucket list is long enough that not adding sky-diving, bungee jumping and even skiing to it is perfectly fine.  Maybe I'll give it another go, and maybe I won't, but either way – the lesson is acceptance for all that I am.  And for all that I'm not.