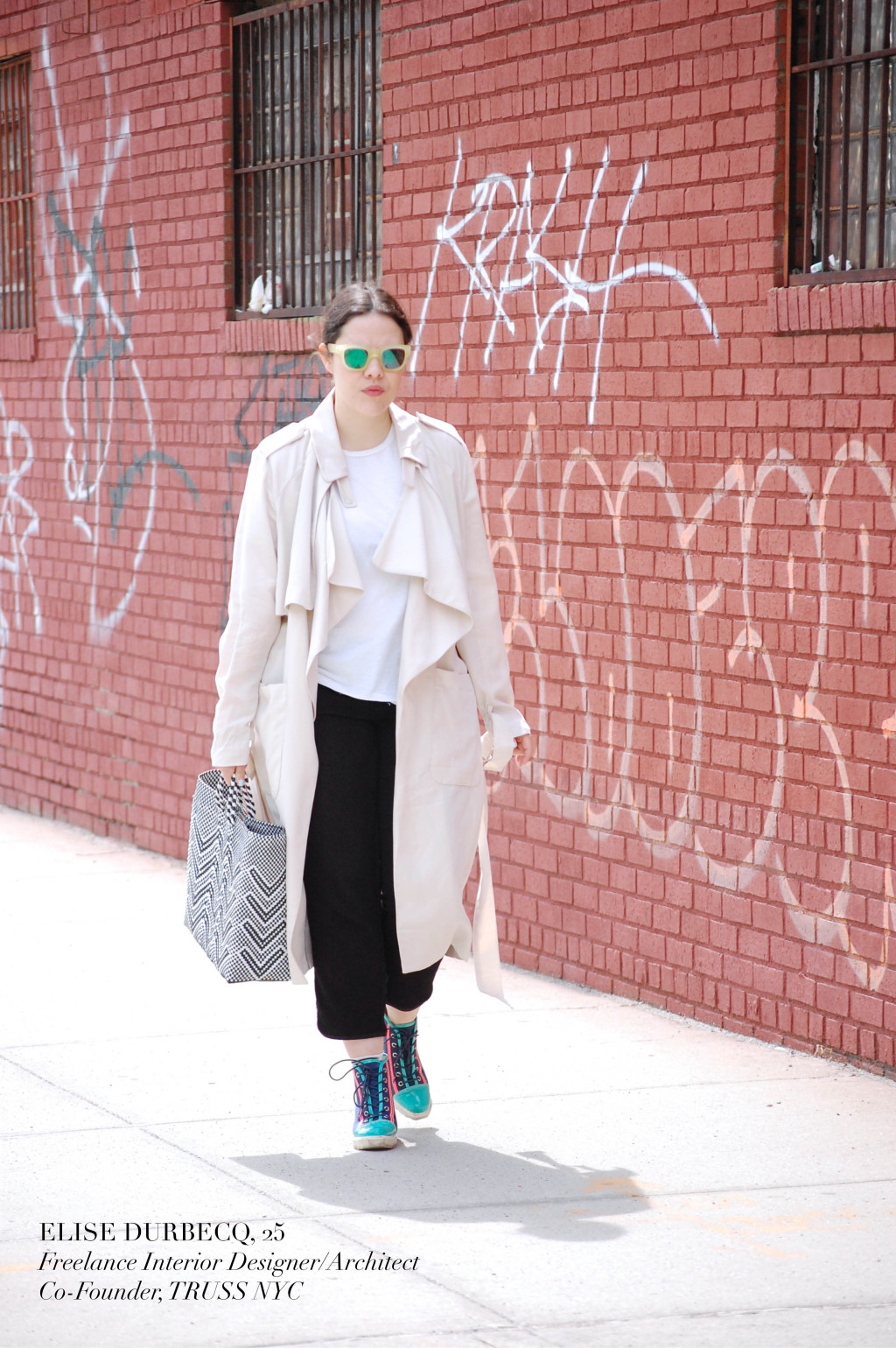 When I imagine Mexico City, I think vibrancy, a culture that runs deep and authenticity.  Which is why when meeting Elise Durbecq who hails from the country, it makes total sense that I immediately fell in love with her.  Highly intelligent, articulate and worldly, I was in disbelief when finding out that she was only twenty-five years old.  We crossed paths when both freelancing at the women-centric retail company, Ann Taylor LOFT.
Elise came to the United States when she was eighteen to study interior design/architecture at the Fashion Institute of Technology.  Along with her work as a design consultant on residential projects and for LOFT, in the Fall of 2013 Elise with partner Gillian Tozer,  launched a line of custom totes called TRUSS NYC.  Both Elise and Gillian, "fell in love with the traditional market tote while in Oaxaca, where we spotted the bags on top of the heads and in the hands of market women. We loved the bright colors geometric shapes, and sturdiness of the bags and immediately pictured them being a part of every girl's life back in New York City."  What began for Elise as childhood visits to Oaxaca, has now developed into an emerging brand that is not only fashionable and functional, but more importantly supports local weavers from the small town.  A dying art which TRUSS is passionate about sustaining, every bag is handwoven from indigenous Mexican craftsmanship.  A percentage of the profits aids in the support of these Oaxacan communities.  
The future looks bright for TRUSS since they were immediately picked up by Opening Ceremony, and sold in their New York, Los Angeles, London locations, and online.  The totes are beautifully made, durable, lightweight and come in a variety of patterns and colors.  Each style is original, slightly different then the next.  The quintessential summer bag that not only looks good, but gives back!  They retail between $150-$175.
When Elise and I sat down to chat, one thing she said that resonated with me was, "I don't work to live, I love to work." which is the perfect philosophy to live by, in order to achieve the most rewarding type of success.  TRUSS is a do-good brand with many emotional elements that hit at the core of who Elise is.  So I was curious about her soul, her style and how it all aligns with the incredible work she's doing at TRUSS.  Here's what she had to say…